Prince Harry Bought Prince Louis A Christening Gift That'll Bring Back So Much Nostalgia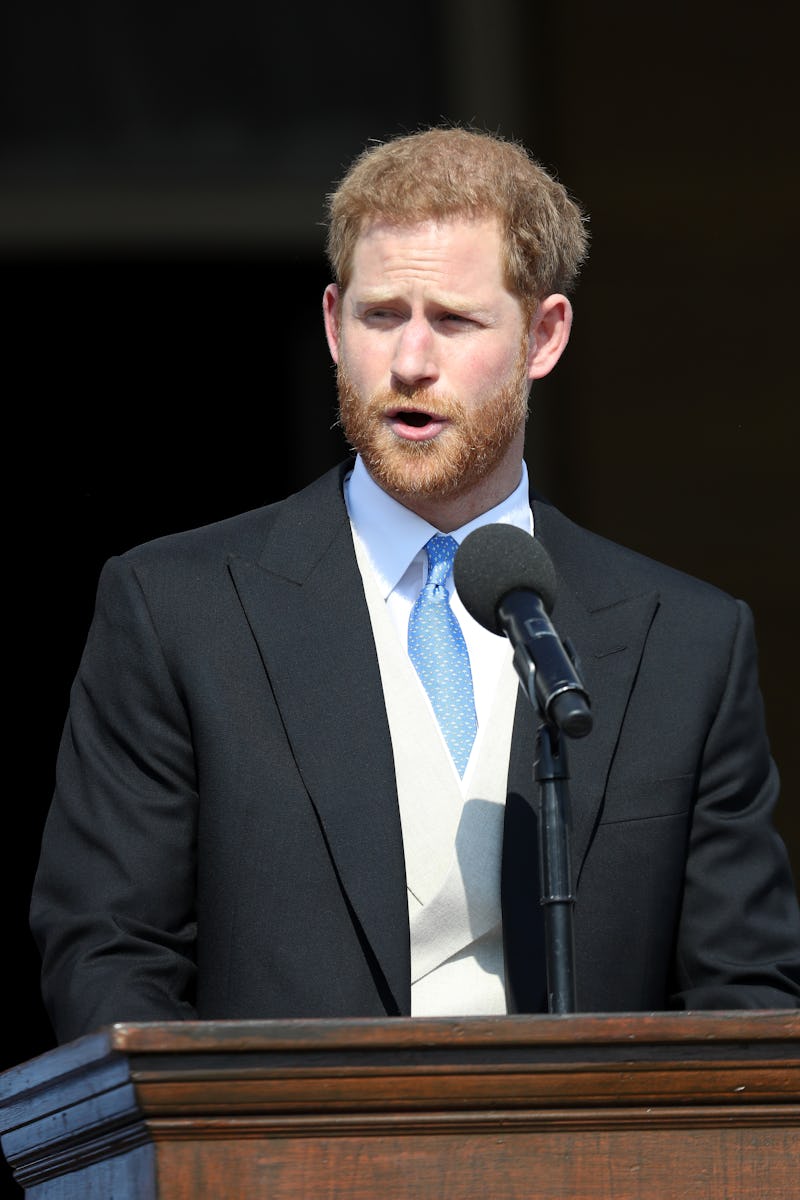 Chris Jackson/Getty Images Entertainment/Getty Images
On Monday, Prince William and Kate Middleton gathered friends and family for the baptism of their third child, Prince Louis. To celebrate, Prince Harry bought Prince Louis a first edition Winnie-the-Pooh book for his christening. This adorable gift for his nephew is part of Prince Harry and Meghan Markle's plan to start a library for their nephew, according to The Sun. The children's book has symbolic meaning for the royal, as his mother, Princess Diana, used to enjoy reading to her sons.
"One of Harry's happiest childhood memories was being read a bedtime story by his mother," an anonymous source told the U.K. publication. "She loved all the old classics and Harry had the brilliant idea of starting a little library of first editions for Louis, Charlotte and George to enjoy as they get older. He apparently originally wanted to get Lewis Carroll's Through The Looking Glass, which was on sale for £24,000, but decided Winnie-The-Pooh would be more suitable for a first tome."
Prince Harry reportedly purchased the 1926 edition of A.A. Milne's Winnie-the-Pooh from the rare bookseller Peter Harrington in Kensington, London, according to The Cut. There were only 30,000 editions of the book made during its first print. It's unknown which books Prince George and Princess Charlotte received, but this is sure to be a special addition to the family's growing library of reading material.
Details about the christening ceremony were announced on the royal family's website early July 9. The ceremony will take place at The Chapel Royal, St. James Palace, and will be attended by many members of the royal family including Prince Harry, Meghan Markle, the Prince of Wales, the Duchess of Cornwall, Pippa Middleton, and James Matthews. Prince William and Kate Middleton also named a number of godparents from their friends and family, and these people will be among the guests.
Gifts that honor the family, such as Prince Harry and Meghan Markle's book, are fitting for the event. It's going to be a day full of family tradition, as the Lily Font and water from the River Jordan will be used during the ceremony. The silver baptism font has been used since Queen Victoria and Prince Albert commissioned it in 1840 for the baptism of their daughter, Victoria. The Royal Christening Robe, which is made of Honiton lace and white satin, will also be used. The original robe was was made in 1841 for Princess Victoria as well, but a replica crafted by Angela Kelly has been in use since 2008 so as to preserve the original. The hand-sewn robe was also worn by Princess Charlotte and Prince George during their ceremonies.
Prince William and Kate Middleton will also serve slices of christening cake, which is taken from a tier of their wedding cake. The cake was originally 17 flavors of fruit cake, a traditional flavor for weddings in the United Kingdom, and stood eight layers tall. It's symbolic for parents to save a tier of their cake for their first child's christening, but the Duke and Duchess of Cambridge have served a tier at each of their children's ceremonies. When guests join the family for a private tea at Clarence House, they will be served slices of the wedding dessert. Now 7 years old, this is likely to be the last time the royals serve the cake.
The Duke and Duchess of Cambridge also chose two hymns, two lessons, and two anthems for the ceremony, Kensington Palace revealed a couple of hours before the event. "The Hymns are O Jesus, I Have Promised and Lord of All Hopefulness. The lessons are from St. Mark 10: 13-16, read by Miss Lucy Middleton and Ephesians 3: 14-19, read by Mr Guy Pelly," the website read. "The anthems are This is the day which the Lord hath made (John Rutter) and Suo Gân, a traditional Welsh Lullaby (Gareth Wilson)".
Kensington Palace shared a video from the ceremony on Twitter, including pictures of newlyweds Prince Harry and Meghan Markle. This will be one of many events they attend together this month. According to the Irish Times, the couple will soon depart for Dublin, where they will visit Croke Park, Trinity College, and attend summer garden party. One thing is for sure — should they be expected to present a symbolic gift, Prince Harry and Meghan Markle will likely pick something perfect.