Watch Prince Harry Talk About The Royal Baby During This Sweet Invictus Games Moment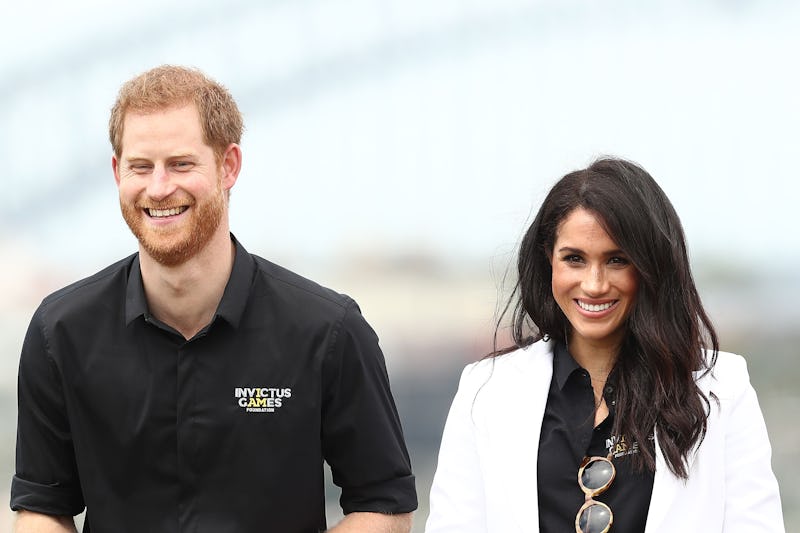 Mark Metcalfe/Getty Images Entertainment/Getty Images
Talk about coming full circle: Prince Harry's 2018 Invictus Games Speech mentioned the royal baby that he and Meghan Markle will be welcoming soon. This might simply seem like an enthusiastic soon-to-be father who can't wait to welcome his child into the world, but the Invictus Games mark a major moment in his relationship with the Duchess of Sussex. As reported by Elle, in 2017, Prince Harry and Markle made their first official public appearance together at the Invictus Games in Toronto. Now, they're in Sydney, Australia, once again celebrating this amazing sporting event for wounded soldiers, only this time they're married and expecting their first child.
In just one year, the Duke and Duchess of Sussex's lives have changed in a myriad of beautiful ways. On Monday, Oct. 15, the royal couple's baby news was announced via Kensington Palace. The official Twitter account for the royals tweeted,
"Their Royal Highnesses The Duke and Duchess of Sussex are very pleased to announce that The Duchess of Sussex is expecting a baby in the Spring of 2019. Their Royal Highnesses have appreciated all of the support they have received from people around the world since their wedding in May and are delighted to be able to share this happy news with the public."
Since then, Prince Harry and Markle have been busy touring Australia, but it's clear their baby news has them both excited. During his 2018 Invictus Games speech, the Duke of Sussex took the opportunity to thank the people of Australia for their warm welcome. He said, "First of all, thank you for the welcome you have given Meghan and I over the last few days. I have been so proud to be able to introduce my wife to you and we have been so happy to be able to celebrate the personal joy of our newest addition with you all." (You can hear Prince Harry's speech for yourself in the video below at the 1:37 mark.)
Prior to giving his big speech at the opening ceremony, Prince Harry practiced at the Sydney Opera House in front of a sea of chairs that were almost completely empty. There was one person sitting front and center though, and that person was Markle. The adorable moment was captured in a picture that will makes fans of the couple swoon.
The Invictus Games are extremely close to Prince Harry's heart. He got the idea in 2013, after watching America's Warrior Games, according to Town and Country. As a soldier himself, the Duke of Sussex saw an opportunity to honor "wounded, injured, and sick Service personnel" by hosting an event that celebrates their heroism, while also allowing them to express their love of sportsmanship.
Having the 2017 Invictus Games mark Prince Harry and Markle's first official public appearance together was already a big deal because of how much the event means to him. Seeing him return one year later with Markle once again by his side, but this time as his wife and soon-to-be mother of their child, is a reminder of just how far this sweet couple has come.