Here's How Prince Harry *Really* Feels About Bumping Into Queen Elizabeth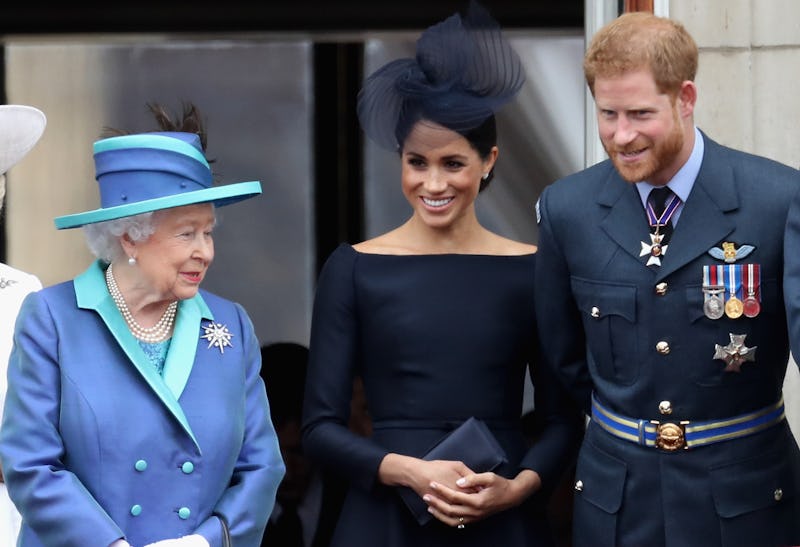 Chris Jackson/Getty Images Entertainment/Getty Images
There's no doubt Buckingham Palace and the Queen can both be intimidating at times, but did you also know Queen Elizabeth makes Prince Harry nervous? According to a Monday report from The Telegraph, in the upcoming ITV documentary, Queen of the World, which explores behind-the-scene-moments of the British Royal Family, Harry expresses in the film exactly how he feels whenever he sees his grandmother at her majestic home.
As reported by The Telegraph, the documentary shows Harry talking with a group of Caribbean hospitality professionals visiting Buckingham Palace. He reportedly says to them,
"You guys have spent way more time in Buckingham Palace than I ever have — and you've only been here two weeks. Have you bumped into the Queen yet? If you suddenly bump into her in the corridor, don't panic. I know you will. We all do!"
Oh, Harry. He's such the comedian, isn't he?
The Duke of Sussex is most likely joking that he panics whenever he runs into his grandmother. Hello, it's his grandmother. Yes, she's the Queen, but she's Harry's family — and someone he loves dearly. Though, everyone knows how Harry feels about her corgis. Harry didn't hold back in his first interview with Meghan Markle as an engaged couple in November 2017. While discussing Markle meeting the Queen with the BBC, he revealed, " And the corgis took to you straight away." Markle replied, "That's true." Harry hilariously added, "I've spent the last 33 years being barked at; this one walks in, absolutely nothing."
There's definitely truth to Harry's words, especially for those who don't know her or aren't related to the Queen. Can you imagine strolling through the palace before turning a corner and Queen Elizabeth is standing there? It would be an overwhelming feeling just being inside the Buckingham Palace, but then to casually bump into the Head of the Commonwealth? That would certainly cause anyone to panic.
Secondly, let's also discuss this remark from Harry:
"You guys have spent way more time in Buckingham Palace than I ever have — and you've only been here two weeks."
Wait, really? Has Harry never spent that much time at Buckingham Palace? Is he joking again? It's hard to say, especially without seeing Queen of the World and watching Harry's demeanor on camera. He could very well be channeling sarcasm, but, if not, it's shocking to learn Harry has rarely gone to the palace.
One might think when Harry was growing up he would've visited often. But, then again, the Queen has multiple homes. Plus, for quite some time now, Harry has had quite a busy schedule, which may have interfered with his Buckingham Palace visits. Whatever the case, it's hard to imagine Harry not being that familiar with his grandmother's most luxurious residence.
You can catch Queen of the World when it premieres on ITV on Sept. 25. It's also set to air on HBO on Oct. 1. It already sounds like a fascinating doc, but to know Harry talks about panicking around the Queen, well, that's all the more reason to watch.