OK, Princess Charlotte Already Sounds Like The Cutest Big Sister Ever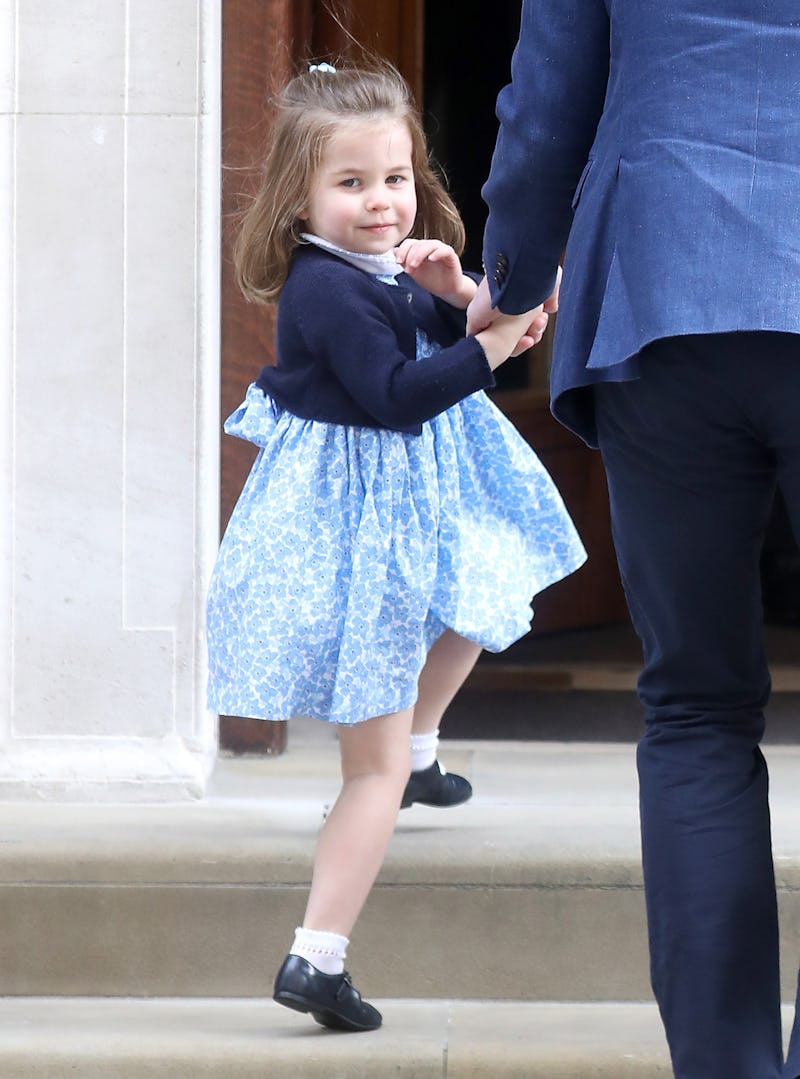 Chris Jackson/Getty Images Entertainment/Getty Images
Prince Louis is only 16 days old, but he's already formed a strong bond with his sister. Princess Charlotte won't leave Prince Louis' side, a "royal confidant" told Us Weekly. "Charlotte is really enjoying having a younger brother to play with," the source said. "She's taking her big sister duties very seriously. She won't leave baby Louis' side."
Apparently, Charlotte has taken after her "protective" older brother, Prince George, and looks after Louis. "Charlotte is just like him," the source said referring to George. "They have a great bond, and a similar connection is growing between Charlotte and Louis."
On May 5, Kensington Palace released the first official photos of Louis and Charlotte also made an appearance. "The Duke and Duchess of Cambridge are very pleased to share two photographs of Princess Charlotte and Prince Louis, taken by The Duchess at Kensington Palace," the palace said in its tweet.
In the image taken on Charlotte's third birthday, as you can see below, the three-year-old princess has her arm around her baby brother and is sweetly kissing his head. It doesn't get cuter than this and it's clear how much she cares about Louis.
There was also another photo shared by the palace, but this one was only of Louis, who is already very photogenic. "This image of Prince Louis was taken by The Duchess of Cambridge at Kensington Palace on 26th April," the tweet read. "The Duke and Duchess would like to thank members of the public for their kind messages following the birth of Prince Louis, and for Princess Charlotte's third birthday."
Even though Charlotte now has two siblings, it doesn't seem like she has any problem holding her own. Per Us' source, "She's very confident. She's not afraid of a grazed knee and it's not going to stop her from running around. She moves at the speed of light!"
A source "close" to Kate Middleton and Prince William said something very similar to Us in December 2017. "He's very protective of her but they still like a bit of rough and tumble," the source said about George and Charlotte. "She's not afraid of a grazed knee and it's most certainly not going to stop her from running around corridors like a girl possessed." The insider continued, "Charlotte has a very active imagination and a curious nature. She's always got her eye on something and moves at the speed of light!"
According to a January report from the Daily Mail, Charlotte even takes charge from time to time. The publication reported Queen Elizabeth II once said Charlotte looks after George. After the Queen reportedly asked a schoolgirl at Sandringham House if she took care of her little sister, the girl's mother said it was "the other way around". To that, Queen Elizabeth reportedly added, "It's like that with Charlotte and George."
Whoever takes care of who, it sure seems like William and Middleton have taught their children to look after one another. Like Charlotte and Louis' first photo together, George and Charlotte's first picture released in June 2015 (above) also showed big brother George kissing his little sister and forming a fast bond.
Here's hoping a family photo or a picture of all three siblings is released sometime in the near future. Though, seeing as Middleton and William are careful about not overexposing their children to the public, fans might be waiting a little bit longer than they may like. But, there's a chance George and Charlotte will be in Prince Harry and Meghan Markle's wedding. If so, you know they will offer up some more adorable brother-sister moments.