These Are The Roles Prince George & Princess Charlotte Will Reportedly Have In Meghan & Harry's Wedding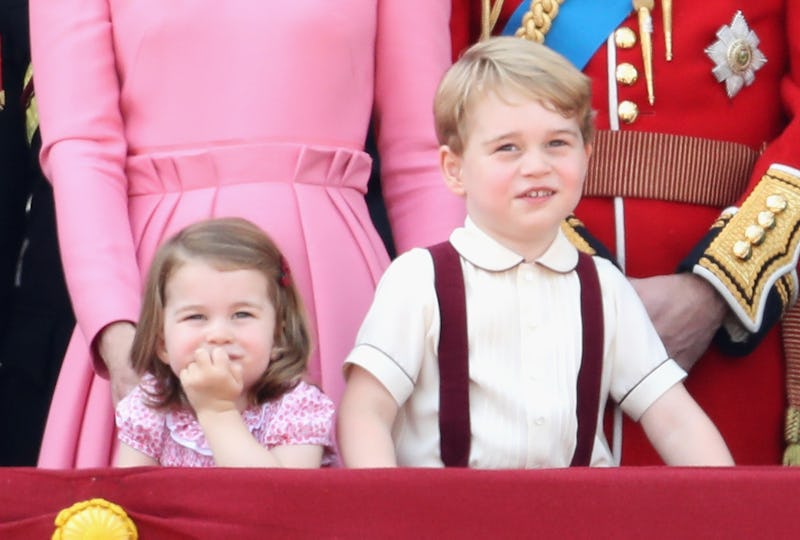 Chris Jackson/Getty Images Entertainment/Getty Images
Details surrounding Prince Harry and Meghan Markle's wedding continue to slowly unfold, including a Dec. 3 report from The Sunday Times that says Prince George and Princess Charlotte will be in Harry's wedding. According to the publication, Prince William and Kate Middleton's little ones "will walk up the aisle behind Meghan Markle." Kensington Palace also told the outlet that both George, 4, and Charlotte, 2, have met Markle "many times". A spokesperson added, "The wedding will be a family event. You can expect the family to be involved." Bustle has reached out to Kensington Palace for comment on George and Charlotte's roles, but did not receive a response at the time of publication.
While Harry's nephew and niece's roles haven't officially been confirmed, per the Daily Mail, they will most likely serve as a pageboy and a bridesmaid, like they did in Pippa Middleton's wedding in May. For those unaware, a pageboy is basically a ring bearer who typically walks down the aisle before the bride.
As for a bridesmaid, you'll recall that Middleton had several young bridesmaids in her bridal party. According to Brides, "English brides are accompanied by a group of bridesmaids, usually younger girls between the ages of 10 and 12." Obviously, Charlotte is much younger than that, but as Brides reports, both Middleton and Princess Diana had bridesmaids under the ages of 10. They were all somehow related to the family, too.
Harry and Markle are set to wed in May 2018 at St. George's Chapel at Windsor Castle, Kensington Palace confirmed on Nov. 28. The Palace's statement also revealed that Queen Elizabeth II had approved the venue and that the royal family will pay for the wedding.
On Monday, The Daily Telegraph reported a source revealed their wedding cake will be made from bananas. "This will be the first royal wedding cake made from bananas," a source close to Harry and Meghan said. Apparently, the 33-year-old royal loves "anything with banana." Furthermore, their rumored banana cake could have a connection to that time Markle shared an Instagram in October 2016 of two bananas with the caption, "Sleep tight xx". Many assumed this alluded to their relationship, which was unconfirmed at the time.
Who will serve as best man has yet to be announced, but many are wondering if Harry will choose his older brother just like William selected his baby brother when he got married. However, according to Marlene Koenig, a British and European royalty expert, who spoke with Town & Country on Nov. 30, William won't really be Harry's best man either way, because that term doesn't exist at a royal wedding. She said, "The best man or best men are officially called supporters. William will probably be Harry's supporter." As The Guardian reported in February 2011, William broke protocol and chose to call Harry his "best man" rather than his "supporter."
As for Markle, she also hasn't revealed who will act as her maid of honor, but she has plenty of options, including, but not limited to, her best friend Jessica Mulroney, another close friend Soho House director Markus Anderson, tennis player Serena Williams, or Quantico's Priyanka Chopra.
Even though the Palace hasn't confirmed who will officially be in Harry and Markle's wedding, there's no denying that if George and Charlotte will act as a page boy and a bridesmaid they will probably steal the show. They never fail in serving up all the cuteness. Plus, they even sometimes throw a tantrum or need a good talking to from Middleton. Here's what you can most likely expect from the royal siblings:
Pure Sweetness
You can't beat this mother-daughter duo.
On Point Outfits
They are all so adorable.
Sibling Love
They are the best.
Moments Like This
Even George gets in trouble sometimes.
So Much Talent
Keep up the good work, George.
The Best Candids
Come. On.
Yeah, George and Charlotte will make Harry and Meghan's special day even more memorable.