Prince William & Kate Middleton's Net Worths Might Be Even More Impressive Than You Think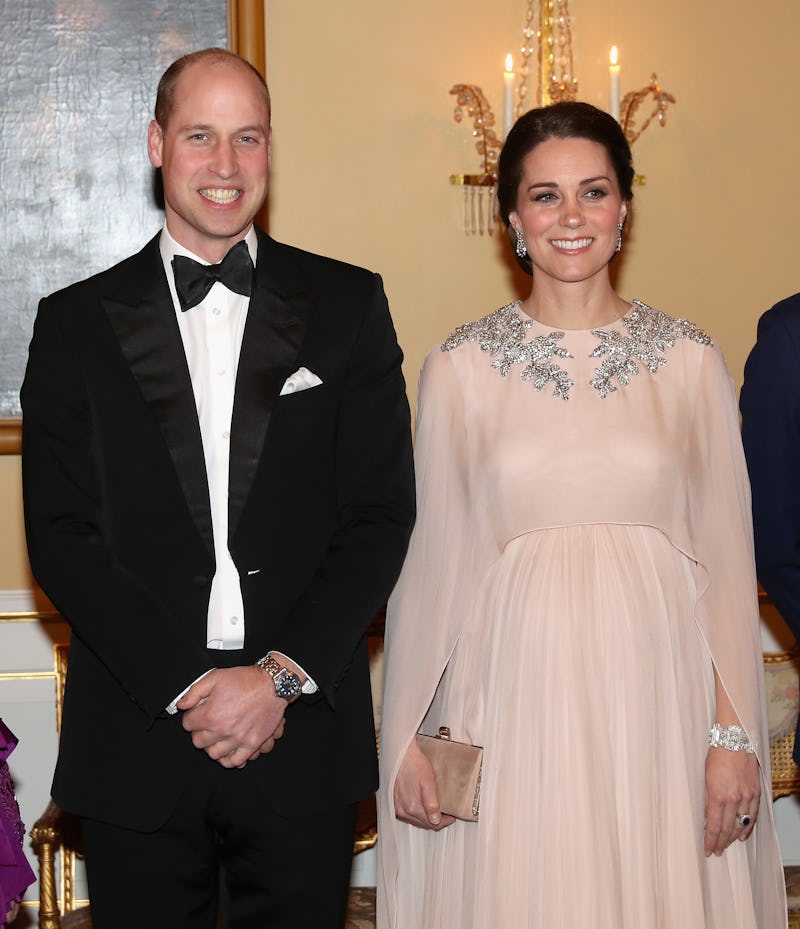 Chris Jackson/Getty Images Entertainment/Getty Images
The British royal family lives a life of luxury. Between residing in actual palaces, traveling all over the world in style, holding legitimate royal titles, and having phenomenal wardrobes, they know a thing or two about wealth. So, yeah, their finances may be of interest to you. If so, let's discuss one portion of the family: Prince William and Kate Middleton's net worths.
In not-so-shocking news, William and Middleton have a lot of money — a lot. Let's begin with the Duke of Cambridge. According to Celebrity Net Worth, William is worth $40 million. You know, just a small chunk of change. The Richest also reports William has a net worth of $40 million.
They both reportedly inherited 13 million pounds (currently this is over $17.5 million in U.S. dollars) from their mother, Princess Diana, with William receiving 6.5 million pounds (today this is over $8.5 million U.S. dollars) from Diana's inheritance. The Richest also reports William received money from the estate of his late great-grandmother, the Queen Mother, Queen Elizabeth II's mother.
According to an April 2011 Forbes report, Diana left her sons $10 million after taxes and they reportedly starting getting yearly dividends at 25, which Forbes reported is an estimated $450,000 a year. Reader's Digest also reports William and Harry earned $450,000 per year investment profit, but at the age of 21. Forbes reported William and Harry would receive their inheritance in full at the age of 30.
If that isn't enough, they both even receive an "allowance" from the Duchy of Cornwall estate managed by their father, Prince Charles. People reported in June 2015 the allowance for William, Kate, and Harry's staff, travel, and official wardrobes. The amount? Reportedly, a total "allowance" fund of $4.6 million per year. In 2017, the Duchy reported spending over $4.7 million in total to cover the trio's expenses. Now that Meghan Markle is marrying into the royal family, she'll probably also factor into the allowance fund.
If you're wondering about William's career as a pilot, before he retired from flying rescue helicopters in July 2017, he reportedly earned an annual salary of $62,000 from East Anglian Air Ambulance. However, a July 2015 AFP report revealed William donated his entire salary to charity. You can also learn more about the royal family's finances here.
And now moving onto William's other half, Middleton, who is worth $10 million, according to Celebrity Net Worth. Business Insider reported in April global wealth-tracking firm Wealth-X has Middleton's net worth at at least $7 million. Either way, before even marrying William, Business Insider reports the Duchess of Cambridge had an impressive fortune thanks to her family's party supply business, Party Pieces. Per Business Insider, Party Pieces is estimated to be worth $50 million.
As for whether or not Middleton will inherit a portion of the family fortune (she also has a sister, Pippa Middleton, and a brother, James Middleton), royal expert Marlene Koenig (via TIME's Money), said, "There is no way in knowing if the Duchess' parents have set up trusts for their three children." She also said it's probably safe to assume the three Middleton children would inherit their parents' money at some point.
Ever since a young age, Middleton and William have led wealthy lives. They certainly aren't strangers to money, just like the idea of giving back to those in need isn't a foreign concept. They may be rich, but helping those less fortunate is important to Middleton and William. Even when they got married on April 29, 2011 they set up a wedding fund for people to donate money in lieu of gifts. According to People, $1.7 million was raised, which went to the charities of their choice.
"Their Royal Highnesses the Duke and Duchess of Cambridge are delighted that these charities are able to benefit so positively from their special day," St. James' Palace said in a statement. "They would like to thank everyone who donated and contributed so generously to the charitable fund and for all the kindness and support shown to them throughout the wedding period."
William and Middleton's wealth might sometimes be flaunted at fancy official events, but they still try to do every ounce of good they possibly can. That's what makes them so inspiring.