Prince William Just Recreated One Of Kate Middleton's Childhood Photos In The Cutest Way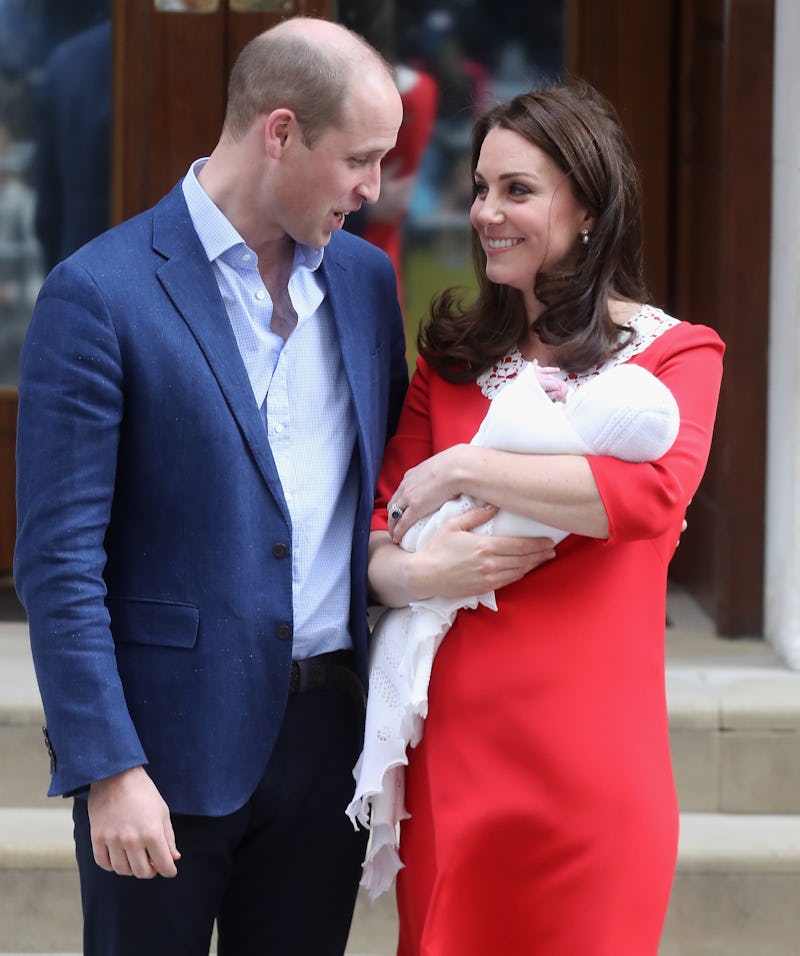 Chris Jackson/Getty Images Entertainment/Getty Images
Kate Middleton couldn't join Prince William on his latest trip, but he did send her a cute pic via Twitter. (And, hopefully, via text, too. Royals text, right?) The Duke of Cambridge is currently on tour in the Middle East, and while visiting Jordan, Prince William recreated a photo at Jerash, where Kate Middleton and her family had been photographed when she was a child. "Kate, look where I am lol," William surely wrote to his wife after snapping the pic.
As the Kensington Palace Twitter account notes, Jerash was a first-century Roman city and is now a major tourist attraction. William visited the historical site on Monday with Jordan's Crown Prince Hussein, and took a photo right where the Duchess of Cambridge had taken a picture with her father, Michael, and sister, Pippa, when she was only four years old.
But unlike William, the Middletons were not just visiting Jordan when they went to Jerash. As People reports, the Middleton family lived in Jordan for three years while Michael worked for British Airways in the capital city of Amman. According to Town & Country, Michael was a flight dispatcher, and actually met his wife, Carole, through the job since she had been a flight attendant for the airline.
It sounds like William got quite the surprise when he went to Jerash, because, according to People, there was a blown-up version of the photo of Middleton with her sister and father at the site when he arrived. (Why didn't we get a picture of that?) William reportedly responded by saying that he and Middleton will have to bring their kids the next time they visit.
The reason Middleton and the kids were not with William this time around is because the Duchess is on maternity leave from her royal duties, and their newest child is just a little too young to be participating in royal duties himself. The couple's third child, Prince Louis, was born on April 23, making him only two months old.
During a party the night before the Jerash visit, People reports William said that Middleton "is very sorry she cannot be here with me so soon after the birth of our son Louis, but her family remembers very fondly the almost three years she spent here as a child when her father worked for British Airways in Amman." He continued, "Catherine's experience is not unique — the interchange between our two countries is real and deep: work, study, tourism and family links."
William's tour is four days long — from Sunday, June 24 to Thursday, June 28 — and, according to the official royal family website, will have him visiting Israel and the Occupied Palestinian Territories, in addition to Jordan. A statement from the family explains that the Prince will "meet people from a wide variety of backgrounds — including refugees — with a particular focus on young people." He will also meet religious and political leaders. Kensington Palace tweeted that William is the first senior member of the British royal family to make an official visit to Israel.
While Middleton wasn't able to travel with William this time, they have gone on plenty of official trips together in the past. Notably, they visited countries in Asia and Oceania in 2012 as part of the Queen's Diamond Jubilee; visited Australia and New Zealand with their son Prince George in 2014; and went to India and Bhutan, and later, Canada in 2016 where they were joined by Prince George and Princess Charlotte.
The Duke and Duchess of Cambridge don't have any upcoming tours listed on the royal family site, but fans will get to see them make another appearance together soon when Prince Louis is christened on Monday, July 9. And, there is another tour coming up that will surely be exciting to royal watchers: Prince Harry and Meghan Markle's visit to Ireland. On Monday, more details were released about the Duke and Duchess of Sussex's trip to the country, which will take place on July 10th and 11th.
So, while Middleton couldn't make it to Jordan with William, knowing how busy this family keeps with their travels, they'll be spotted in a new location together in no time.