Diana Discovered Prince Charles' Affair With Camilla In The Most Devastating Way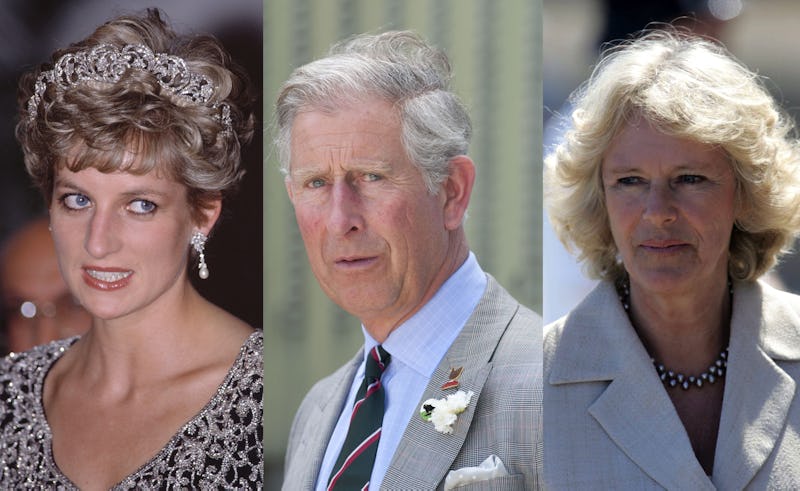 DAVID HARTLEY/Shutterstock/Tim Rooke/Shutterstock
When Princess Diana and Prince Charles were married in the summer of 1981, it looked like a total fairytale romance as the pair posed on the steps of St Paul's Cathedral in their wedding finery. However after 15 years, it became obvious to pretty much everyone that their marriage had its fair share of problems, and the pair eventually divorced in 1996 — though the writing had apparently been on the wall for years. In fact, it turns out Princess Diana discovered Prince Charles' affair with the current Duchess of Cornwall, Camilla Parker, Bowles before she even tied the knot with him.
According to the Mirror, Diana found an incriminating gift intended for Camilla in one of Prince Charles' employee's office a few weeks before she married him. Royal biographer Andrew Morton alleged that it was a bracelet "engraved with the letters G and F" — a subtle reference to Charles and Camilla's nicknames for one another, Gladys and Fred.
The outlet reported that Diana gave an interview in 1997 after their divorce, in which she brought up the heartbreaking moment. She said: "I was still too immature to understand all the messages coming my way."
She continued: "And then someone in his office told me that my husband has had a bracelet made for her. I walked into this man's office one day and I said, 'Ooh, what's in that parcel?' And he said 'Oh, you shouldn't look at that'.
"So I opened it and there was the bracelet. I was devastated, and I said 'Well, he's going to give it to her tonight.'"
Apparently, it led to an argument and she finished: "So rage, rage, rage. You know, 'Why can't you be honest with me?' But no, [he] absolutely cut me dead. It was as if he'd made his decision, and if it wasn't going to work, it wasn't going to work."
Prince Charles and Camilla had briefly dated before he married Diana, after they met at a polo match in 1970. Cosmopolitan revealed that they later broke up in 1971 when Prince Charles joined the Royal Navy. After Charles' divorce from Diana and her tragic death in 1997, Charles and Camilla were married in April 2005 in a civil ceremony at the Guildhall in Windsor.
Even though Diana had made the heartbreaking discovery, she and Charles went through with tying the knot. In an interview reported by PBS following their split, Diana said that she "desperately wanted it to work, I desperately loved my husband and I wanted to share everything together" — which breaks my heart a little bit.
She also referenced the fact that her increased media attention, which outshone her ex-husband's, sparked "a lot of jealousy" and "a great deal of complicated situations," which also didn't bode well for their relationship.
Diana said she and Charles even felt pressured to pretend everything was OK, as she explained that her bulimia was linked to "the situation where my husband and I had to keep everything together because we didn't want to disappoint the public, and yet obviously there was a lot of anxiety going on within our four walls."
Although her marriage to their father didn't work out, Diana made no secret that her children Prince Harry and Prince William were the shining light of her life. In fact, PEOPLE reported that she once said, "I live for my sons. I would be lost without them."
And even now, decades on from her death, Harry and William continue to follow the path their mother set for them by continuing her lifelong dedication to charity work, especially with their mental health charity Heads Together.
I'm just happy that even if their parents didn't manage to work things out, they both have been able to find their forever loves in Meghan Markle and Kate Middleton respectively — two accomplished women I'm sure Diana would have absolutely loved.