Princess Charlotte Stole The Show By Waving At Eugenie's Wedding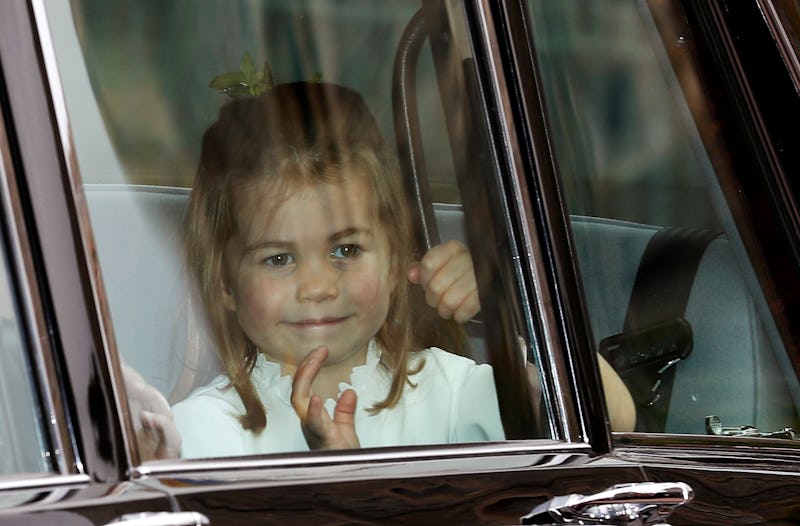 WPA Pool/Getty Images Entertainment/Getty Images
While the bride is typically the main attraction at a wedding, the children of the wedding party always draw at least some attention. And Princess Eugenie's marriage on Friday was no exception. Photos of Princess Charlotte waving at Eugenie's wedding show that the 3-year-old is already a pro at her royal duties. For her cousin once removed's wedding to Jack Brooksbank, Princess Charlotte served as a bridesmaid while her older brother Prince George was a page boy. This is the third time this year that Prince William and Kate Middleton's daughter has been in a wedding party and clearly, from her adorable waves, she has perfected the art.
Prince William and Princess Eugenie are first cousins and Prince William will be king one day, so it was unsurprising that the bride incorporated his children. (Prince Louis sat this one out since he was just born in April.) In 2017, Charlotte was in her aunt Pippa Middleton's wedding to James Matthews. Earlier this year, she memorably was a bridesmaid for her uncle Harry's wedding to Meghan Markle. The young royal walked down the aisle again last month for the wedding of her mom's friend Sophie Carter, who is also Charlotte's godmother. With all of that practice, Princess Charlotte couldn't help but innocently steal the show a tiny bit as she waved during her entrance into St. George's Chapel.
As is tradition for British weddings, children make up the bulk of the wedding party with the girls referred to as "bridesmaids" rather than "flower girls." And just like she did at Prince Harry and Meghan's wedding, Charlotte made the most of her bridesmaid duties by waving to the crowd with aww-worthy panache.
Charlotte rode into the wedding with her older brother Prince George and "special attendant" Lady Louise. The 14-year-old royal and her 10-year-old brother James (the youngest grandchildren of Queen Elizabeth) were charged with escorting the six bridesmaids and two page boys.
Charlotte also showed off her bridesmaid dress through her waves. The colorful sash that accompanies her white dress comes from the piece Here by American artist Mark Bradford. Princess Eugenie is an art gallery director and this artwork was also featured in the Order of Service (aka, wedding program).
Look at the graceful ease this princess has in the palm of her tiny hand.
And nothing could stop Charlotte from giving the crowd what they wanted. Not distractions from fellow bridesmaids, like 7-year-old Savannah Phillips, who has a knack for making silly scenes since she teased Prince George during the Trooping The Colour parade in July ...
... or the blustery weather conditions that knocked other members of the wedding party down.
If somehow you're still unsure of the princess' waving devotion, here's some video for good measure.
Her parents also had a cute display of affection as they held hands during the wedding ceremony. But Charlotte proved once again at Eugenie's wedding that she's the princess of our hearts — and of royal waves.