Princess Eugenie & Jack Brooksbank's Monogram May Have Just Confirmed Something Major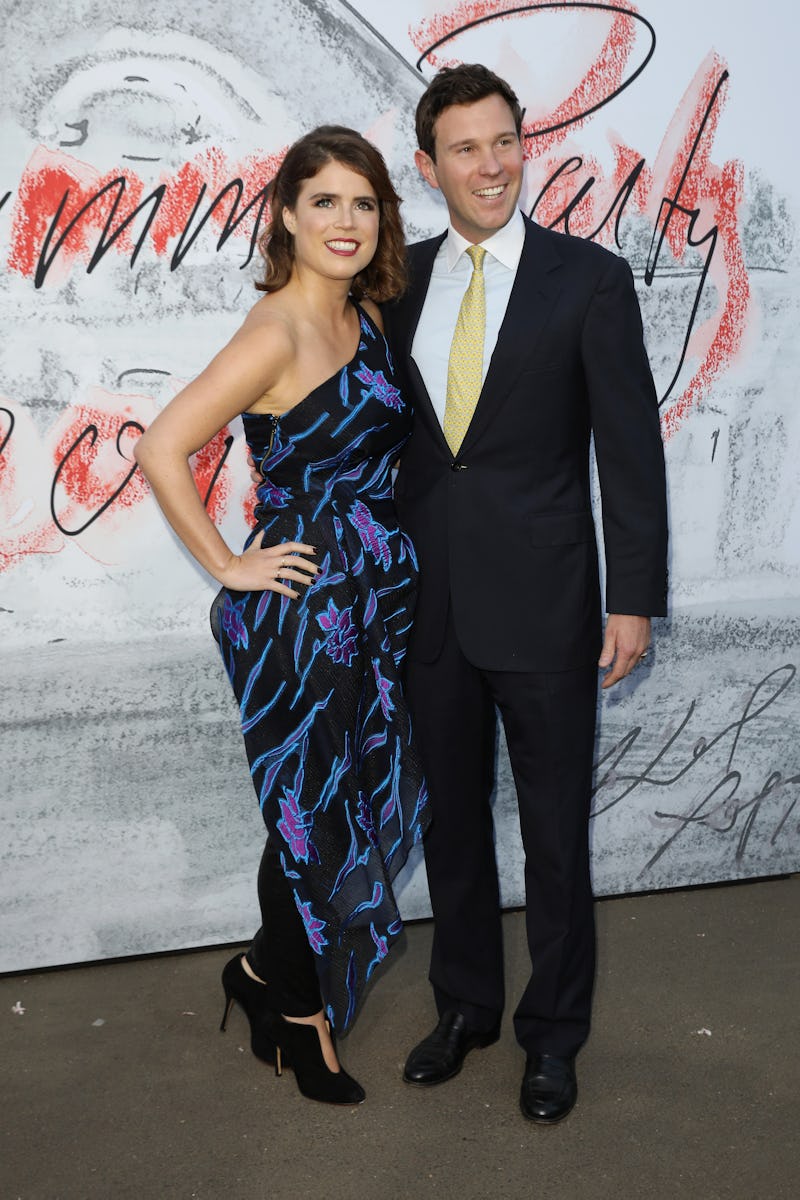 Tim P. Whitby/Getty Images Entertainment/Getty Images
The commemorative china in celebration of Princess Eugenie and Jack Brooksbank's wedding was released last week, and there's actually a clue in the design as to how the groom will fit into the British royal family. Princess Eugenie and Brooksbank's monogram, which is featured on the china, seems to confirm that he will not be receiving a title. Yes, this much can be gathered via two swirly letters on a teacup.
First off, the china (and the tea towel and the "handbag shortbread") is very Eugenie-forward, shall we say. Her own, individual monogram is featured prominently on all of the items with a "J" or their combined monogram printed on the other side of some of the collectibles. Eugenie's "E" has a crown on top of it — a coronet — but their combined monogram does not. (And, of course, the "J" by itself doesn't either since Brooksbank isn't royal.) As People point outs, it is significant that the combined "E" and "J" monogram does not have the coronet over it, which could mean that he will not receive a royal title.
As a point of comparison, Meghan Markle and Prince Harry's and Kate Middleton and Prince William's combined monograms all include coronets, even though Markle and Middleton were commoners. But, Markle and Middleton both received the title of duchess upon their marriages to the princes, so their monograms reflect that.
It wasn't expected that Brooksbank would receive a title, anyway. He's a man marrying a woman who is a royal, and in British royal tradition that scenario does not see the groom automatically getting a title. Royal expert Marlene Koenig told Town & Country, "There is no precedent for giving a peerage to the commoner husband of a princess on the wedding day."
Town & Country also notes that there were rumors a couple of years ago that Eugenie's father, Prince Andrew, had asked his mother, Queen Elizabeth, to give his daughters' future husbands the title of Earl. He denied the rumors via an official statement.
The Queen could give Brooksbank a title if she wanted to and if he accepted it. When her sister, Princess Margaret, married Antony Armstrong-Jones, Queen Elizabeth made him the Earl of Snowdon. On the other side of things, when the Queen's daughter, Princess Anne, got married, her husband, Mark Phillips, did not take on a title, and the couple decided not to accept the Queen's offer of titles for their children, Zara and Peter Phillips.
While it's kind of lame that spouses of men who are members of the royal family get titles when spouses of women in the royal family don't, it doesn't really matter that much if Brooksbank has a title of not. For one, peerage doesn't mean as much as it once did. For two, Eugenie is ninth in line for the throne and moving further and further back as her cousins have more kids. And for three, Eugenie and Brooksbank are modern people. She works at an art gallery and has an Instagram (that's rare for a royal), and he owns a company that sells wine and liquor. They seem like a couple who will be just fine conjoining their initials in a swirly font without a little crown over them.