Experts Think THIS Is Why Princess Eugenie Attends More Royal Events Than Beatrice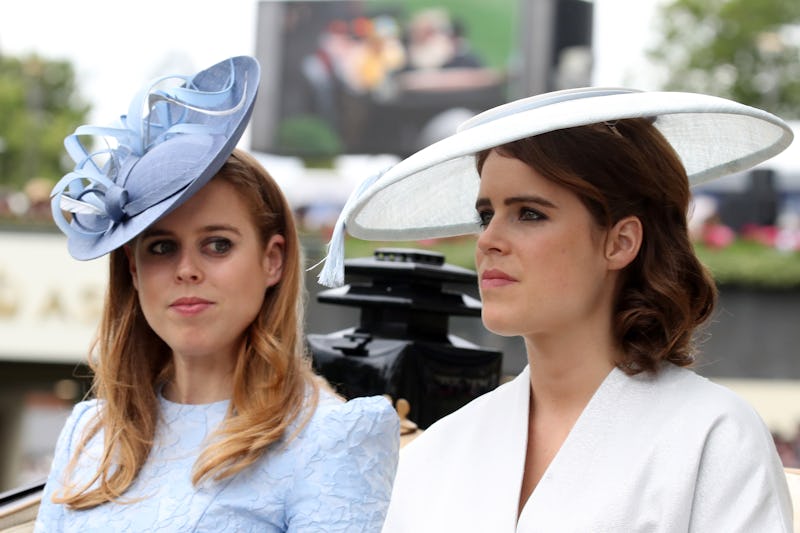 Chris Jackson/Getty Images Entertainment/Getty Images
Princesses Beatrice and Eugenie, cousins to Harry and William, aren't exactly low-profile figures — they're currently eighth and ninth in line to the British throne, after all. This year alone, they've already attended Royal Ascot, the Trooping the Colour ceremony, and a certain royal wedding; and the spotlight will only intensify as Eugenie prepares to marry fiancé Jack Brooksbank in October. But it seems as though one sister's spotted out and about a little more than the other — have you noticed? So why do Princess Eugenie and Prince Eugenie's royal roles differ? Why does Beatrice attend more royal events than her sister? I asked the experts to find out.
It's been Eugenie commanding column inches at present: she even has her own Instagram, unlike Beatrice. She's also appeared at events her older sister hasn't: on July 18, for example, she attended the Nelson Mandela Centenary Celebration at Coutts Bank, London, where she met Andrew Mlangeni, an anti-apartheid activist and former cellmate of Mandela. However, Beatrice was nowhere to be seen. So what's the deal? The answer to the discrepancy, it seems, might lie in both their jobs and their personal lives.
Neither princess is a "working royal", says royal commentator Richard Fitzwilliams. As reported by i News, the sisters "do not carry out royal duties, receive money from the taxpayer or have publicly-funded police protection". So they don't, in fact, have official royal engagements, like the Duke and Duchess of Sussex, for instance. If we're seeing more of Eugenie, then, it's not because she's been royally promoted.
In that case, let's dig into their respective backgrounds to determine why Princess Beatrice might be taking more of a back seat. Handily, their dad — Andrew, Duke of York — has shared a full bio of each daughter on his official website, a standard move to which dads and daughters across the nation, I'm sure, can presumably relate. Beatrice's page doesn't shed a lot of light on her day-to-day life, however; the website simply states, "Princess Beatrice works full time in business."
According to Richard Fitzwilliams, Beatrice is vice president of partnerships and strategy at Afiniti, a business tech company in New York — and indeed, she's right there on its website. (Did you ever imagine the eighth in line to the throne would need a LinkedIn profile?) So there could be a simple answer for those wondering why Eugenie appears to be more in the public eye: Beatrice lives in the United States, just a touch too far away to commute to royal events. Conversely, Eugenie works as the director of art gallery Hauser & Wirth, according to Hello — which is conveniently based in London.
Claudia Joseph, author of How to Dress Like a Princess, certainly thinks it's just a matter of circumstance too. "There are times when Beatrice is more in the public eye than her sister and vice versa," she tells me. "At the moment, Beatrice lives and works in the States while Eugenie is in this country."
However, Joseph sees one other major reason why Eugenie's public profile appears a little higher than her sister's: she's got a royal wedding coming up. And Fitzwilliams agrees, saying, "I think Eugenie's forthcoming marriage to Jack Brooksbank will be a charming occasion and will garner more interest than it normally would as this is such a fascinating royal year."
Princess Eugenie will marry Brooksbank, a former Mayfair club manager, according to the BBC, on October 12. The wedding will take place at St George's Chapel, Windsor Castle — and they've just announced that they'll invite 1,200 members of the public into the castle grounds to share the festivities as well, following in the footsteps of Prince Harry and Meghan Markle.
So there you have it: you're seeing a bit more of Eugenie because Beatrice lives across an ocean, and everyone loves a wedding. All pretty simple, really.