Princess Eugenie Broke A Major Beauty Rule Before Her Wedding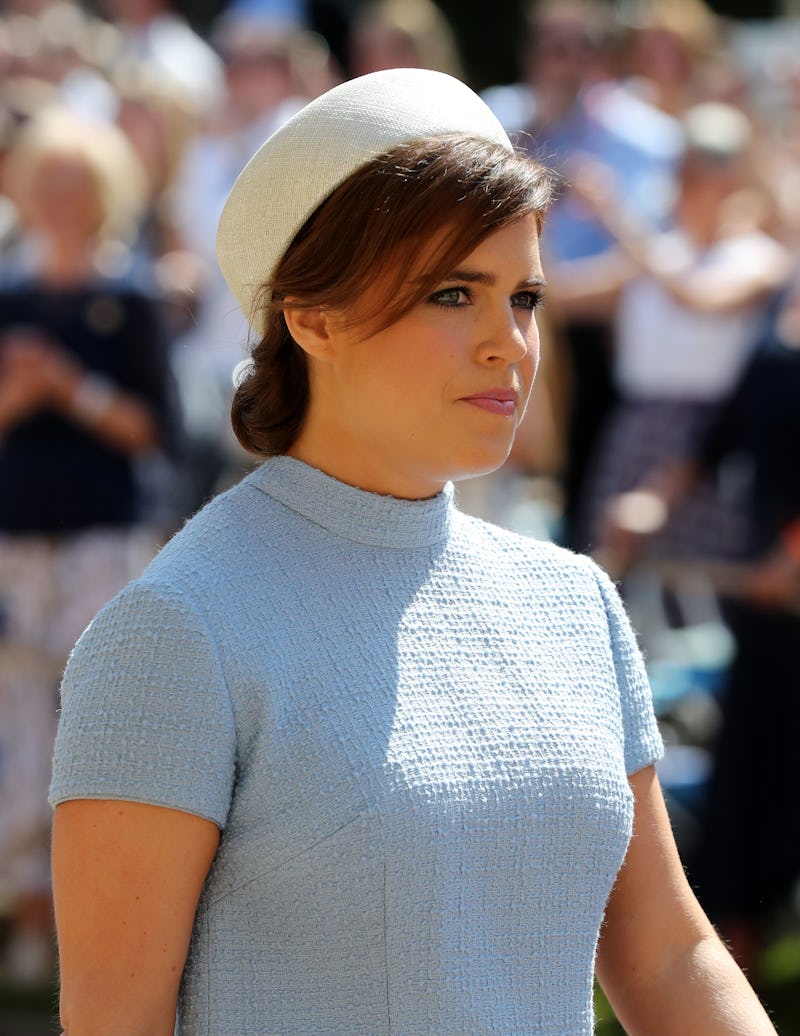 WPA Pool/Getty Images Entertainment/Getty Images
Given that royal family fans just got a gorgeous wedding ceremony thanks to Meghan Markle and Prince Harry, people are well acquainted with some of the family's rules for these events. While everything seems to be on the up and up, Princess Eugenie's new red hair has broken a major wedding beauty rule. It's just not a rule that's technically royal.
Before their weddings, most brides are strongly advised to not try anything new when it comes to beauty. There's no room for a new type of facial, a new exfoliator, new makeup, or new haircut. Why? What if something goes horribly wrong? Perhaps you've decided to try a new foundation two weeks before your wedding day, and bam! You've got a breakout. While acne should be normalized, no one really wants blemishes in their wedding day photos. What if you try that new chemical exfoliator you've been hearing about? You could get red, irritated skin for days. Basically, stick to what you know, and you'll have nothing to worry about come wedding day.
Princess Eugenie, however, didn't heed the advice. Thankfully, in her case, the broken bridal beauty rule worked out. Princess Eugenie's new red hair may have broken a rule, but it was totally worth the risk.
According to Cosmopolitan, Princess Eugenie has colored her typically brunette hair a deeper shade of red just a few days before her wedding. Photos of the princess's new 'do are available thanks to photos on the UK website Express, and it's hard to deny that the color is reminiscent of her mother's, Sarah Ferguson, own red hair.
Princess Eugenie is set to marry Jack Brooksbank on Friday, Oct. 12, and now she'll be doing so with some gorgeous new red locks, but her hair will certainly not be unadorned. Like Kate Middleton and Meghan Markle, Prince Eugenie is expected to add a tiara to her wedding look.
Royal protocol requires women to be married or to be a bride in order to wear one, and on her wedding day, it's expected that the princess will, in fact, don one.
She certainly has a few to choose from. In case you didn't know, she's the granddaughter of Queen Elizabeth (hence, her title), the daughter of Prince Andrew and Sarah Ferguson. As such, she's got full access to the queen's collection, but there seems to be one in particular that makes the most sense. Multiple outlets believe she'll wear the the York tiara, the same one her mother wore for her own wedding to Prince Andrew.
If you want to see Princess Eugenie's new red hair at her wedding, set your alarm for 6am ET. The ceremony will begin then, but if you want to see arrivals like the Clooneys and Beckhams, you may want to be awake a bit earlier. Hey, it's a royal wedding, so it's totally worth it. One piece of advice? Maybe make sure you're drinking something a bit stronger than tea that early in the morning.