Princess Eugenie's Wedding Is Going To Have A Super Strict Dress Code Because It's Royal AF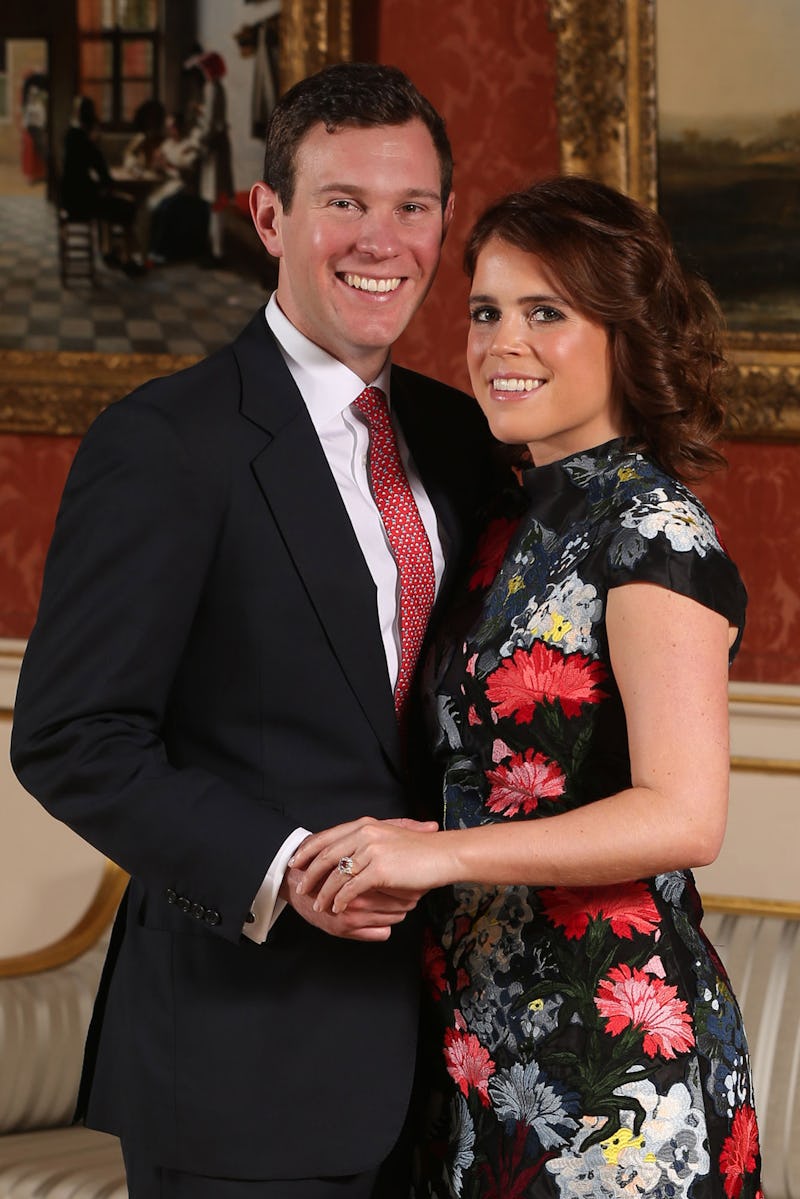 WPA Pool/Getty Images Entertainment/Getty Images
Princess Eugenie's wedding is just a calendar month away and it's sure to be an impressive fashion event, especially knowing the royal's penchant for trendsetting and fashion-risk-taking. But Princess Eugenie's dress code for the royal wedding is going to be way stricter than the one at the Duchess of Sussex, Meghan Markle's, affair.
Princess Eugenie and her fiancé Jack Brooksbank have sent out over 800 invites for their big day, and next to the time and date details is what each guest is expected to wear. Now, according to royal protocol, an invited guest to a monarch's wedding wouldn't show up wearing whatever they picked out at a whim in the local department store. There are rules and etiquette to attending a royal engagement, and the clothes are just as policed as the manners. So it's no surprise that outfit instructions were included in the formal invite.
The Princess is ninth in line for the throne, and she is set to walk down the aisle in St. George's Chapel in Windsor (the same chapel that Prince Harry and Markle got hitched,) which will then launch a two-day wedding party.
Vanity Fair got a copy of the royal invitation, and found out from a source at St. George's Chapel that this will be one of the biggest weddings held in Windsor, so you know it is going to be fancy.
The women are instructed to wear hats and day dresses that cover the shoulders, which you see at every wedding, but the men are asked to come traditionally attired and to don their morning coats.
Morning coats are old fashioned dress suits for men that make them look look like they're in the Victorian era, but in an impossible elegant way. The suits are fitted and have long tails that curve around the body. They are usually paired with a vest and tie, and add a touch of style to an event.
This is actually pretty typical for wedding attire, and probably doesn't come as a shock to any of the guests accepting the invite. "For men, 'morning dress' is the daytime formal dress code. As the wedding is expected to follow tradition and take place in the day time, most gentlemen will be suited in a morning coat, waist coat, tie and striped trousers," Myka Meier, founder of Beaumont Etiquette, told Town & Country.
In contrast, Prince Harry's and Markle's wedding only requested that men show up in "lounge suits" even though morning suits are pretty typical at weddings — which gives you an idea just how closely the pair stuck to their plan to have a "low key" wedding.
If you know anything about Princess Eugenie, you might be wondering if she's going to be chafing against these restrictive rules. She has been known to wear show-stopping hats, like this sharp fascinator that she wore to Kate Middleton's wedding.
But even though she is known as a risk taker, the Princess is a royal and understands the rules. In the end, her wedding will be a gorgeous, formal affair.