Grab Your Fascinator Because You Can Snag An Invite To The Next Royal Wedding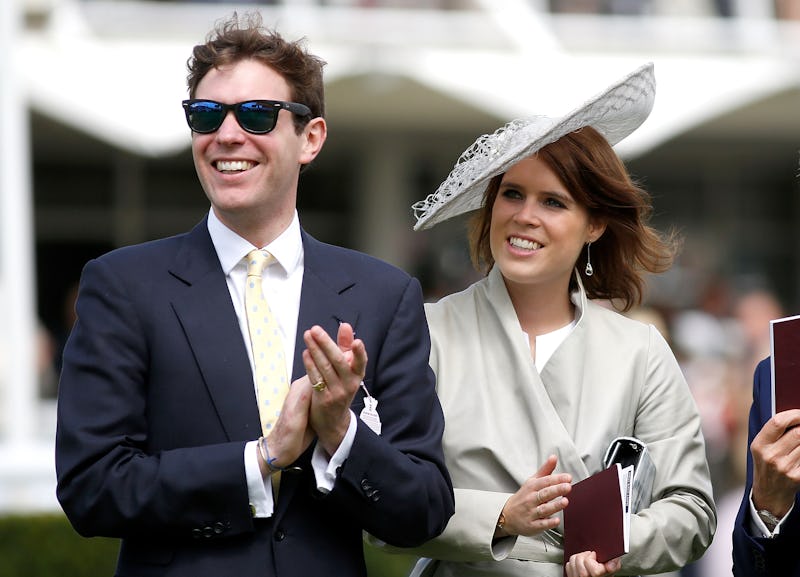 Tristan Fewings/Getty Images Entertainment/Getty Images
In May, more than 2,000 people were invited to watch Prince Harry marry Meghan Markle. And now, another royal is following in his footsteps. Buckingham Palace announced today that Princess Eugenie's wedding guest list will incorporate 1,200 members of the public.
Prince William and Harry's cousin announced her engagement to Jack Brooksbank in January of this year. The couple, who have been dating for seven years, will marry on Friday, October 12 in exactly the same place as the Duke and Duchess of Sussex did just two months ago.
The ceremony will take place in Windsor Castle's intimate St. George's Chapel. With all the usual royals set to attend (and maybe a celebrity or two), royal fans can now get the chance to watch the action up close.
The Palace released a statement, reading:
"Princess Eugenie and Jack Brooksbank would like to invite members of the public to join their wedding on 12 October, 2018 to attend inside the Precincts of Windsor Castle. 1,200 members of the public will be able to view the arrival of the congregation and members of the royal family, listen to a live broadcast of the marriage service, and watch the start of the procession as the couple depart at the end of the wedding ceremony."
Luckily, you don't have to perform some kind of trick or film a video professing your love for the royal family in order to win a ticket. It simply requires filling in a short application form, detailing your name, address, email, and phone number.
One application form is valid for up to four people and you have until August 8 to get it done. After that, the chosen guests will be notified by email and will receive a formal invitation in the post.
Although the opportunity is open to anybody and everybody, there are a couple of things to note. Namely, that applicants must be over the age of five to attend and children under 16 must be accompanied by an adult on the day.
If you're picked, you will get a prime spot inside the grounds of Windsor Castle where you will be able to watch the arrival of the couple and other wedding guests and get the first view of the royal procession as it departs the castle.
Buckingham Palace has also announced that a number of other people have been invited to watch the wedding, including representatives of charities that the engaged couple support, children from local schools, and select Windsor residents.
According to the Guardian, the 28-year-old royal and 32-year-old Brooksbank met on a Swiss ski holiday. Just like Markle, he doesn't come from an aristocratic background, with the newspaper reporting that his dad is an accountant. However, the report does reveal that he went to private school in the UK, which seems to be a staple of any royal's childhood.
Brooksbank's career appears to have focused on nightlife. After graduating from Bristol University, he entered the hospitality sector, working his way up to become the manager of nightclub and celebrity hotspot Mahiki. Hello! reports that he is now a brand ambassador for George Clooney's tequila company, Casamigos.
Interestingly, the royal couple have a pretty close connection to the Duke and Duchess of Sussex. They recently moved next door to Harry and Markle, upping ship to Kensington Palace's Ivy Cottage. Perhaps Eugenie will be getting some pre-marital tips from Markle. One can only wonder.
Fans don't yet know if the wedding will be fully televised. The announcement that ticket holders will be able to access audio of the ceremony suggests there will be some kind of coverage of the day, so if you miss out on tickets, rest assured, there could be a back up plan close to hand.