Eugenie Is The First Royal In History To Break This HUGE Rule For Royal Brides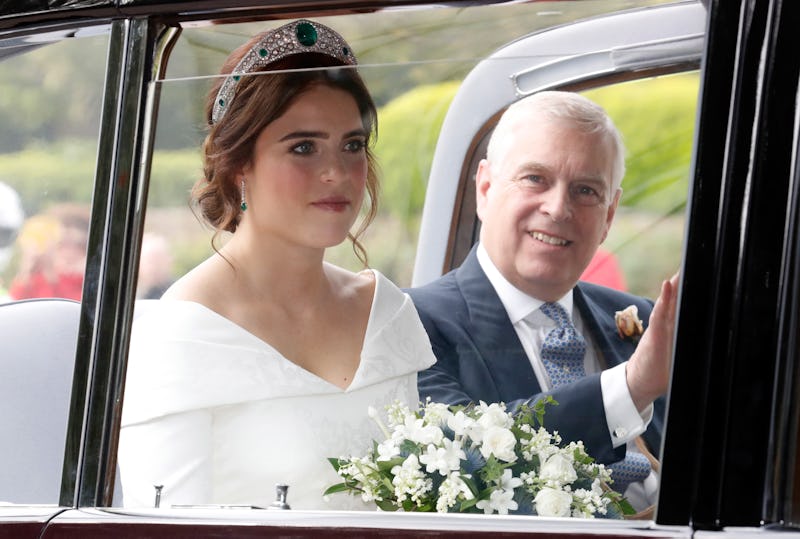 Chris Jackson/Getty Images Entertainment/Getty Images
The royal family has an odd rule when it comes to accessories. No unmarried royal woman is permitted to wear a tiara, meaning that most debut their very first headpiece on their wedding day. Unlike recent royal brides (who married into the royal family rather than being born in it), Princess Eugenie's wedding tiara was expected to pay tribute to her mother.
For her special day, Princess Eugenie actually chose the Greville Emerald Kokoshnik tiara, leant to her by the Queen. According to the Tiara Mania blog, the headpiece was created by Boucheron in 1921. The centre emerald is a whopping 93.70 carats, and the tiara came into the royal family by the Greville bequest, whereby a vast selection of jewellery was left to the Queen Mother by Hon. Mrs. Ronald Greville in 1942.
A lot of people had expected Eugenie to pay tribute to her mother with her choice. When Sarah Ferguson married Prince Andrew, Duke of York in 1986, she was reportedly gifted a tiara by the Queen and Prince Philip, Duke of Edinburgh and designed by preferred royal jeweller Garrard. Officially known as the York tiara, it features a five carat diamond in the centre and came as part of a jewellery set that contained a necklace, earrings, and bracelet. A gemologist told the Express it could be worth more than £220,000 today.
According to the Daily Mail, reports at the time suggested that this had been Ferguson's "something borrowed" but it is now widely believed that the tiara was indeed a wedding gift from the monarch. The intricate accessory has been locked away for quite some time. It was last seen on the head of Ferguson in 2001 when she attended Elton John's White Tie and Tiara Ball, according to the Express. In case you can't do the maths, this glittering headpiece hasn't seen the light of day in 15 years.
The York tiara is also particularly unique as it was a completely new design. As Grazia states, the majority of royal brides borrow a tiara from the Queen's personal jewellery collection. Meghan Markle, Duchess of Sussex donned Queen Mary's diamond bandeau tiara while Catherine, Duchess of Cambridge chose the Cartier Halo scroll headpiece for her marriage to Prince William, Duke of Cambridge back in 2011.
Princess Eugenie also broke with royal tradition by not wearing a veil. The veil is typically an important part of a royal bride's outfit. Town & Country reports that every single royal bride in British history has worn a veil on their wedding day. Except for Camilla, Duchess of Cornwall, that is. Markle's five metre Givenchy style was particularly stunning and showed off her democratic side by embroidering flowers representing every country in the Commonwealth. Eugenie and her older sister Beatrice have openly spoken about the fact they are the first to combine both. "We are young women trying to build careers and have personal lives, and we're also princesses doing all of this in the public eye," they told Vogue. Clearly Eugenie is confident doing things her own way, and good for her.