Priyanka Chopra & Nick Jonas Are Reportedly Engaged And The Details Are Adorable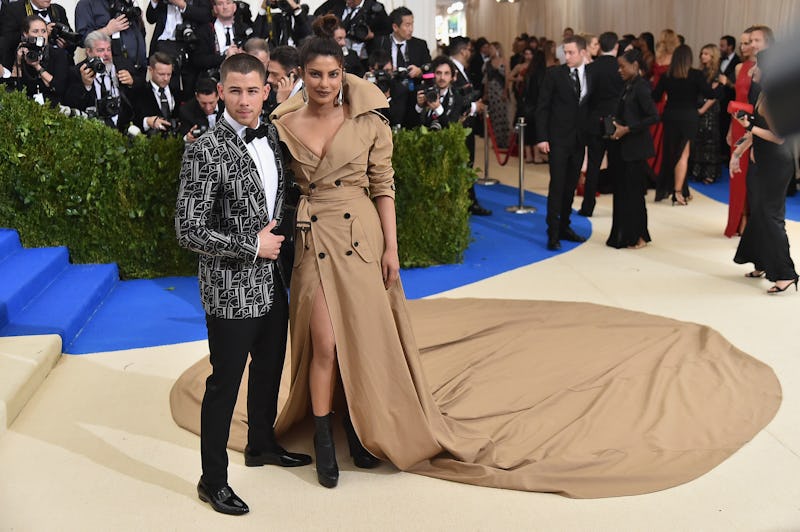 Mike Coppola/Getty Images Entertainment/Getty Images
For everyone who's been anxiously wondering about this romance for the last two months, there's finally some clarity. According to People, Nick Jonas and Priyanka Chopra are engaged and the details that are available are pretty cute. Bustle has reached out to their reps for comment.
Late Thursday night, filmmaker Ali Abbas Zafar cryptically tweeted that Chopra would not be taking part in Zafar's upcoming film, Bharat, because of a "very very special" reason. "She told us in the Nick of time about her decision and we are very happy for her," he continued. As if that wasn't confirmation enough, People's unnamed source reported that the couple got engaged last week, on Chopra's 36th birthday, and that Jonas even closed down a Tiffany & Co. in New York City to purchase Chopra's engagement ring.
Rumors about the 25-year-old singer and Quantico actress dating began swirling over Memorial Day weekend, when friends posted a photo on Instagram of the pair yachting together. Since then, though their relationship remained unconfirmed, the couple has been seen spending time with one another's families. In June, Chopra attended Jonas' cousin's wedding in New Jersey as his date, where she met his brothers Kevin and Frankie, and his parents. Later that month, Jonas traveled with Chopra to India, where he met her parents and accompanied her to a pre-wedding mehendi party for two of her friends.
While it's unclear how the two met, Jonas and Chopra made a public appearance together at the 2017 Met Gala. In an interview last May with Jimmy Kimmel, Chopra said "We were both wearing Ralph Lauren, and we decided to go together because it was fun."
Kimmel pushed back on this explanation and asked if they were dating, but Chopra remained enigmatic about her relationship status. "Isn't he like 11 years old?" Kimmel joked.
An unnamed source finally confirmed the relationship to Us Weekly in May, saying, "They are dating and it's brand new." Flirtation over Instagram this year had both their fanbases fawning over their relationship. On June 3, Jonas commented on a photo from Chopra's account of her laughing with friends at In-N-Out, with the comment "that smile", complete with a heart emoji. A few days later, Chopra commented on a video of Jonas next to a koala at a zoo in Sydney, Australia, saying "Who is cuter? Lol."
Though not necessarily a confirmation of their engagement, fans took one of Jonas' Instagram stories, a video of Chopra, which he captioned, "Her", with a heart emoji, to mean the two were getting serious. Chopra mirrored the move with her own Instagram story, a photo of Jonas and her brother at the beach captioned "My Favourite Men."
Page Six fanned the flames on engagement rumors earlier this month when they reported that Chopra and Jonas were wearing matching gold rings on a biking excursion. And while we may have to wait a little longer for confirmation from the stars themselves, it's a safe bet that there's some good news coming our way.