Priyanka Chopra & Nick Jonas' Pic With Joe Jonas & Sophie Turner May Be Another Wedding Clue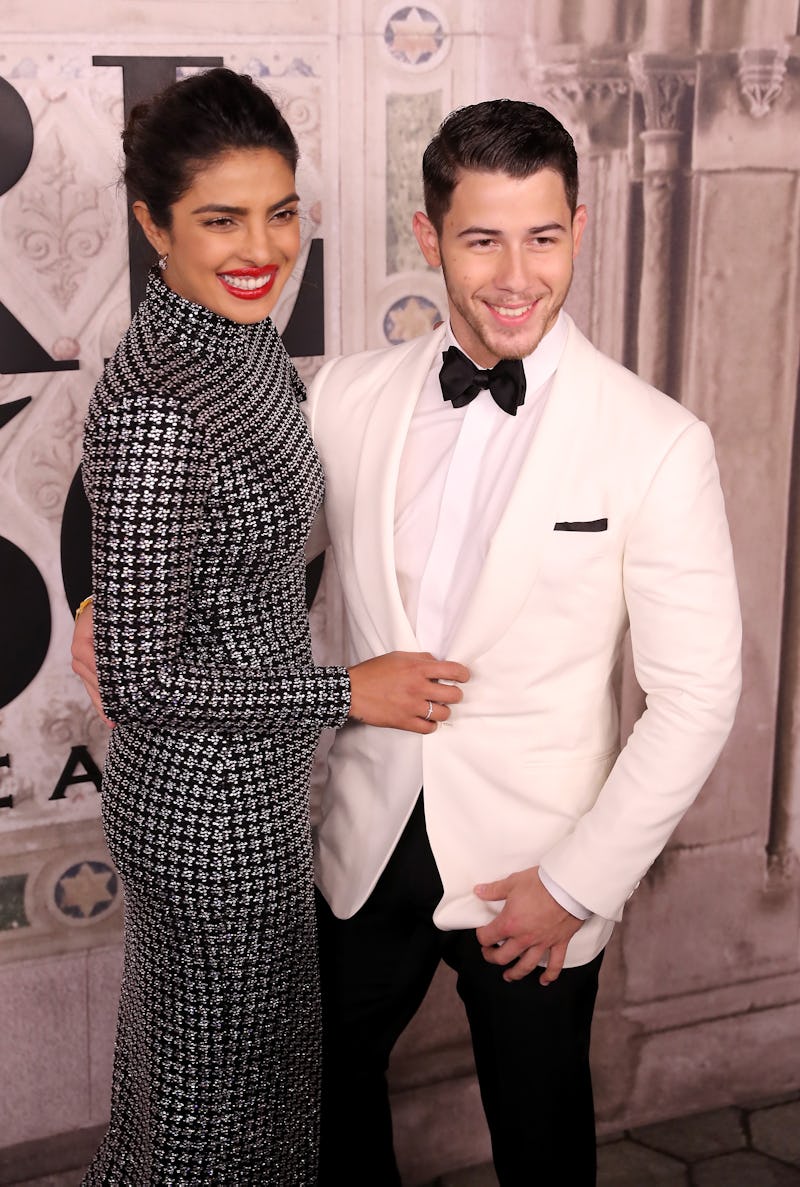 Rob Kim/Getty Images Entertainment/Getty Images
The mystery around this celebrity couple's wedding continues, but Priyanka Chopra and Nick Jonas' photo with Joe Jonas and Sophie Turner might be hinting at exactly when their nuptials will take place. On Nick's Instagram Story on Monday, he posted a photo of the foursome in Mumbai, India along with other family and friends. The singer captioned the image, "Mumbai nights." Chopra also shared the same photo without the text on Instagram on Tuesday and captioned it, "Friends.. family.. [red heart emoji]."
As you can see in the picture below, the group looks very happy to be hanging out together. Also, Chopra is wearing the biggest smile on her face. Joe also posted to his Instagram Story on Monday and shared a photo of a yummy tropical beverage and tagged "Juhu, Mumbai" as his location. If you look closely at his image, you'll even see part of a photo from his brother's and Chopra's engagement ceremony that took place in Mumbai in August.
Could these most recent photos be yet another clue that the former Quantico star and Nick are getting married very soon? Why are they all hanging out now — and in India? Yes, Thanksgiving just happened, which Chopra and Nick celebrated together, but there are many reports that their wedding is happening in December.
As reported by PopSugar, the "Mumbai nights" Instagram is from the soon-to-be newlyweds' pre-wedding celebrations. Furthermore, Harper's Bazaar reported on Nov. 16 that "a source with knowledge" of their wedding plans claimed celebrations will take place between Nov. 30 through Dec. 2.
Per The Sun, there will be a "whole week of festivities leading up to their nuptials" with the actual ceremony being held on Dec. 1 at Umaid Bhawan Palace. A source close to Chopra and the singer told The Sun, "There are several events leading up to the wedding, including a Christian ceremony, which will all be in India."
The source continued, "They will culminate with the Indian wedding on Dec. 1 at the palace, where they will tie the knot under a traditional four-pillar structure, a mandap. There is a Mehndi event planned, where they will be decorated with henna body art, among other traditional Hindi pre-wedding events."
On Nov. 8 E! New reported that the two had already obtained their marriage license. If that isn't enough, E! News also reported that the Baywatch actor and Nick would be participating in several pre-wedding events, like a Mehndi party and a Christian ceremony to honor Nick's faith.
The Times of India recently reported the Mehndi and Sangeet ceremonies will occur on Nov. 29, a cocktail party on Nov. 30, and a Haldi ceremony on Dec. 1. Then, they will exchange vows on Dec. 2 in an Indian ceremony and have another Christian ceremony on Dec. 3. If true, it sounds like they have a busy week of celebrating, which is exactly how a wedding should be done.
Exact details have yet to be confirmed and neither Chopra nor Nick have come outright and revealed their wedding date. That said, seeing as Turner and Joe are currently in Mumbai, there is a definite possibility that Chopra and Nick will be saying "I do" sooner rather than later.