The Photos Of Nick Jonas & Priyanka Chopra's Engagement Ceremony Are SO Sweet & Stunning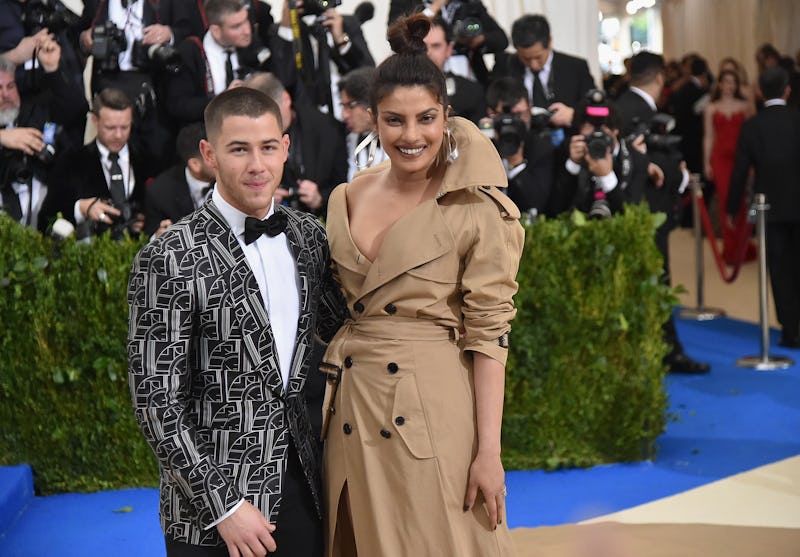 Mike Coppola/Getty Images Entertainment/Getty Images
They've made it official — their engagement, that is! After weeks of speculation, Nick Jonas and Priyanka Chopra confirmed their engagement on Saturday, Aug. 18, after celebrating with friends and family in a traditional roka engagement ceremony in Mumbai. The photos of Jonas and Chopra's engagement celebration are so sweet and stunning.
The ceremony in Mumbai was also significant in that it was the first time that Jonas and Chopra's families met one another, according to reports by many media outlets, and the happy couple celebrated the milestone with an adorable photo of their new, blended family.
According to the Mumbai Times, the newly-engaged couple held their party at Chopra's home in Mumbai, which was decked out in lights and floral decorations, including a large wall covered in greenery that bore the couple's initials, which made the perfect backdrop for all of their photos. Chopra, wearing a bright yellow anarkali, and Jonas, in all white, had their upcoming union blessed in front of their families in a traditional ceremony.
"The only way to do this... with Family and God. Thank you all for your wishes and blessings," Chopra wrote on Instagram, alongside photos from the ceremony and an adorable snapshot of her and Jonas cuddling.
Both families were involved in the blessing, and afterwards, Jonas' father, Paul Kevin Jonas Sr., welcomed the actor into the family with a warm message on Instagram. "So happy for the engagement of our son @nickjonas and we welcome @priyankachopra into our family with love and excitement," the Jonas patriarch wrote. He shared the same adorable photo that Chopra and Jonas used to confirm their engagement, which features the happy couple gazing into one another's eyes. (Jonas' older brother, Joe, would also post that snap, along with his own well-wishes, on his Instagram account as well.)
Chopra's manager, Anjula Ancharia, shared some sweet photos from the "private roka," and the celebrations afterwards, in which all of the couple's friends and families were seen beaming with joy and happiness for them. "Wishing you love forever, joy in your hearts, she captioned one set of photos before joking on another shot of herself with Chopra and Jonas "#ICalledIt." (Clearly, Jonas and Chopra's whirlwind romance was meant to be from the very beginning.)
After the ceremony, Chopra's friends and family celebrated with the bride-to-be, gushing on their own social media accounts about how happy they are to see her with someone who loves and respects her as much as they do. Bollywood actor and VJ Anusha Dandekar wrote, "I always knew one thing was certain, she deserved true love. Then her Prince came along for real... not to rescue her because god knows she does that all on her own and HOW! ... We've had many chats on love over pancakes & in planes & you know I've always wanted you to shine in love the way you do now! I am beyond happy for you @priyankachopra @nickjonas you make love look so easy, beautiful & special."
Meanwhile, screenwriter Mushtaq Shiekh wrote on Twitter that "love stories are still alive" in his tribute to the happy couple. "Love just got a partner. @priyankachopra just found her man- @nickjonas They now are engaged to each other. The smile in her eyes tells a story ... Happiness was the chief guest of the day!"
And Chopra's cousin, Parineeti, wrote a beautiful tribute to the happy couple on Instagram, explaining the moment that she knew that Jonas was the right man for Chopra.
"I cant think of a more a perfect man for her. Like I said this morning, there are two ways of judging a human being. One - travel with them, and two, eat with them," Parineeti wrote, sharing a photo of her and Chopra embracing at the ceremony. "Nick, I have done both with you. And so I know you're perfect for her!! Love her, because she loves you like mad! Protect her, because she's strong, but a soft soul inside. I love you both and wish you all the happiness forever!!!!!"
Chopra and Jonas have yet to share any plans for the big day, but considering the whirlwind nature of their romance and engagement, the wedding probably isn't too far off in the future. The pair first met at the 2017 Met Gala, which they attended as guests of designer Ralph Lauren, but it wasn't until a year later, in May 2018, that rumors of a romance began swirling.
After being spotted on dates in Hollywood and spending Memorial Day weekend together, Jonas reportedly popped the question at Chopra's birthday party in London last month. According to People, Jonas closed down a Tiffany & Co. store in order to pick the perfect ring for Chopra, who first revealed the sparkler in an Instagram photo that friend Raveena Tandon shared.
Of course, the ring — and Chopra and Jonas' love for one another — was on full display in the adorable photos that the happy couple shared from their roka ceremony. Clearly, this Hollywood meets Bollywood couple's love story is even better than a movie.