Priyanka & Nick's Relationship Timeline Will Help You Piece Together This Whirlwind Romance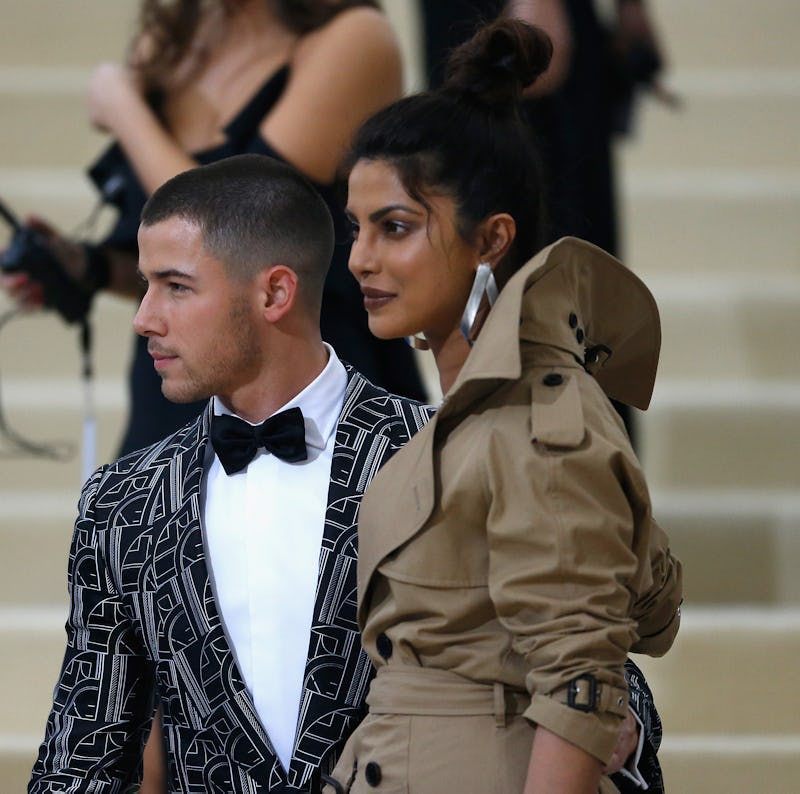 John Lamparski/Getty Images Entertainment/Getty Images
Around midnight on Friday, People reported that Priyanka Chopra and Nick Jonas are engaged after two months of dating. (Bustle has reached out to their reps for comment, but didn't receive an immediate response.) If you don't know much about their romance, let's take a look at Priyanka Chopra and Nick Jonas' relationship timeline. It seems like they've moved faster than the average couple, but as long as they're happy, that's all that matters.
According to a source who spoke with People, Jonas proposed to Chopra in London last week on her birthday. The singer also reportedly closed down a Tiffany's in New York City to pick out an engagement ring for the Quantico actor. What is this, Sweet Home Alabama? "They are so happy," a source told the publication. A "Jonas source" also told People, "His friends and family have never seen him like this, and they're all really excited for him. He's definitely very serious about her."
On Thursday night, filmmaker Ali Abbas Zafar also tweeted Chopra would not be part of his upcoming film, Bharat, due to a "very very special" reason. His tweet seems to allude to an engagement between Jonas and the actor. Zafar tweeted, "Yes Priyanka Chopra is no more part of @Bharat_TheFilm & and the reason is very very special , she told us in the Nick of time about her decision and we are very happy for her ... Team Bharat wishes @priyankachopra loads of love & happiness for life."
Their exact relationship timeline isn't entirely clear, but here's what is known about their romance, which both of them have yet to officially confirm.
May 2017: They Attend The Met Gala Wearing Ralph Lauren
Jonas and Chopra first stepped out together at the 2017 Met Gala. While appearing on Jimmy Kimmel Live! on May 11, 2017, Chopra explained why she went with Jonas. After Jimmy Kimmel asked the actor if the two were dating, despite him being "11 years old," she said, "We were both wearing Ralph Lauren, and we decided to go together because it was fun…yeah, I didn't ask his age." At the time, she also admitted that they "know each other."
May 25, 2018: They See Beauty & The Beast Live Together
At the end of May in 2018, JustJared reported Jonas and Chopra went to the Hollywood Bowl for Beauty and the Beast Live performance. According to sources, they were seen "leaving their seats and walking to the concessions area during intermission."
May 28, 2018: They Spend Memorial Day Together
Chopra isn't in the above photo, but Jonas is. Maybe she took the photo? Whatever the case, multiple outlets reported they spent Memorial Day together with fellow celebrities, including Wilmer Valderrama, Glen Powell (he co-starred with Jonas in Scream Queens), and Chord Overstreet. You can see a cozy photo of them here.
May 29, 2018: The Dating Rumors Are "Confirmed"
On May 29, Us Weekly reported Chopra and Jonas were indeed dating. (Bustle reached out to reps for Chopra and Jonas for comment at the time, but did not immediately hear back.) At the time of the report, the publication revealed they were seen attending a Los Angeles Dodgers game. "Priyanka and Nick were talking really closely and were very smiley and very happy," an insider dished. "They weren't trying to be private as they were in a pretty public place, but they were talking to people around them, sitting closely and they both just seemed super happy."
May 31, 2018: They Go Out To Dinner
At the end of May, People reported they were spotted at dinner in West Hollywood. "They were very affectionate with each other and seemed to not care who saw," a source claimed. "Priyanka ran her hands through his hair at one point and they were laughing and even dancing to the music."
June 3, 2018: Jonas Flirts On Instagram
According to Us Weekly, Jonas couldn't help but comment on the above Instagram of Chopra eating at In-N-Out with her friends. He reportedly wrote, "That smile [red heart emoji]."
June 6, 2018: Chopra Reciprocates The Instagram Flirt
A few days later, Jonas posted a video with a koala bear in Australia. Apparently, she thought it was the sweetest thing ever and wrote, according to Us Weekly, "Who is cuter? Lol."
June 8, 2018: They're Photographed At JFK
In June, People shared a photo of Chopra and Jonas at JFK airport together. It seems they were traveling together for a Jonas family wedding. More on that below.
June 9, 2018: Jonas Brings Chopra To His Cousin's Wedding
Jonas took Chopra to his cousin's wedding in Atlantic City, New Jersey, InStyle reported. Yes, they looked stunning in their wedding attire.
June 22, 2018: They Fly To India & Meet Chopra's Family
They reportedly took a major step in June. Per People, Chopra and Jonas went to India together — and he supposedly met her mother. "They're very happy," an insider said. "It's getting serious."
June 24, 2018: They Make Things Instagram Official
On June 24, Jonas shared a video of Chopra on his Instagram story and wrote, "Her [heart eyes emoji]." Then, on June 28, Chopra posted a photo of the back of two men who appear to be Jonas and her stepbrother. "My Favourite Men [heart eyes emoji]," she wrote.
July 1, 2018: Chopra Goes To Jonas' Concert
In early July, Cosmopolitan reported Chopra attended Jonas' concert in Brazil and shared proof. She reportedly posted a video on her Instagram story of Jonas performing and wrote, "Him [heart eyes emoji]."
July 4, 2018: The Fourth Of July Is A Family Affair
According to E! News, Chopra and Jonas also celebrated July 4th together. They were seen riding bikes in New York City with Jonas' brother, Joe Jonas, and Game of Thrones star Sophie Turner, who is also Joe's fiancée.
July 5, 2018: They're Spotted Wearing Matching Gold Rings
In early July, Page Six reported the couple was wearing identical gold rings (like the one on Jonas' finger above). Apparently, they were first seen wearing the rings during their June trip to India, but no one picked up on them until July.
July 13, 2018: Chopra Talks About Jonas & India
In July, she opened up to People about Jonas and their excursion to India. "We're getting to know each other and I think it was a great experience for him," she said about their trip. She added, "I think he really enjoyed it. It was really beautiful. He had a great time."
July 16, 2018: It's Double Date Time
Also, in July, Chopra and Jonas went on a double date with his brother and Turner in London, Entertainment Tonight reported. His other brother, Kevin Jonas, also joined in on the fun.
July 18, 2018: They Celebrate Chopra's Birthday
While in London, People reported they also celebrated Chopra's 36th birthday. They were even photographed leaving The Chiltern Firehouse together. This is the same night Jonas reportedly popped the question to Chopra.
July 27, 2018: Engagement Rumors Abound
And this brings us to the engagement rumors.
Chopra and Jonas have had quite the whirlwind romance so far. Who knows what will happen next.