Why You Shouldn't Expect Priyanka Chopra To Confirm Those Nick Jonas Rumors Anytime Soon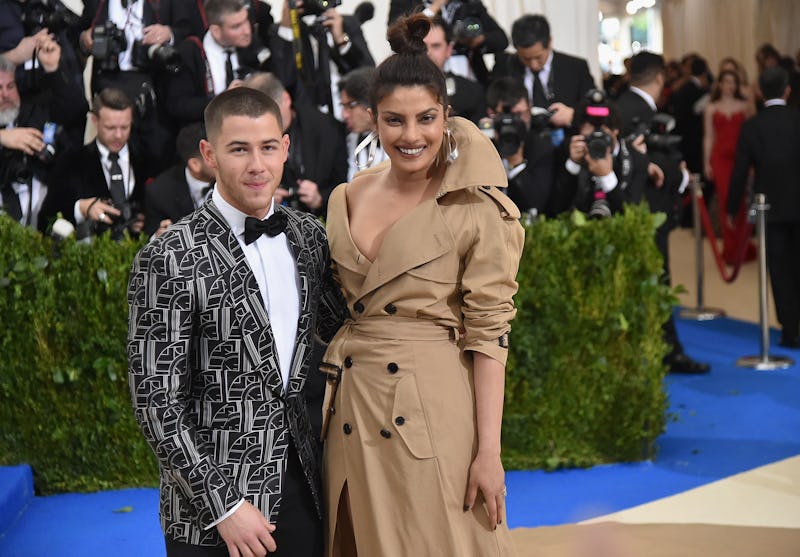 Mike Coppola/Getty Images Entertainment/Getty Images
As you might recall, everyone went wild over the recent reports that Priyanka Chopra and Nick Jonas got engaged. But you may not hear too many personal details about the couple, at least not from Chopra. According to E! News, Chopra wants to keep her personal life private, especially as it concerns her high-profile relationship with Jonas.
During her appearance at a panel titled "Challenging the Status Quo and Forging New Paths," Chopra did not acknowledge her rumored engagement. Instead, she spoke about this dichotomy between her public persona and her private life. As E! reported, she said,
"My entire life — my personal life — is not for public consumption. Ninety percent of my life is for public consumption, but 10 percent is for me. I'm a girl; I have the right to keep that to myself."
She continued to explain that it's not necessary for her to share every aspect about her personal life. "My family, my friendships and my relationships are things I don't think I need to defend or explain to anyone," Chopra said, "I am not running for office, so I don't think I need to give explanations." (Chopra and Jonas have yet to publicly confirm the engagement. When the news broke, Bustle reached out to their reps, but did not receive an immediate response.)
You really can't fault Chopra for desiring privacy when it comes to her personal relationships. Like she said, she's naturally in the spotlight due to her profession. However, that doesn't mean her personal life has to be part of that spotlight. Her comments may signal that the couple is planning to simply focus on their private relationship in light of all the excitement.
The Quantico actor's comments come shortly after news spread about the engagement in late July. According to People, Jonas popped the question to his girlfriend on her 36th birthday while they were in London. Apparently, the "Jealous" singer even closed down a Tiffany & Co. store in New York City to purchase the engagement ring. If that doesn't sound romantic, what does?
While their whirlwind reported engagement might not be too surprising when compared to the latest Hollywood standards, it was pretty surprising news to the masses. After all, Chopra and Jonas have only been reportedly dating for a few months before taking this major step.
On May 29, Us Weekly first reported that the pair was dating. And obviously, things have seemed to be moving right along for them. Not only are they supposedly engaged, but they've already met each others' families. In June, the Baywatch actor met Jonas' family when she attended his cousin's wedding, per E! News. Additionally, the singer met his fiancée's family when they traveled to India in late June, according to Us Weekly.
It's evident that the couple is taking some major strides in their relationship as of late. However, don't expect Chopra to give you every last detail about these big milestones, as she's rightfully dedicated to maintaining her privacy.