Professor McGonagall's 'Fantastic Beasts 2' Cameo Could Add Up, But It's A Twist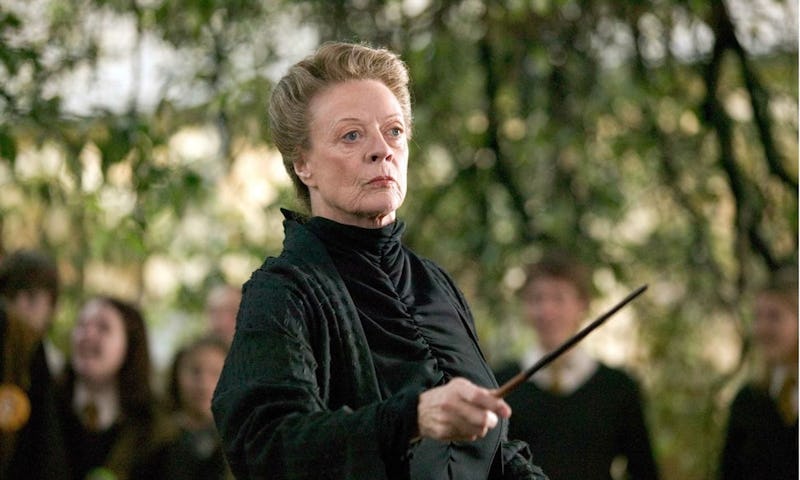 Harry Potter/Warner Bros
Harry Potter fans are gearing up for the next movie in the Fantastic Beasts franchise: The Crimes of Grindelwald. And while we don't have long to wait (it hits the cinemas here on 16 November), fans have spotted something that have made them pretty angry. The most recent news has revolved around Professor McGonagall's appearance in Fantastic Beasts 2, which Potterhead's pointed out, doesn't quite add up.
It all began when Warner Brothers made a last minute announcement that McGonagall would be featuring in the upcoming film within their final casting sheet, as Metro reports. It was revealed that actress Fiona Glascott (she has previously starred in Brooklyn) would be taking the role of a young McGonagall, but this didn't go down exactly er, well, with the fiercely loyal Potter fandom.
Fans have pointed out that the film is set in 1927; a time when Professor McGonagall wasn't even supposed to be alive yet. According to Pottermore, the professor wasn't even born until 1935, yet in the new movie she appears to be already in her 20s or 30s. While I personally am pure excited to see a young Professor McGonagall in action, diehard fans are really taking this news personally, though some are excited. Just check out some of the reactions on Twitter to the news:
But a few Twitter users have come up with a theory that might just blow your mind. They it might not actually be the same Minerva McGonagall, but actually an earlier descendant of the legendary professor who carries the same name.
Shook. Bustle reached out to Warner Bros for comment and they issued the following statement:
"We're not privy to J.K. Rowling's creative decisions when developing the Wizarding World but we hope you will continue to enjoy the Fantastic Beasts series as plot and characters continue to unfold and be revealed in this exciting new franchise."
Sounds jolly exciting, and the new movie looks like it's going to be better than ever. The Crimes of Grindelwald sees Eddie Redmayne's Newt Scamander join forces with a youthful looking Albus Dumbledore (played by Jude Law) to take on the evil Gellert Grindelwald, who is portrayed by Johnny Depp. As well as Jude Law, Johnny Depp and Eddie Redmayne, the film also features returning actors such as Ezra Miller, Dan Fogler and Katherine Waterson, as well as new faces like Callum Turner (who plays Theseus Scamander), Claudia Kim (The Maledictus), and Zoë Kravitz (Leta Lestrange).
Back in July, the cast all joined the Pottermore team for a special interview about what we can expect from the film. Ezra Miller, who plays Credence in the films, said the following of his experience:
"When we made the first one – I thought I'd reached a life pinnacle. I was like – that's it. I've peaked. And then this movie came along, and I feel like the number of connections between this and Harry Potter – it multiplies."
Eddie Redmayne agreed that being involved in the movies is pretty special: "There's just nothing more joyous than arriving on these sets," he said. "It feels like imagination on steroids." And the most special moment for newcomers on set? "When they handed me a wand," explained Kravitz. "That's a big moment. They give you a wand and you go, "Oh okay, this is real!"'
There's not long to wait now until the film's release, but in the mean time you can watch the magical trailer to the movie below.
Fantastic Beasts: The Crimes of Grindelwald is released in the UK on 16 November