These Punny BFF Halloween Costume Ideas Are Actually Funny, Not Just Ridiculous Funny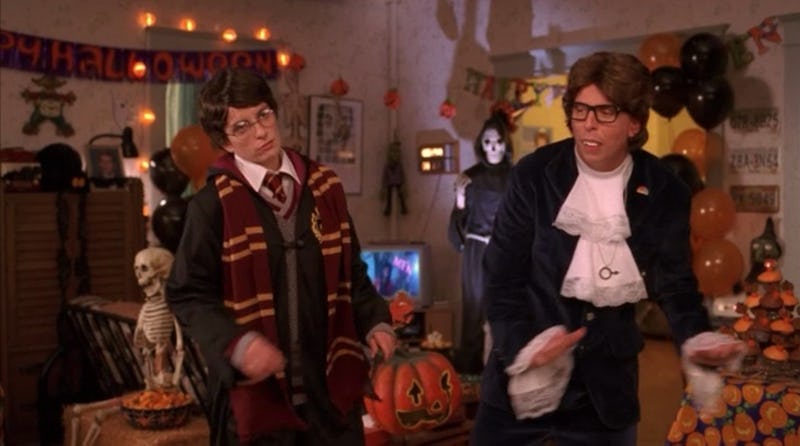 NBCUniversal Television Distribution
There are a lot of obvious best friend costumes to consider for Halloween: Dionne and Cher from Clueless, Romy and Michele from Romy & Michele's High School Reunion, Thelma and Louise from, well, Thelma & Louise — all great options. But why be something obvious when there are so many punny best friend Halloween costume ideas that will not only make people laugh, but give people something to talk about? Walking into a party knowing that your costume is an instant conversation starter is power, and will make you feel confident and excited about showing off your costume.
Sometimes it can be hard to take Halloween seriously — but honestly, you don't have to. Keep it light, keep it funny, and most importantly, keep it easy. Who has time to plan out elaborate costumes that are sourced from multiple places and that require all sorts of in-depth DIYing? Just stick to something simple and don't make Halloween complicated. Save the holiday stress for later in the year. In case you don't keep a running list of puns with you, I've put together a compilation of puns and costumes that you and your bestie might want to consider. Some of them require a partner, and others are just great for twinning.
Check out the entire 'What's Up, Boo?' series and other videos on Facebook and the Bustle app across Apple TV, Roku, and Amazon Fire TV.
Holy Guacamole & Holy Cow
Kiwi Dress, $21, Lindy Bop, Light Up Halo, $8, Amazon, Cow Costume, $29, Maykool.
Who says you can't be angelic and funny at the same time? This is a great excuse to carry around food, in my opinion. All you need is a green dress (this one technically has kiwis on it, but I think it looks the same), a cow costume and halos!
Deviled Eggs
Devil Horns, $4, George, Pitch Fork, $13, Amazon ,Egg Shirt, $37, Sweatshirt XY.
Honestly, I'd choose this costume just so that you have an excuse to get a shirt with eggs on it, because how cute! You'll just need to add some devil horns and a pitchfork!
Copy Cats
Cat Ears, $6, George, Ruffled Black Jumpsuit. $99, Macy's
Personally, I'm always looking for a reason to re-use my cat ears. I've managed to sneak them into about a dozen costumes. You don't even have to dress up as cats for this one — just make sure you're wearing the same thing, in addition to your cat ears. People will get the point!
Fantasy Football
Football Jersey, $18, Amazon, White Sweat Pants, $29, Sans Souci, Wizard Wand, $7, Amazon, Cape & Wizard Hat, $30, Blueberry Forest
I don't know anything about football, but I know a lot about fantasy. And honestly, the only time I'd ever wear a football jersey is probably to complete this pun!
Freudian Slips
Nude Slip, $39, Sans Souci, Spa Slippers, $26, Burke Decor, Interpretation of Dreams Book, $7, Amazon
If you're going to an intellectual party, this is your dream costume. You're welcome.
Sugar Mamas
Domino Sugar, $3, Walmart, Stroller, $20, Amazon, Baby Carrier, $39, Amazon.
If you don't have any yourself, borrow some baby gear from your friends who have kids, and sub Domino Sugar for a baby because #puns.
Grateful Dead
Grateful Shirt, $28, Etsy, Skull Mask, $20, Amazon.
You know that yoga shirt you have that says "grateful" or "blessed" and you'd never wear it anywhere other than the grocery store after a yoga class? Yeah, whip that out, and then wear a skill mask. Done.
Identity Theft
Black Stretch Dress, $20, Miss Selfridge, Hello Name Tags, $5, Amazon.
For this costume, you can wear whatever you want — though the darker, less distracting the clothes are, the more the name tags will stick out. For each name tag, write a different name. Get it?!
Party Animals
Animal Mask, $4, Amazon, Party Ankle Boots $70, H&M, Cocktail Ruffle Dress, $55, Chic Wish.
I know, I know, you always go to a party dressed like a party animal with your bestie. But for Halloween, take it a little bit more literally.
Dust Bunnies
Maid Costume, $23, Amazon, Feather Duster, $6, New Chic, Bunny Mask, $9, Amazon.
If you don't actually own a duster, choose this costume to give yourself and your bestie an excuse to get one! They'll be useful after Halloween too, for like, cleaning purposes.