Who Putin Tried To Blame For The 2016 Election Meddling Is Straight-Up Awful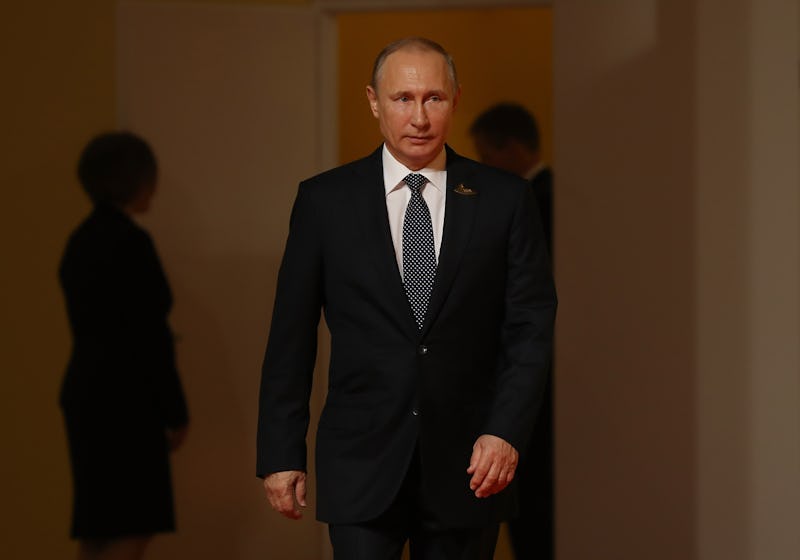 Sean Gallup/Getty Images News/Getty Images
For months, Russian President Vladimir Putin has denied that his country attempted to interfere in the 2016 American presidential election. In an interview with NBC News' Megyn Kelly this week, however, he chose a slightly more specific response, and one that's been viewed as deeply offensive and inflammatory ― namely, Putin suggested Jews and other minorities in Russia could have been responsible for the election meddling.
When Kelly questioned Putin about the recent indictments of 13 Russian nationals by special counsel Robert Mueller, who is leading the investigation into Russian interference in the election, Putin's reply sparked immediately controversy and criticism. Kelly asked the Russian leader if he'd be ok with knowing that Russian nationals meddled in the U.S. political process, and Putin replied that he simply didn't care.
"They do not represent the government. I could not care less. They do not represent the interests of the Russian state," Putin said, according to NBC News' translation. "Maybe they're not even Russian. Maybe they're Ukranians, Tatars, Jews, just with Russian citizenship. Even that needs to be checked. Maybe they have duel citiznehsip, or maybe a green card. Maybe it was the Americans who paid them for this work. How do you know? I don't know."
Putin's remarks suggesting Jews might be responsible for interfering in the 2016 prsidential elections, among other minority groups within Russia, have drawn some criticism and condemnation on social media. His words, particularly the part about the various minority groups "just having Russian citizenship" is particularly glaring, as it seems to imply that Putin doesn't regard such people as genuinely Russian.
Specifically referring to Russia's Jewish population in this fashion is notable, too, as racist conspiracy theories about secret Jewish influence are foundational to both modern and historical antisemitic movements. At times, such antisemetic conspiracy theories have been used as justification for acts of mass violence and persecution against the Jewish people.
Putin has voiced staunch refusal at the idea of extraditing the indicted Russian nationals to face charges in the U.S. ― in fact, as CBS News noted, he told Kelly he would "never" do so. He also repeated and reiterated his denials of Russian interference, maintaining that any hackers who might have been involved in influencing the 2016 race were not operating under the direction of the Russian government, nor in service of Russian state interests.
"Why have you decided the Russian authorities, myself included, gave anybody permission to do this? Nothing has changed since you and I talked last time in St. Petersburg," he told Kelly. "Some names have popped up, so what. They could just as easily have been the names of some Americans who're sitting here, and interfering in your own political process."
President Donald Trump and his administration have not yet responded publicly to Putin's suggesting that Ukranians, Jews, and other minorities might have been responsible for the hacking. But spreading the blame around on this subject is something both Trump and Putin have engaged in over the past year, voicing doubts about the idea that Russia had any involvement in election meddling.
Trump, for his part, has even previously speculated that it could've been China instead of Russia that was behind the hacks of the Democratic National Committee and former Clinton campaign chariman John Podesta, Or, even a random, bed-ridden hacker living in his mother's basement somewhere.
Following the indictments of the Russian nationals by the Mueller team, the White House more fully acknowledged the conclusion that Russia worked to interfere in the election. It also continued to insist, however, that the meddling in no way affected the outcome of the race, and staunchly denied that the Trump campaign colluded or cooperated with the effort.