The Queen's Last Corgi Has Died & People Are Tweeting Kind Words And Tributes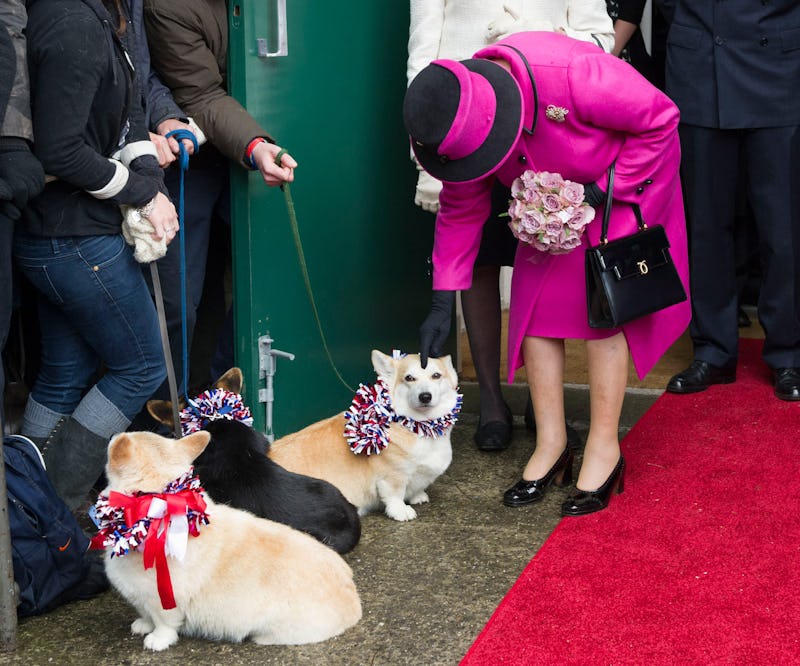 WPA Pool / Pool, Getty Images
Queen Elizabeth was commonly seen with impossibly loyal friends at her feet: her trusted corgis. The world is hearing sad news today about the latest happenings at Windsor Castle, though: the Queen's last corgi has died — Willow, who was the only remaining dog of the breed, claim numerous sources, including Royal Central. While there doesn't yet appear to be official confirmation from anyone within the royal family, The Crown Chronicles states precious 14-year-old Willow was put to sleep at Windsor Castle this past Sunday, after battling "cancer-related illness." The Queen simply couldn't let her suffer anymore. Hearts around the world just broke a little.
Losing a furry pal is never easy, and that's undoubtedly the case for Queen Elizabeth, who's always had a soft spot for corgis. Her history with the breed is a lengthy one. According to the BBC, it all started back in the 1930s, when her father bought his first corgi, who was named Dookie. According to Royal Central, Queen Elizabeth's parents gave her her own first corgi, Susan, when she was just 18. Ever since then, the palace has been the mothership for corgis. The queen bred them over the years, all of the pups being direct descendants of Susan, Royal Central says. Over the last 70 years, she has reportedly owned more than 30 corgis. Reports say Queen Elizabeth stopped breeding due to her age, not wanting any dogs to be left behind. Thus, the loss of sweet Willow means an end to a remarkable era that dates back to Her Majesty's childhood.
The Crown Chronicles says Willow will likely be buried in the pet cemetery at Sandringham, where Queen Elizabeth's other corgi loves rest peacefully.
Long before Lassi, Wishbone, and Beethoven, the Queen's corgis became fluffy celebrities in their own right. You probably recall that time they made it onto the cover of Vanity Fair, looking impawsibly beautiful and impeccably coiffed, I might add.
Let's not forget that time the world's favorite corgis made an appearance alongside the one and only James Bond and Queen Elizabeth, when he accompanied Her Majesty to the opening ceremony of the London 2012 Olympic Games. (For reference, this was before she jumped out of the airborne helicopter.) Greatest cameo ever? I think yes.
In 2003, notes Good Housekeeping, one of Queen Elizabeth's corgis (technically a dorgi — a dachshund-corgi mix) made its way into a photo of Her Majesty with the World Cup-winning England rugby squad. Either the dorgi became the team's first four-legged player... or this was the most epic photobomb of all time. You decide. Either way, this one belongs on the refrigerator.
When Her Majesty turned 90 and had her photograph taken by Annie Leibovitz, her BFFs stood proudly right by her side, naturally. One photo, a whole lotta love, and it was the one of Queen Elizabeth posed with her canine brood.
Appropriately, Netflix's series The Crown didn't forget the most important part: a corgi. In fact, I might go so far as to say it was the corgi who stole the spotlight at the show's premiere.
The Queen's corgis might just be the most photogenic (and probably well-pampered) pooches on the planet, and it's more than deserved. For almost nine decades, corgis have been making the Queen's life — and thus, the palace — a whole lot brighter. People have been tweeting kind words and condolences all morning.
With Willow gone — and considering Queen Elizabeth reportedly no longer breeds or otherwise has plans to bring in new dogs — are there any other fluffy friends roaming around the palace? You bet. While Willow was the last corgi in the family that descended from Susan, The Telegraph points out Her Majesty still has Whisper — a corgi she adopted from a Sandringham gamekeeper after they passed away — plus her two dorgis, Vulcan and Candy.
Dogs really do become a part of the family, and when they're gone, there's an unavoidable hole in life they leave behind. Keep Queen Elizabeth in your thoughts, as she mourns the loss of her fuzzy baby.