'Queer Eye' Fireman Jeremy's Family Back-To-School Family Photo Will Warm Your Heart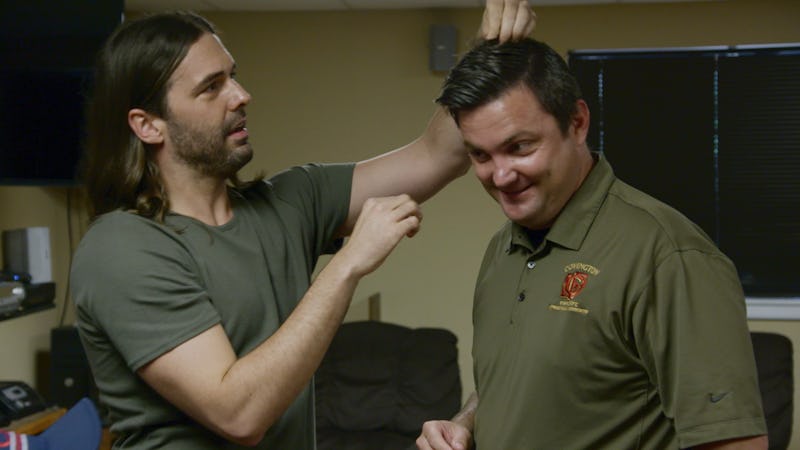 Courtesy of Netflix
In Season 1 of Queer Eye, the Fab Five were summoned to help firefighter Jeremy Holmes transform his small town's firehouse. Along the way, they helped Jeremy freshen up himself as well, and rediscover the confidence within himself. Queer Eye firefighter Jeremy's back-to-school family photo will definitely make fans wish more of his adorable home life was featured during his episode. Plus, he's in it too!
On Tuesday, Aug. 21, Jeremy posted a photo of himself lined up with his five precious kids. Each one is well-dressed with a big smile, and all hold a sign explaining which year of school they're about to enter. "Back to school pic!" he captioned it, explaining "Third year of law school, 6th, 5th, 3rd, 2nd, and kindergarten #3L #lawschool". Yes, that's right: The fireman and devoted dad is also attending law school in his free time. He's already on his final year.
For fans that follow him on Twitter already, this likely isn't much of a surprise. Though he doesn't post as frequently as many others on social media, he always makes his tweets count. In addition to cute messages about what his kids are up to — including DIY Ninja Warrior training — Jeremy tweets articles with inspirational messages about the difference between a "career" and a "calling". Is there anything this big-hearted guy can't do?
It's difficult to imagine keeping up with five kids between the ages of five and 11 at all, not to mention when you're working full-time and studying to become a lawyer. In addition to those duties, Jeremy serves as his station's "training chief," writes articles about life, career paths, and wellness for websites aimed at firefighters, and made local headlines in 2013 when he and his wife Bonnie adopted their children. All five of the Holmes kids are biological siblings according to The Rockdale Newton Citizen, and were occasionally split between multiple foster homes before Bonnie and Jeremy legally adopted them at the end of that year. The Holmes family could totally get a Queer Eye spinoff series if they wanted to.
The "holding up a sign saying what school year it is" trend has taken off with parents on social media in the last few years. It was even shown in the film adaptation of Jenny Han's To All The Boys I've Loved Before, which recently hit Netflix. So if you're child-free or aren't friends on social media with anyone who has kids, trust that this is a totally normal practice. It's just particularly adorable once you know more about Jeremy.
Between Jeremy and his wife Bonnie, who tweets under the incredible handle "@holmespartyof7", the couple make it easy for their fans to keep up with them on social media. They might not be overly personal, but what parents are, really? The photos of home life, updates about work, and glowing photos of their kids provide the perfect amount of insight into this humble Queer Eye subject's life outside of the TV screen. Is it too early to get excited about what the graduation photos might look like at the end of the year?