'Queer Eye' Star Tan France Is Guest Starring On 'Crazy Ex-Girlfriend' & It Sounds Amazing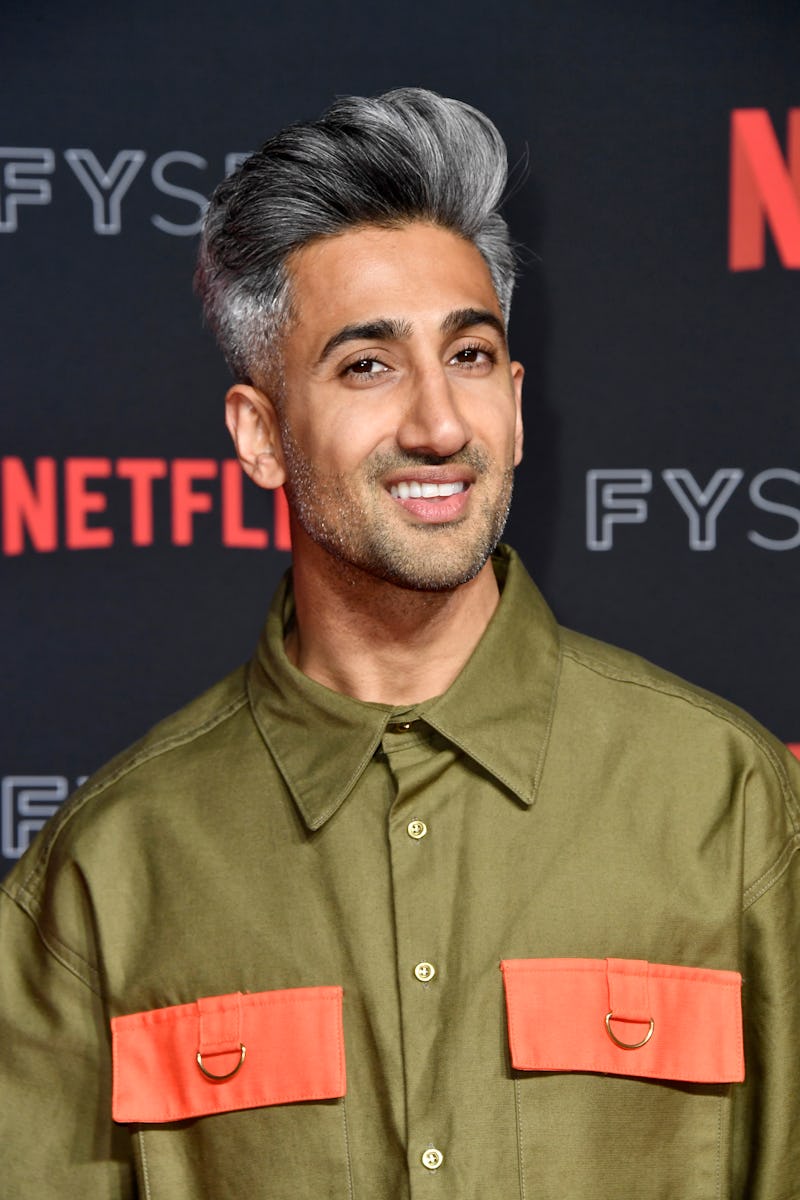 Frazer Harrison/Getty Images Entertainment/Getty Images
In October, the fourth and final season of Crazy Ex-Girlfriend will premiere. The show is bringing back the beloved main cast, but will also introduce exciting new characters. On Sunday, Aug. 26, Queer Eye star Tan France revealed he will guest star on Crazy Ex-Girlfriend, and make his acting debut. The Fab Five member posted the news on Twitter, with a picture of himself on set. He wrote:
"YOU GUYS! Yesterday, I did something I would have never dreamt possible. I filmed a scripted scene! The amazing folks Crazy Ex-Girlfriend had me guest star, and I couldn't feel more honored and grateful. Airs November!"
The photo shows Tan pointing to a sign on his set trailer, which reads "Fett/Tan" with a smiley face. The star also shared an Instagram story from set, which shows him plain grey suit. Tan wrote: "Filming for Crazy Ex Girlfriend" with a shocked emoji.
Fett is likely to be the name of his character, but other than the brief snapshot on his story, there are no further details about his role. There's no word yet on whether or not the character will have anything to do with fashion. Fans will likely to have to wait for the new episodes in the Fall to find out more about Fett, but shared congratulatory messages for the star in the meantime. Tan became a household name after appearing on his the popular Netflix reboot of the reality show Queer Eye, but this appearance will be his first time reading playing a character on screen.
Tan's guest role is an exciting addition to the new season, and it will be interesting to see if Fett's character is fashion-oriented. This isn't the first time members of the Queer Eye cast have branched out. In July, Antoni Porowski announced that he would open a "fast casual" restaurant in New York City. Jonathan Van Ness has a chart-topping podcast called Getting Curious, and Karamo Brown is reportedly launching a fashion line of bomber jackets.
Tan isn't the only surprise guest on the final season of Crazy Ex-Girlfriend. In early August, the series announced that Skylar Astin would be cast as a reimagined Greg. The character appeared in the show's first season, and was originally played by Santino Fontana, who will not return for new episodes. The rest of the show's main cast will return for the new season, including favorites Donna Lynne Champlin's Paula and Vincent Rodriguez III who plays Josh Chan.
In April, Crazy Ex-Girlfriend creator and star Rachel Bloom announced that the show would come to an end at the end of the fourth season. When news that the series was renewed for a fourth season broke, the star Tweeted in response: "Just turned on my wifi on our flight to Chicago and found out that #CrazyExGirlfriend has been renewed for a final season." According to IndieWire, co-creator Aline Brosh McKenna said the final scene was written a long time ago. "The very end, the last scene, has remained the same. Generally, directionally we knew what every chapter of the four was going to be."
According to Vanity Fair, Bloom and co-creator McKenna always planned for the show to be four season. In 2016, Bloom told the publication: "This is about a young woman in a very specific time in her life, going through a crisis. And that just doesn't sustain itself for nine seasons. I'm an avid TV watcher, and I feel like a lot of shows peak around Season 4, Season 5, and just last way too long." It's sad to see the show go off the air, but it's clear that the new episodes will feature plenty of surprises.