You Need To Read Janet Mock's Essay ASAP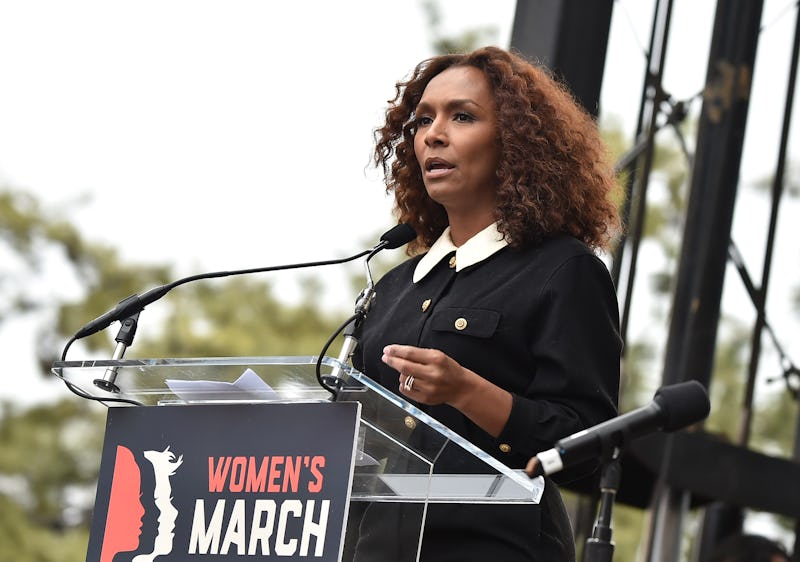 Theo Wargo/Getty Images Entertainment/Getty Images
It's been a terrible week for the trans community, with Donald Trump revoking protections for trans students that ensure their access to gender-appropriate bathrooms that were put in place by President Obama. This move is a devastating one, but there may be one small sliver of a silver lining: Advocates are speaking up loud and clear about the vital human rights issue, and if you're looking for somewhere to dive into this conversation, let me point you toward the points made in Janet Mock's essay on trans rights. The activist and a former editor of People magazine's Feb. 23 piece in The New York Times sheds much-needed light on exactly why access to restrooms for transgender students is such a fundamental issue, and one worth fighting tooth and nail for.
Pieces like this one are the most valuable resource we have in times like these — the testimony of people who have actual life experience with the issues being debated, and the rights that are on the line. You can be the most well-intentioned ally in the world, constantly going to bat for your transgender brothers and sisters, but ultimately, the most crucial thing to understand is when to zip your little lips and listen. You can and should use your privilege to amplify trans voices, sure, but make sure you aren't speaking more loudly than the people who have lived these experiences that some of us lob back and forth so casually. Mock actually was required to use a different bathroom when she was growing up in the late 1990s, and she knows better than anyone how that isolation and marginalization can affect kids, especially when they're already members of a marginalized group.
Mock's entire essay is simultaneously brave, vulnerable, eye-opening, and direct, so I recommend reading the whole thing. But in the meantime, here are points that deserve some closer attention.
"We walked to the nurse's office, a five-minute trip from my homeroom, where she pointed to a single-stall restroom."
Take into account that's a 10-minute round trip, not counting the time spent in the bathroom itself. Not only does this take away from valuable classroom time, but it also means every bathroom break serves to underline that the school viewed Mock as "other," which for any child, is a devastating and hurtful message to send.
"This shift in my personal aesthetic made me feel good about my body, confident in my appearance and at ease in social settings where my peers and classmates were also exploring, changing and growing."
Adapting, changing, and learning about who you are is the definition of growing up, and every single child deserves the room to do that, no matter their gender identity.
"To say that I loved school would be an understatement. It was my oasis, my sanctuary."
School should be a safe place for any and every child to learn, as this quote highlights.
"Thirty percent of transgender youth report a history of at least one suicide attempt, according to a study published last year, and nearly 42 percent have injured themselves."
This issue is literally life and death. Ultimately it comes down to the best ways to keep. children. alive. Keeping children alive. How is this a partisan issue?
"My teachers invested their time in me, and their belief in me enabled me to become the first in my family to go to college."
The brain is a powerful thing. If you tell kids they'll be successful, it vastly improves their odds, and if you tell them they won't be, you're just adding one more obstacle to their path to clamber over on their way to happiness.
"Young people overwhelmingly get it. It's adults like those in the Trump administration who don't realize the consequences of pitting young people against one another, which encourages some to be bullies and turns others into sinister objects."
If you want to be on the right side of history on this issue, listen to the voices of the young. They haven't lived long enough to get mired down in fear and preconceptions like the rest of us, and that's incredibly valuable.
"These ridiculous wedge topics are a waste of our time and our resources. We're talking about restrooms here — people should be able to do their business in peace."
Do you think that trans people want to be talking endlessly to you about where they can and can't go to the bathroom? No way.
"When trans students are told that they cannot use public facilities, it doesn't only block them from the toilet — it also blocks them from public life."
As Mock points out, this is about so much more than bathrooms.
"When schools become hostile environments, students cannot turn to them. Instead they are pushed out. And without an education, it makes it that much more difficult to find a job, and support themselves and survive."
If you're trying to add to the population of groups like high school dropouts, the unemployed, and the homeless, I can't think of a better way to do it than to sabotage the educations of trans youth at such a formative time.
Hopefully this gave you some stuff to think about, if you've been having trouble connecting to the issue, or that it still resonated with you, if you haven't. Mock is one of the most valuable voices in this movement, and I'm so glad she's willing to share her experiences with those of us who can only absorb them secondhand.