Rachel Brosnahan Just Wrote The Most Touching Tribute To Her Late Grandfather, Kate Spade's Dad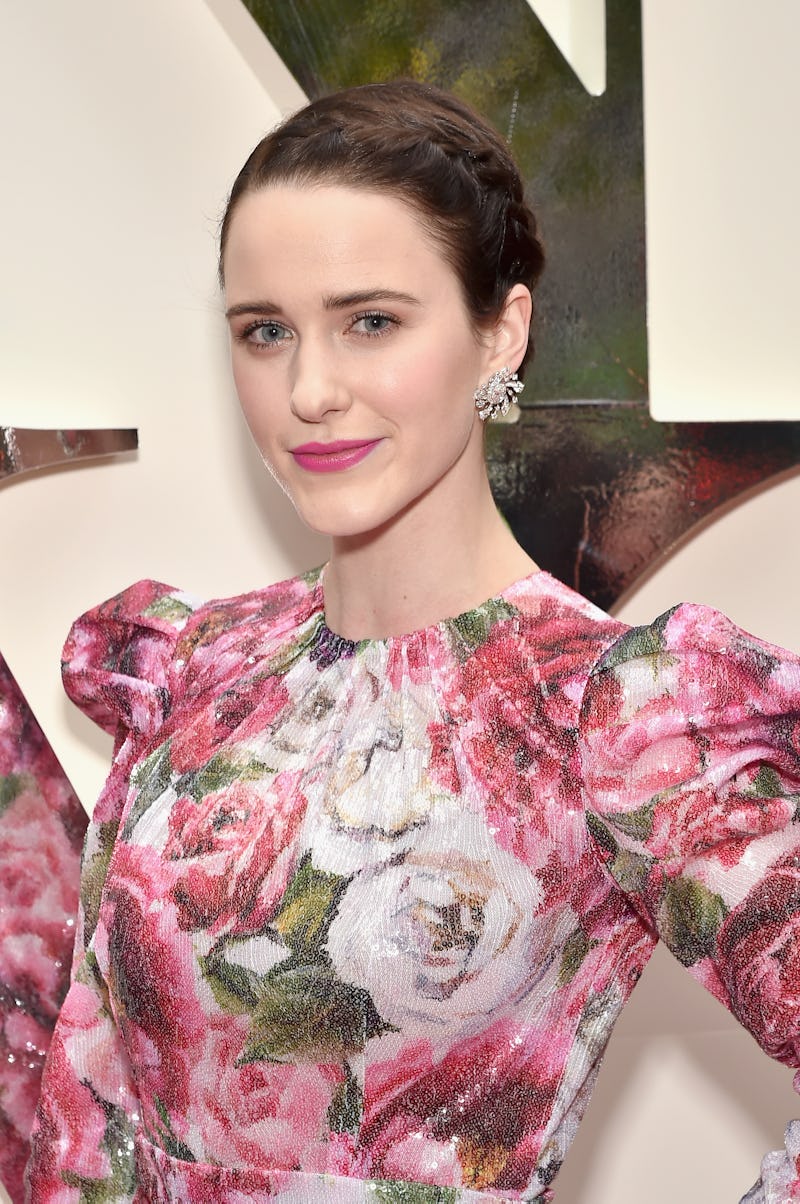 Mike Coppola/Getty Images Entertainment/Getty Images
Just weeks after fashion designer Kate Spade died, her father has also passed away. Rachel Brosnahan's tribute to her late grandfather, Earl F. Brosnahan Jr., is super moving, and it shows what a close bond the family had. The Marvelous Mrs. Maisel star was Spade's niece, and in a tragic turn of events, her grandpa died the day before Spade's funeral. He was 89 years old, according to Today.
In an Instagram post honoring her grandfather late Thursday, Brosnahan praised his sense of humor. She shared a photo of her grandpa from what looks like a birthday party, writing in the caption:
"We lost my grandfather Frank last night. He was a man of few words, but when he spoke a whole room leaned in. He was tough as nails but gentle as can be, stubborn as a mule, and had a wicked sense of humor. He will be deeply, deeply missed. I'd like to think that he and Katy are out there somewhere singing an off key rendition of 'Danny Boy' and sharing a pint."
On Thursday, the Brosnahan family also released a statement about Earl F. Brosnahan Jr.'s death. Here's the statement, provided to multiple media outlets, including People:
"We are deeply saddened to announce that Katy's father, Earl F. Brosnahan, Jr. (Frank), passed away last night at age 89. He has been in failing health of late and was heartbroken over the recent death of his beloved daughter. He was at home and surrounded by his family at the time of his passing. He was especially proud of his wife, children and grandchildren."
Earl F. Brosnahan Jr., who went by "Frank," is survived by seven other grandchildren in addition to Rachel, according to Today. He's also survived by his wife, Sandy, as well as his sister, three brothers, and five children. Today noted that the designer's father served in the navy and worked in his family's construction business.
Earlier this month, Rachel Brosnahan also shared a tribute for her late aunt. The actor posted a video of Spade dancing, writing that it was "how she would want to be remembered." Brosnahan wrote:
"Knowing Katy, this is how she would want to be remembered. She had a light that words can't capture but touched everyone she came into contact with. She was exceedingly kind, beautifully sensitive, insanely talented, funny as heck and one of the most generous people I have ever known. She was effervescent. Hug your loved ones extra tight today."
Spade's funeral was held on Thursday in Kansas City, Missouri. The fashion designer died by suicide on June 5. Her late father had told The Kansas City Star that the funeral would be held at the same church where his parents, Spade's grandparents, were married.
David Spade, Kate's brother-in-law, also shared an Instagram tribute for the late designer, writing that she made taking family holiday photos more enjoyable. He wrote on Instagram:
"Fuzzy picture but i love it. Kate and I during Christmas family photos. We had so much fun that day. She was so sharp and quick on her feet. She could make me laugh so hard. I still cant believe it. Its a rough world out there people, try to hang on."
It's clear that both Kate Spade and Earl F. Brosnahan Jr. will be dearly missed by their living family members. The family's heartfelt tributes are moving ways to honor their memories.
If you or someone you know are experiencing suicidal thoughts, call 911 or call the National Suicide Prevention Hotline at 1-800-273-8255. You can also text the Crisis Text Line at 741-741. For international resources, here is a good place to begin.