'Marvelous Mrs. Maisel's Rachel Brosnahan Honored Her Aunt Kate Spade In A Beautiful Message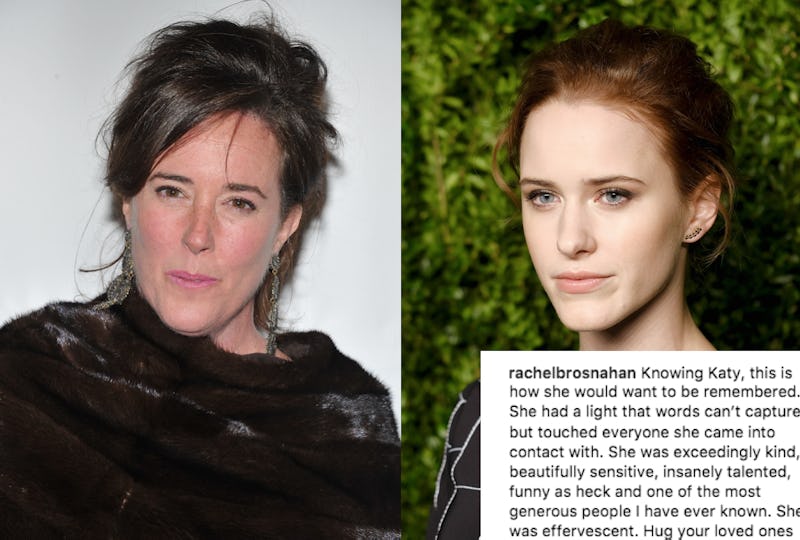 Theo Wargo/Getty Images Entertainment/Getty Images; Dimitrios Kambouris/Getty Images Entertainment/Getty Images; Rachel Brosnahan/Instagram
The world is still mourning the death of the iconic designer, but Rachel Brosnahan's tribute to Kate Spade will bring a little light back into the darkness. Many fans may not have been aware, but the Marvelous Mrs. Maisel actor is actually the niece of the late Spade, who reportedly died by suicide on Tuesday, and the younger woman honored the spirit of her late aunt's life with a touching Instagram post on Wednesday.
The family connection wasn't widely known, but aunt and niece even share a last name: Spade was born Katherine Noel Brosnahan in 1962, and didn't adopt her more familiar surname until later. According to Refinery29, she assigned the Kate Spade label to her burgeoning brand first, when she co-created it with then-boyfriend Andy Spade in 1993, and then took it up herself in 1994 when she went on to marry Andy the next year.
Because of the nature of her passing, the internet has been full of everything from triggering details to speculation, which can be a lot to take in. But Brosnahan's post is less about mourning her 55-year-old aunt's death than celebrating her life, and it's a crucial perspective in grappling with this tragedy. After a day to herself, off of social media, Brosnahan broke her silence on Wednesday with a heart-wrenching video, which she posted to Instagram on June 6. In it, the younger woman's late aunt dances with her husband Andy in front of a mariachi band and a Christmas tree, suggesting the video was taken on a family vacation to celebrate the holiday.
But more striking than anything in the background is the look on the designer's face — she beams happily at her husband, and contentment suffuses the short clip. It was that aura surrounding Spade that Brosnahan wanted to emphasize, she told her followers in the video's caption, sharing the following tribute to her family member:
"Knowing Katy, this is how she would want to be remembered. She had a light that words can't capture but touched everyone she came into contact with. She was exceedingly kind, beautifully sensitive, insanely talented, funny as heck and one of the most generous people I have ever known. She was effervescent. Hug your loved ones extra tight today."
It's a beautiful way to remember someone who was clearly a beautiful person, and it's particularly comforting that Brosnahan took that added step to remind her followers to spread that same love around to the people closest to them. In fact, the whole post was an extremely generous gesture on the part of the actor, who invited fans into not only her mourning process, but into what was obviously a close family relationship.
As recently as earlier this year, Spade had effused about her niece to Page Six, telling the outlet how proud she was of Brosnahan's Golden Globes win for The Marvelous Mrs. Maisel. "I am beside myself!" she told the publication in January, adding:
"My daughter [13-year-old Frances Beatrix] and I jumped up and down when she won. She deserves this recognition, as she's put her heart and soul into the role. We are insanely proud."
And as evidenced by Brosnahan's post, the feeling was clearly mutual. The circumstances of the posting couldn't be more devastating, but the actor's loving words are an important reminder to everyone in this difficult time. Anytime you're feeling pulled toward the darkness, wallowing in the heartbreaking loss of Spade's talent and effervescence, try to remember her life instead. Nothing can ever take away who Spade was, the accomplishments of her career, and the loving bonds she made while she was here.
If you or someone you know are experiencing suicidal thoughts, call 911, or call the National Suicide Prevention Hotline at 1-800-273-8255. You can find more resources about suicide prevention at the National Suicide Prevention Lifeline or the American Foundation for Suicide Prevention.