Trump Accuser Rachel Crooks Is Now One Giant Step Closer To Holding Office Herself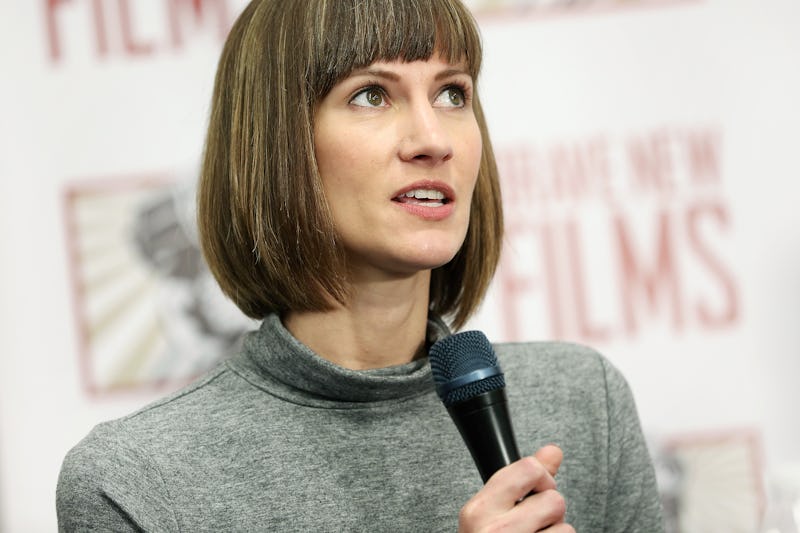 Monica Schipper/Getty Images News/Getty Images
Primary elections took place across the United States on Tuesday and many are readily discussing their results — and the significant implications they could have on the 2018 midterm elections. A few primary victories are drawing particular attention, including that of Rachel Crooks, who won Ohio's Democratic House primary — and may become the first Trump accuser to get elected to office.
As CNN reported, Crooks ran uncontested for the Democratic nomination for a seat in the Ohio state legislature. She will now face incumbent Republican Representative Bill Reineke during the general election in November. The victor will represent the 88th District southeast of Toledo in the Ohio state House of Representatives.
Back in 2016, just prior to the United States' presidential election, Crooks alleged that Trump kissed her on the cheeks and mouth when she introduced herself to him outside of an elevator in a building where they both worked. Crooks told the New York Times that she shook hands with Trump, but also alleged that he would not let go and began kissing her, including "directly on the mouth."
Crooks described being upset at the alleged incident, saying to the New York Times, "It was so inappropriate. I was so upset that he thought I was so insignificant that he could do that." Trump has vehemently denied Crooks' allegations, saying on Twitter in February 2018:
A woman I don't know and, to the best of my knowledge, never met, is on the FRONT PAGE of the Fake News Washington Post saying I kissed her (for two minutes yet) in the lobby of Trump Tower 12 years ago. Never happened! Who would do this in a public space with live security......
Crooks spoke further about alleged incident between her and Trump with the Washington Post in a profile piece in February 2018. She told the Post that she felt empowered and comforted when hearing the stories of Trump's other accusers, saying "For the first time, I started to think it wasn't my fault for being clueless and naive, or for something I did wrong in seeming that way to him ..."
The paper also described how Crooks eventually felt emboldened to join other Trump accusers for media appearances. The Washington Post shared the words Crooks spoke at a related news conference, in which she emphasized that she wanted to ensure that her voice was heard. As Crooks put it:
I know there are many worse forms of sexual harassment, but doesn't this still speak to character ... I don't want money. I don't need a lawsuit. I just want people to listen. How many women have to come forward? What will it take to get a response?
Crooks announced her decision to run for office in February of 2018, saying she was inspired to run after seeing women unite for the 2017 Women's March in Washington, D.C. Crooks described this inspiration to Cosmopolitan in February, saying:
I think like a lot of women, because we've been historically underrepresented in politics, I didn't necessarily see myself in this role ... But multiple people encouraged and said, 'I think you would be great.' Once you hear it a few times, you start to believe it a little bit, and fully consider it ...
The Washington Post reported that Crooks has had a record number of donations for a first-time state legislature candidate in Ohio. Indeed, over 1,500 people donated to her campaign from February through mid-April of 2018. Crooks' campaign manager, Chris Liebold, told the Post that Crooks was looking forward to the general election race, saying "We're still waiting for the final count, but it was uncontested, so we're happy ... We look forward to the race ahead."
According to the Washington Post, the Ohio district that Crooks seeks to represent tends to be conservative. However, Crooks certainly still stands a chance for victory, as the district voted for Barack Obama in both presidential elections. Moreover, Crooks seems to have an unprecedented level of support — something which could certainly help her secure a historic victory in November.