Rachel Shared Why She Stopped Talking To Peter & It Makes A Lot Of Sense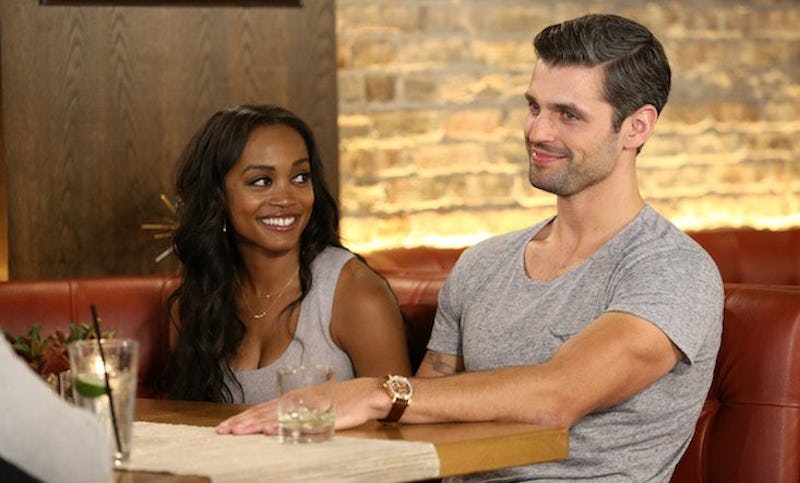 ABC
It was so heartbreaking to see Rachel Lindsay and Peter Kraus break up on The Bachelorette last year, and now, we know that it was their second to last interaction. In a new interview with Us Weekly, Lindsay said she doesn't speak to Kraus anymore, and even though some exes can be friends after their relationships have ended, it sounds like this was the best choice here.
At the end of the The Bachelorette, fans are treated to a fairytale proposal... and a sometimes awkward, heart wrenching breakup. It was really hard to see Kraus on the receiving end of Lindsay's bad news, but since she and Bryan Abasolo, her final pick, are still going strong, she obviously made the right decision — but that doesn't mean it came easy for her.
If you felt especially emotional watching that breakup conversation go down, it's probably because everything going down on screen was actually their final goodbye (minus their conversation on After The Final Rose, of course). When Lindsay talked to the magazine on Tuesday, she revealed that sending Kraus home was the way she planned to get closure all along.
"For me, the reason there was so much emotion was because that was closure for me, that was it," Lindsay said. "And I really haven't talked to him because I don't have anything else to say. From what I hear, he's doing well too."
Getting closure is different for everyone, so if that's the way Lindsay was able to tie up all of her loose ends with Kraus, more power to her.
But don't mistake Lindsay's silence for bad feelings — in fact, it seems like it's quite the opposite. She even told Us Weekly that she'd be happy to see Kraus as a future lead on The Bachelor, even though he recently told Bustle that's not something he's interested in. In fact, if he ever changed his mind and did become a future Bachelor, Lindsay even said she'd watch his season.
She said:
"I mean, come on now. I'm in this thing, you know. I'm Bachelor Nation, I'm a part of the franchise. It doesn't matter who the Bachelor is. And just because it didn't work out with Peter and I, there's no bad blood. I hope that he's able to find whatever it is that he's looking for, you know, even if that was on The Bachelor."
If nothing else, it's wonderful to hear that Lindsay isn't planning on forgetting her Bachelor and Bachelorette roots anytime soon, even though her time on the show is over. But if you miss seeing her, all is not lost —  she'll be appearing on The Bachelor Winter Games as a judge later this month. This time, her search for love has come to an end, but at least she gets to be part of other people's love stories (hopefully).
It's kind of a bummer to know that we'll never get to see Kraus and Lindsay interact again, but honestly, Lindsay sounds like she's happy with her decisions — and from watching her relationship with Abasolo grow on social media over the past year, she seems happy in general, too.
Maybe one day, many, many years from now, an older Kraus and Lindsay will reunite at a Bachelor event and exchange knowing smiles from across the room in a very romantic comedy kind of way, both at peace with the rose ceremonies that are behind them. But until that day comes, it will still be fun to see what the future holds for them both.