Why Peter Kraus Doesn't Want To Be The Bachelor To Find Love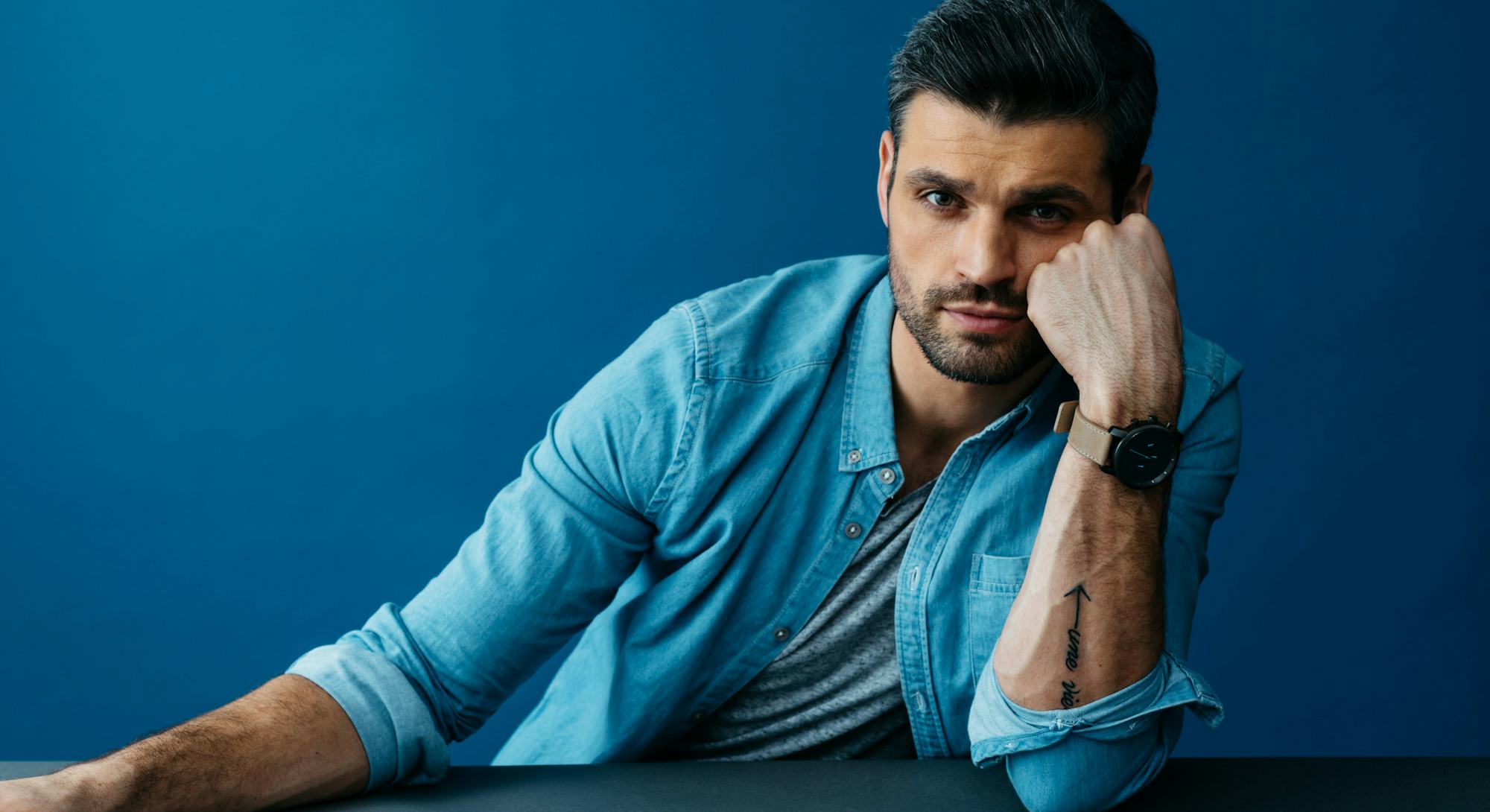 Ashley Batz/Bustle
It's a casual afternoon in the Bustle offices, and Bachelorette star Peter Kraus is showing me photos of his dog, Daisy. And not just one, but several. Here she is snuggled up next to him. Here she is taking a selfie with him. Here she is laying on the remnants of the dog bed she just destroyed. But, it's OK, because how could anyone get mad at that face? "She is adorable. She has that so working in her favor," Kraus says. "If you ever met her, she is a little terror. Like, I cannot move more than three inches without her following right behind me."
The glowing way Kraus talks about her proves that he doesn't really think she's annoying at all. In fact, he's been waiting forever to find a dog like Daisy. A dog and wife, that's what he says he's been searching for. And, with the dog part checked off, he's still looking for his perfect partner. Just don't expect that search to happen on TV. Peter Kraus is glad The Bachelor door is shut, and he says he's not looking to re-open it.
While he admits that he was in "light conversation" with producers to step into the role of the Bachelor after Rachel Lindsay's season left him heartbroken, ultimately, he said it wasn't something he was interested in. That's when Arie Luyendyk Jr. was brought in. "[I] saw him become the Bachelor and I was like, 'Finally this closes a major door on life,'" Kraus says.
For weeks following Lindsay's season, Kraus was pestered by media and fans alike about whether he would go on the next installment of the show. "People were constantly asking me, 'Was I gonna be that person? Why or why wouldn't I be?' People [were] hating on me for going to become [the Bachelor], even though I wasn't. And then people were loving me for becoming the Bachelor and I wasn't that either."
Luyendyk Jr. was announced as the franchise's next Bachelor in September, prompting Kraus to post a lengthy message on Instagram saying goodbye to the series.
"The most incredible journey of this life time that has now officially come to an end today. As I sit here writing this, I struggle to hold back the tears as I am overcome with emotion one last time. First and foremost.. Rachel, there are so very many things that I've wished I could say to you since the day we parted ways in Spain, but for everyone's sake, I'll keep it short... You gave me a chance and all that I can say is thank you. I have a heart filled with love for you now and always and wish you nothing but the best in your life and love ahead."
But, as we've learned time and time again, goodbyes often aren't final for Bachelor Nation — just look at Luyendyk Jr., who was first on the franchise five years ago and has now stepped back into the spotlight. So, even though Kraus says he's done with The Bachelor, fans aren't done talking about the possibility of him returning to the show. "It was nice to finally shut that door and [feel like] finally no more questions could be involved," Kraus says about Arie taking over as the Bachelor. But he acknowledges that his fan base is still curious about what he'll do next. "But now the question is, 'Why didn't you [become the Bachelor]?' So, it'll be forever."
"I'm not gonna hold up any part of my life to be on that show, I can promise you that."
Let Kraus put the rumors to rest once and for all: He doesn't want to come back to the show five years from now, because that would mean he still hasn't found his wife. "You know, by the time I'm 35, 36, five years from now, I would hope that I'm at least married. I would love to have kids at that point. I would love to have a significant other at this point," he says.
What about coming back not in five years, but just next year, then? "I'm not gonna hold up any part of my life to be on that show, I can promise you that," he says, a note of finality in his voice.
Although Kraus has seemingly put all thought of appearing on the show behind him (he also mentions he'll "never" go on Bachelor in Paradise, either), he says he has watched the first few episodes of Luyendyk Jr.'s season.
"I feel bad for him," Kraus says about his first impressions of the season and Bachelor Nation's reception of him as the Bachelor. "All the questions right away were, 'Well, why isn't it Peter? How do you feel about it not being Peter?' And then he starts to be called 'Not Peter.' So I feel kind of bad for him for that."
Fans have been pretty critical of Luyendyk Jr. from the jump, and now of his behavior throughout the episodes — with many people labeling him "boring." Kraus says he thinks he would have approached the show in a similar way, though. "[Arie's] kind of quiet. But it seems like he's taking it really seriously," Kraus says. "I mean if you're trying to fall in love with someone in 10 weeks and you had to decide between 30 of them, I feel like I'd take it seriously and not be the most excited person ever."
But Kraus does disagree with one aspect of Luyendyk Jr.'s decision making. "There are definitely some [women] on there ... I wouldn't have chosen if it was me," he says, going on to name Krystal. But he does like some of the women, naming Tia, Caroline, Becca, Bekah, and Seinne as women who caught his eye. In fact, a lot of people have said Seinne reminds them of Rachel and are dying for Kraus to meet and date her (they think she's "too good" for the current Bachelor). "She's beautiful, I'll tell you that," Kraus says of Seinne. "But I don't know anything about her."
Having re-entered the dating world post-Bachelorette, Kraus is very much interested in just dating people he knows and can trust. "Dating has become very complicated since the show," he says. "I get hit up all the time on social media ... people slide into my DMs."
Hate to break it to you, but DM-ing Kraus isn't the way to get him to notice you. "I read occasionally what the DMs are, but very rarely," he says. "I don't want to go through my DMs and try and pick, like, one person."
But, although "social media is a bear," according to Kraus, it's not all smooth sailing IRL, either. "When people meet me in public, I don't know what they are interested in," he says. He now has to worry about women wanting to date him to get famous, or to have a good story to tell. Still, he's not letting that deter him from finding a partner, which is still what he's focused on post-show. "I actually just started going on dates again, and it's been fun," he says. He's testing the water with people he already knows, those he may have just been too busy in the past to pursue, and friends of friends. "Usually a friend from your pool will turn into your long-term relationship," he notes.
"[Rachel and Bryan] pop up in my feed all the time, so I'm forced to kind of see them, but it's all harmless. They seem good."
Kraus may have gone on The Bachelorette to find a partner, but in the real world, he's also here to make friends — as evidenced by his investment in the Hive Social app. It's an app dedicated to building friend groups for people based on mutual interests. "Based off of those groups that you've chosen, you have one full feed that has all of your interests, and those who share those interests, and from there you can have conversations," Kraus says. Hive differs from sites like MeetUp, where you may have to pay a fee and have to attend events in real life, in that you can get to know people before deciding to meet up, or you can keep your friendship strictly online. "There's no pressure," Kraus says. "You make friends, you make romantic acquaintances, you make whatever you want."
Speaking of friends, I had to ask, how is Kraus' post-show relationship with Rachel Lindsay and her fiancé Bryan Abasolo? Kraus had a lot to say about Abasolo while on the show, but these days he's let it go. "I said some things [on the show] that I regret in regards to Bryan, and I think those came from a place of jealousy, maybe? Discomfort, being in a weird situation," he says. "Seeing the girlfriend that I had at the time, that I was falling in love with, making out with another guy, who I know she had feelings for... So I regret saying those things. If people ever ask me if I regret anything, that'll be the one thing."
These days he doesn't talk to the happy couple, but he does see their blossoming relationship all over social media. "They look super happy [and are] actually really cute together," Kraus says, ever the good sport. "They pop up in my feed all the time, so I'm forced to kind of see them, but it's all harmless. They seem good."
It's hard not to hear a tinge of longing in Kraus' voice when he talks about his ex, though he's undoubtedly used to being asked about her now. Still, for him, he's not looking backwards. "Life has really been good ever since [the show]," Kraus says. He spends his days working out or instructing others as part of his fitness training career, hanging with his dog, and working on new opportunities like the Hive Social app. "What I show myself as on social media is really who I am the most," he adds. "Life is good and I'm happy." And he doesn't need to go on a TV show to prove that to anyone.