Rachel Is Heading To 'The Bachelor Winter Games', But Not As A Contestant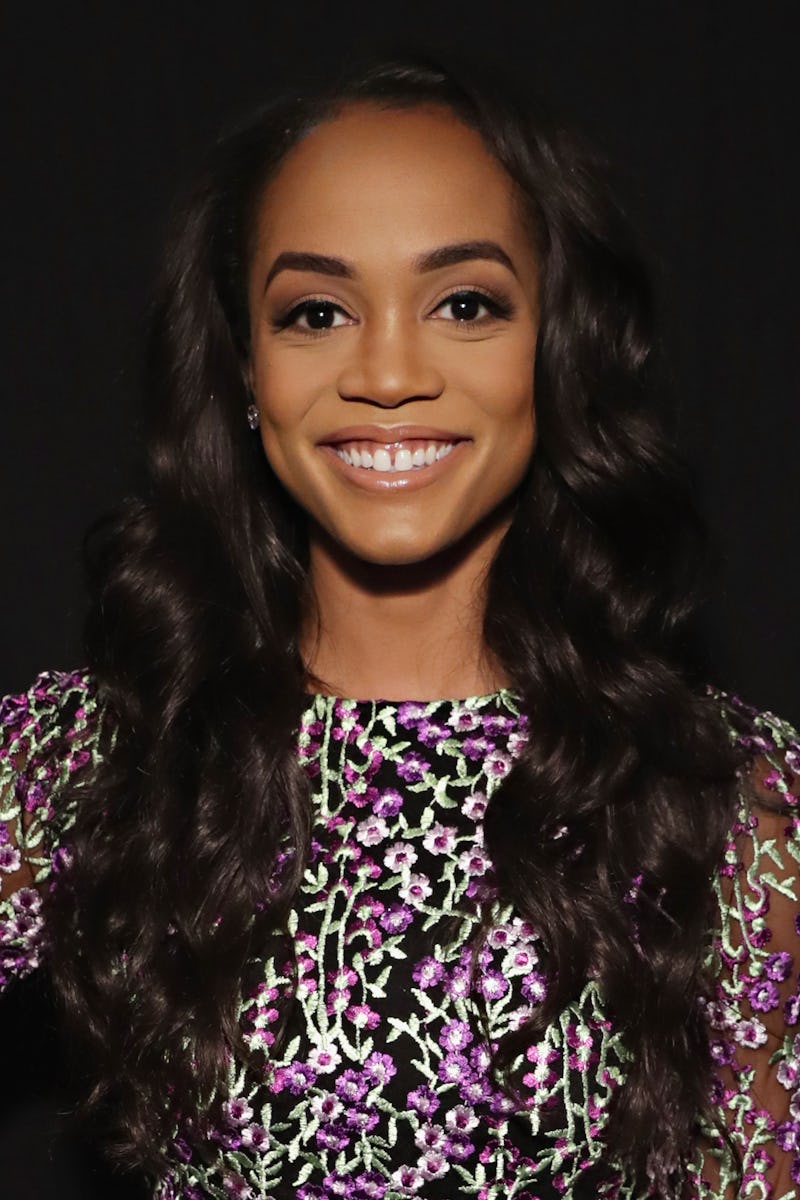 Cindy Ord/Getty Images Entertainment/Getty Images
Even though Rachel Lindsay found love as the last star of The Bachelorette, she's returning to the franchise yet again. Rachel Lindsay will be on The Bachelor Winter Games, she confirmed during a new interview. Unfortunately, she will not be competing and she won't be on every episode, but a Rachel appearance will definitely be entertaining.
So, what did Rachel contribute to The Bachelor Winter Games? On the February 7 episode of The Morning Breath, Rachel shared, "I judged a contest." But added, "I don't want to say what contest." Obviously, it wasn't a race or something timed, but maybe it was ice skating or some other sport with a routine involved.
Bachelorette viewers are well-aware that Rachel is not shy when it comes to sharing her opinions, so it's not at all shocking that Rachel described her personality as a judge by saying, "So, I was Judgey McJudgey. I was the Simon, let's just put it that way. Would you expect anything less?" Nope, and viewers wouldn't have it any other way, either.
If Rachel considered herself to be the Simon Cowell of the judging panel, then who were her Randy Jackson and Paula Abdul? Rachel didn't extend the American Idol comparison any further, but she did reveal that previous Bachelorette star JoJo Fletcher and current Bachelor Arie Luyendyk Jr. were on hand to help her determine the competition winners.
That is a great judging panel for many reasons. Obviously, it's great to have JoJo back on reality TV in any capacity.Winter Games episodes will overlap with Arie's Bachelor season, so it's not like anyone is going to "miss" seeing him on TV, but diehard fans will love having even more Bachelor content to consume. The other interesting aspect is that all three of these judges have "exes" in the Winter Games cast. Well, as much of an "ex" as someone can be if you're dating multiple other people at the same time on a reality TV show.
JoJo stole everyone's heart when she finished as the runner-up on Ben Higgins' season of The Bachelor after Ben told her that he loved her (and that he loved eventual ex-fiancée Lauren Bushnell). If JoJo gets to judge one of Ben's performances, she should tell him she loves it and then give first place to someone else... kidding (sort of). JoJo's fourth place finisher on her Bachelorette season, Luke Pell, will also be competing on the show.
Rachel's third and fourth place guys, Eric Bigger and Dean Unglert, are also contestants on Winter Games. Aside from them, Josiah Graham and Jamey Kocan (who only made it to Week 2 of Rachel's season) will be on the show. Those two are a stretch to be considered "exes," but it will be great to see Rachel interacting with Dean and Eric.
There are also two women already announced from Arie's Bachelor season: Bibiana Julian and Lauren Griffin. These are women who left early on his season, so it probably won't be awkward for Arie to see them.
In addition to revealing her role on the show, Rachel admitted that she would be interested in joining The Bachelor Winter Games as a contestant if they decide to do another season, but with a specific twist. "After going, I was kind of like 'I want to do this.' They should do a couple's version of this,'", she said, and added, "It was a lot of fun."
That makes a lot of sense. Rachel wouldn't want to go on a show about dating and hooking up when she is happily engaged to her fiancé from The Bachelorette, Bryan Abasolo. But, it would be great to see all the successful couples in the franchise back on TV again.
At this point, the upcoming first season of The Bachelor Winter Games is still a bit of mystery with new bits of information coming out here and there. But the show premieres February 13 and it's only a four-episode run, so all questions will be answered soon enough.