How ABC Is Flipping The Script In A Big Way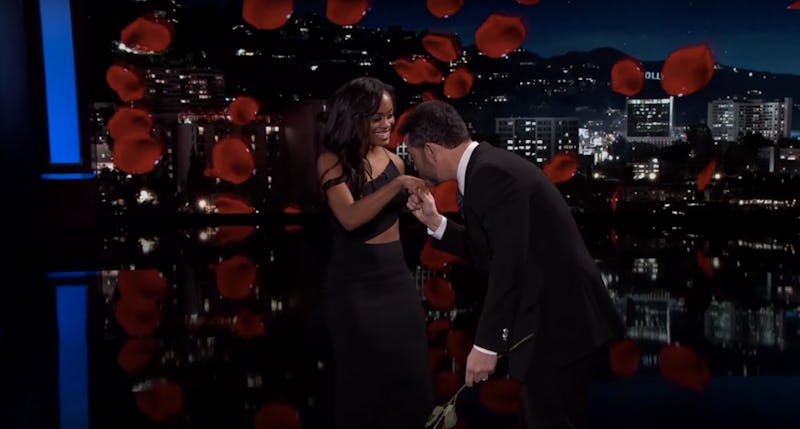 ABC has really thrown its audience members off their game with one unpredictable move after the other, both in its reality and scripted shows. Sure, this could be viewed as the network's attempt at vying for attention, but, in a more positive light (which is needed these days), such unexpected changes could also be the answer to keeping the audience engaged and giving us what we've been asking for: diversity, edginess, and WTF moments included. Announcing that Rachel Lindsay is the first black Bachelorette is just the tip of the iceberg.
Audiences should've seen all of this coming. Last year, at this exact time, there were major change-ups within ABC's executive team, and the execs wasted no time in getting to work to surprise audiences. And even Rachel was shocked when she found out that she would be the next Bachelorette. As she told Jimmy Kimmel, "I honestly thought they were doing it just to make me feel better." Not only was the announcement about Rachel (sadly) a pleasant surprise after 33 seasons, but the timing made Bachelor history, too.
Currently a contestant on Nick Viall's Bachelor season, Rachel hasn't even been kicked off yet, so her reveal served a few major spoilers at once. The only person of color to lead a season before Rachel was American-born Venezuelan Juan Pablo in Season 18 of The Bachelor. Needless to say, people didn't see this coming. But after years of watching white Bachelors and Bachelorettes, why would they?
The current Bachelor season has already been one for the books, merely because of its tendency to go against the grain, even before news about Rachel even broke. Season 21 started out as a rebel against the franchise by announcing surprise choice Nick Viall as its leading man. Nick was a two-time loser on The Bachelorette and was also on Bachelor in Paradise. Who would've thought he needed more? Not to mention, this came as a total shock after the network reportedly had already picked Luke Pell to lead the season and sprung the news on him while he was ready to depart to LA with packed bags.
Nick's attitude on the series is also unlike what fans have seen before, whether orchestrated by the show runners or not. For one, the infamous rose ceremonies that often serve as the big climaxes are irrelevant to him. He's had a tendency to just send women home unexpectedly while on dates or even when they take him to the side to talk to him. And he's also been refreshingly open about sex, making his season one of the most sex-positive.
There's no denying that discussions on The Bachelor got as sexual as a stale fruit cake. Not to mention, the show has gained a bad rep for sometimes putting women in boxes (like virgins or twins), and portraying them in an occasionally negative light. There's been a history of contestants slut-shaming one another, especially in recent years. But in Viall's season, there's been noticeable change in the way women freely talk about sex. It seems ironic, since Viall did question one of Andi Dorfman's sexual encounters in Bachelorette's Season 10, although it seems he has turned that corner along with the network.
Not only has Viall been transparent about sleeping with contestants, but audiences have seen the women be more forthcoming about "testing out the car." This is obviously deliberate on the part of the network. I mean, season promos said the girls "want some Nick," i.e. implying they want the d*ck. However, the Bachelor franchise isn't the only route the network has taken so far in 2017 to make fans' ears perk up.
For example, in early January, the comedy Black-ish got political. This was nothing new. But speaking to such a politically-charged issue so soon and strongly after it occurred in real life was. The series made headlines and received praises for tactfully addressing the 2016 presidential election and the effects of Trump's win. Vulture reported that although the sitcom constantly tackled social issues, that particular episode "elevated the series to another level of cultural relevancy." Countless American citizens were voiced in the episode, which showed the Johnson family reacting to and being heavily affected by Trump's victory — at home, work, and school. The kids even had a school day off for "reflection."
Even Scandal, which has been marketed as "twisty" and "shocking" for years, threw fans for a loop with its Season 6 premiere in January. The show has mirrored relevant, real-life political events since the start — a female candidate (Bellamy Young) and the Trump-like Hollis Doyle (Gregg Henry) included. But opening the season with a president-elect assassination so soon after the real-life election (when we all know where Shonda Rhimes and liberal Hollywood stands), I admit, was pretty shocking to watch. Rhimes and her cast confirm it's no form of political commentary, but it certainly had people talking and gave the show a very serious spin to break through its often soapy, unrealistic plot lines.
Thus, ABC's mission to be on the pulse of American culture while keeping fans guessing seems to be pretty apparent. People want to see themselves and their issues played out on screen, and it looks like the network has finally heard that message loud and clear. For one, it makes sense that it is shaking things up to start some conversation and continue making headlines in such an oversaturated media market. Moreover, it seems that reflecting real-life people, issues, and conversations is a priority ABC has right now and will likely amp up in 2017 and beyond — regardless of how provocative those things may be.