Rainbow Rowell Is Tackling YA Through A Different Medium With "Runaways"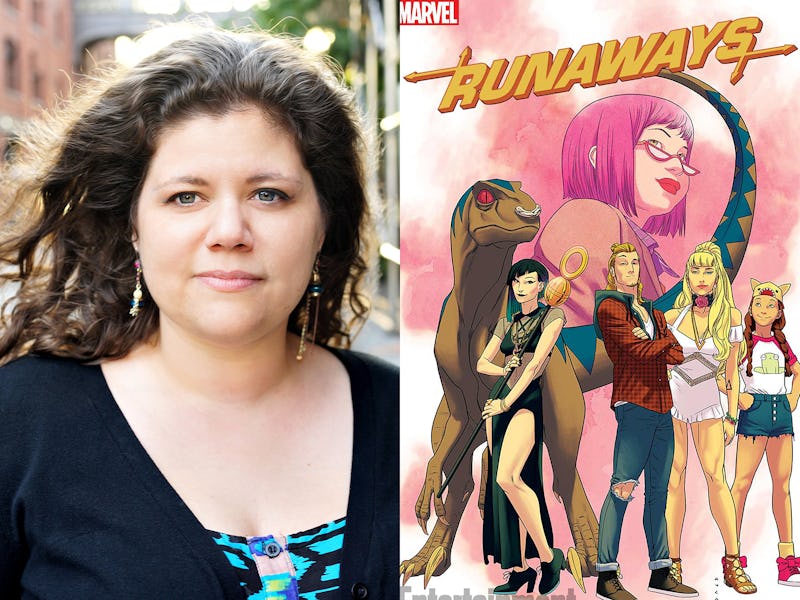 If you were never interested in comics before, chances are that 2017 has changed your mind. Young adult authors Jason Reynolds, Leigh Bardugo, and Victoria Schwab have all released superhero books this year; modern takes on classic superhero stories from Gabby Rivera's America to G. Willow Wilson's Miss Marvel continue to hit the shelves; and we've been promised exciting DC Comic YA novels from Sarah J. Maas, Matt de la Peña and Marie Lu. It's almost impossible to escape these tales of heroism and villainy lately...incredibly exciting considering that we're getting more diverse and female-centric tales than ever before. And now you can add beloved author Rainbow Rowell to the mix, with the release of the first issue in her reimagining of the Runaways comic series.
"I don't think there's ever been a firm boundary between books and comics. Some of my favorite comics writers–Peter David, Neil Gaiman, Bill Willingham–have also written great books," Rowell tells Bustle. "For authors, superhero projects are hard to resist. These characters are part of our modern mythology. If you grew up loving Wonder Woman, for example, what a thrill to be able to add to her legend."
Runaways by Rainbow Rowell, illustrated by Kris Anka, $14.84, Amazon
And the comic Rowell loves the most? Runaways. For those uninitiated, the original series, created in 2003 by Brian K. Vaughan of Saga fame, featured a group of six kids (Alex, Nico, Karolina, Gertie, Chase and Molly) whose parents routinely met every year for a charity event. One year, the kids spy on their parents and learn they are "the Pride", a criminal group of mob bosses, time-travelers, dark wizards, mad scientists, alien invaders and telepathic mutants. The kids steal weapons and resources from their parents, and learn they themselves inherited their parents' powers. If that sounds right up your alley, you're in luck, because Rowell will be picking up right where Vaughan left off.
"The new series is a continuation of the original run, like a sequel. We're picking up with the characters two years after we last saw them in their own comic. I really loved the original Runaways so I wasn't looking to reinvent the book," Rowell says. "My goal was to tell stories like the ones that made me fall in love with this team–with a focus on characters and relationships, and with lots of great dialogue. [It's] exactly the sort of story I love–a group dynamic, great dialogue, romantic entanglements, deep friendships, jokes... "
Rowell is definitely known for her expert exploration of characters and relationships from her beloved YA novels Eleanor & Park, Fangirl and Carry On, as well as her adult novels Attachments and Landline; but while she has worked in different genres before this will be her first foray into comics. Though if anyone is ready for the challenge, it's a massive comic fan like Rowell.
"I think the thing that's helped me most in writing Runaways is having read so many comic books over the last 30 years. It helps to know what a good comic book looks and sounds like," she says.
Still there was a learning curve for the author, who despite being fresh off writing her forthcoming graphic novel with Faith Erin Hicks, still had a lot to contend with when it came to recreating a story that has been so beloved by readers.
"Of course I was nervous. It's always scary when you're trying something new. And the thought of messing up in front of an audience… Or messing up these characters that I love… But I knew I wouldn't be alone. And I know that I can tell a good story," Rowell says. "It sounds clichéd–but the only way to grow is to take risks. The only way to find out if you can do something is to try. There was a time when I'd never written a novel. And I was scared then, too."
And while Rowell says that her favorite thing about Runaways has always been the characters, "It's so rare to find characters this distinct and engaging and solidly built–in any medium," the first issue of Runaways that she and illustrator Kris Anka have put together is very much action-packed, choosing to jump right back into the world without a lot of backstory. And it's this choice that will allow both existing fans and new ones to get ready for a whole new Runaways.
"Our first arc is a 'Getting the Band Back Together' story. We'll meet the Runaways as we go–sort of a walking introduction. These characters didn't choose to be together the first time around. They were thrown together by bad circumstances. Our arc is about giving them the choice. Do they still see themselves as Runaways?," Rowell says. "My hope is that existing fans will read this first issue and think, 'Yes–that was the Chase and Nico that I love" and that new readers will think, 'I just met Chase and Nico, and I can't wait to know more.'"