Meet Gabby Rivera's Version Of America Chavez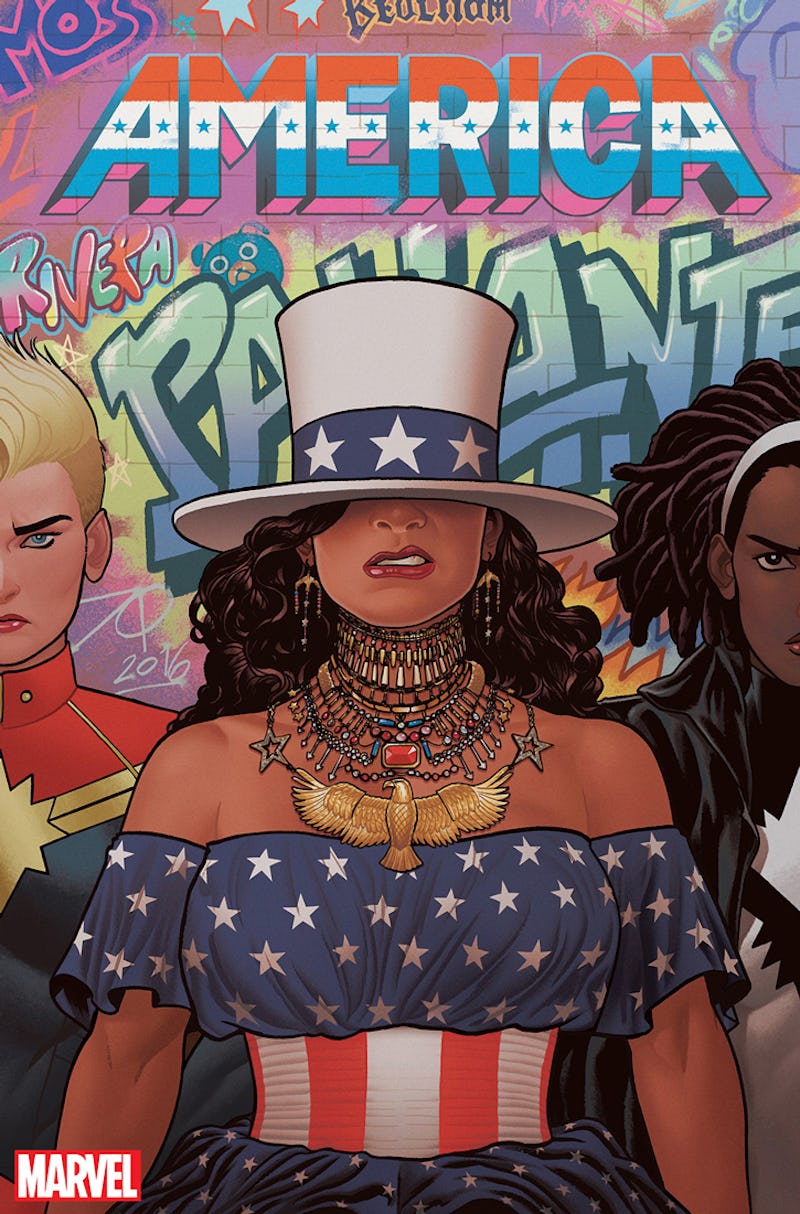 We all know the usual comic book superhero drill. A young (usually white) man gets bitten by a bug or hit by a meteor or turns vigilante for justice, and becomes the superhero his city or town never asked for, but the one they need. He struggles with internal demons while also falling for a girl, putting the fate of the world before himself. All of that is well and good, of course, but we need something different from our comics now more than ever, and female comic book superheroes are getting the spotlight they deserve.
In 2013, for example, we got the the introduction of Ms. Marvel (a.k.a. Kamala Khan) a Pakinstani-American Muslim teenager from Jersey City. Her shape-shifting abilities and inhuman genes made her the perfect candidate for her very own action-packed series, which debuted in 2014. The first volume even won the Hugo Award for best graphic story in 2015. Now ready to join Sana Amanat's creation? The new Miss America, America Chavez.
While a superheroine by the name of Miss America has been around since 1943 (originally the alter-ego of a character by the name of Madeline Joyce Frank), the America Chavez iteration first debuted back in 2011. When Marvel announced, at the 2016 New York Comic Con, that Chavez would be starring in her first solo series—titled America—in 2017, Latinx comic book fans around the world naturally, rejoiced.
Written by Juliet Takes a Breath author Gabby Rivera, America Chavez is a queer Latina teenager with superhuman strength and durability, and the power of flight. Oh, and she also just so happens to be able to literally kick open doors between realities with her foot. So, yeah, basically she is a total bad ass.
The highly anticipated first issue hits shelves on March 1, 2017 (join Latinx in Publishing as they celebrate the launch at Midtown Comics Downtown) but Rivera is still reliving her awe at being chosen to write this groundbreaking series.
"I was pretty much shocked," Rivera tells Bustle. "Like, just receiving an email from Marvel had me running around happy-weeping and calling my mom. I couldn't believe that an editor from Marvel read my book Juliet Takes a Breath, and decided to reach out. Like, damn I was so proud of that book and myself, for sticking with it, and making sure it got out into the world, you know? And then to be writing America Chavez! It felt like an honor was being bestowed upon me, not just by Marvel, but by all the Latinas that have written and made art magic before me. Like here you go, brown babe, keep that representation flowing. And I'm so, so here for it."
Of course the excitement of bringing more Latinx representation to the comic book industry is the primary focus of both Rivera and the entire creative team behind America. But doing something new, and with so much buzz, doesn't come without some trepidation.
"Word, I definitely had and still have some jitters about all of this. First, trying to write a story that needs to make sense in a universe that already exists and has thousands of stories in its repertoire is super intimidating," Rivera says. "I imagined that comic fans wouldn't forgive me if I didn't remember what happened in some obscure comic that was only printed like three times in the 1940s, and then I'd be thrown out of the Marvel scene forever. Totally legit fear, right? But once I started working with Wil [Moss] and Charles [Beachem] from Marvel, they totally set those fears at ease and reminded me that they sought me out for my voice, not an encyclopedic knowledge of the Marvel universe."
And though Rivera is not starting at ground zero within the Marvel universe saying, "The only comic I read growing up was Tank Girl, but Marvel comics were all over the house thanks to my family. We also watched the X-Men cartoons on Saturday, and I was a huge fan. Storm, Rogue, and Jubilee were my favorites. I wanted Storm to be my Tia, Rogue to be my girlfriend, and Jubilee to be my partner in superhero crime," it is in part her fresh look at Marvel and the world of comic books in general that made Rivera the ideal choice for re-imagining Miss America.
Because if there is less to adhere to, surely there is more freedom to create something better and bolder than ever before. Case in point, though a lot of the details are still under wraps, we know that America #2 is an homage to pop queen, Beyonce. And can we expect even more pop culture references to amazing women of color? To that Rivera simply says, "Hell yeah you can."
If you've been following along with Bustle's American Woman Book Club, you've already fallen in love with the Juliet, the protagonist of Rivera's YA novel. But will you see any similarities between these two Latina women warriors?
"America and Juliet have such different personalities. I think their stories are similar in that they're both young Latinas trying to find their way in the world. Yes they both like girls, but they're really invested in figuring out who they are and what they're capable of," Rivera says. "You'll find some good wisecracks, excellent taste in music, and a soft spot for sweet people in both Juliet and America Chavez though. Ay, I can't help those things!"
Another thing Rivera can't help but think about as she considers America Chavez's future? The future of a certain other America, struggling under our current administration.
"First, America's been around for almost six years. She's not new to this rodeo. America Chavez's role in the next four years is to serve as an example of how important it is to pursue self-discovery and connect to our communities," Rivera says. "Many of us, especially women of color, are told that we must sacrifice our happiness and our pursuits to fit into our predetermined roles in society. We're sometimes treated as the other, or the maid, or the ones who don't deserve to be here in this country. America [Chavez] is here to say 'Umm, that's puro crapola. I've been here. I'm going to be here. And you're gonna love it. Watch me punch my way out of this mess and into my own beautiful reality.' Every human on this planet deserves to build a life that works for them and for the good of all those around them."
So, besides her super human strength and kick ass powers of resistance, what is River most excited for readers to discover about America? The answer might surprise you.
"I'm excited for readers to see the university America attends and how fantastical it is. I'm excited for them to get a sense for who she is as a goofy young wild human: her taste in music, her hard femme aesthetic, and how she makes mistakes in love just like we all do," she says. "I'm excited for folks to wanna be her friend."