Here's What I Want To Tell Ramona From 'RHONY' About ACTUALLY "Supporting Women"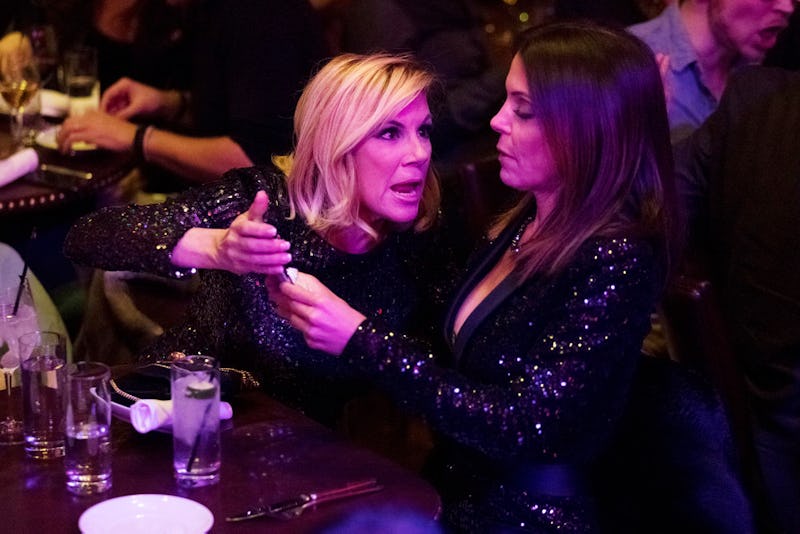 Heidi Gutman/Bravo
Bravo is making me tired. A once delightful spectacle, Real Housewives Of New York is increasingly hard to tune into every week because they're trotting the same well-worn path as they have for the past nine seasons — yelling, screaming, vacations. But it's the faux feminism that makes it especially hard to stomach for me anymore. For all the talk of "girl power" and "supporting women" that some of the cast mates on the show spout, this so-called girl power goes out the window when it's convenient or when the storyline makes sense. Real Housewives Of New York has a problem with fair-weather feminism.
Exceptionally trained in the art of the Real Housewives franchise, I'm very familiar with the current cast and all of its respective antics. Bethenny is tough and fragile. Carole is cold and funny. Tinsley is warm and slightly immature. Every woman has her quirks, but the one that is perhaps the worst offender of the pseudo "girl power" movement is Ramona Singer. Ramona is a force of nature in her own right — she owns and maintains multiple brands, she raised a wonderful daughter, and she handled a very public divorce swiftly and with a brave face. The women on the show cut Ramona a lot of slack because she is Ramona, so why isn't it reciprocated?
In the August 8 penultimate Season 10 episode of Real Housewives Of New York, Ramona is launching a skincare line and has invited (or is contractually obligated to invite) the rest of the women. But between her businesses and her charity work and her kid, Bethenny has forgotten to RSVP. Or maybe she just didn't — either way, Bethenny is a no-show, and Ramona mumbles and drags on about how Bethenny didn't say anything about the launch of her umpteenth product.
In previews for the Season 10 finale, Ramona reads Bethenny the riot act, telling Bethenny that she doesn't support women, like in general, because she didn't come to the launch, and that she talks a big game when it comes to supporting women but never follows through. Bethenny, from the looks of it, seems nonplussed, as Bethenny usually is. But here, Ramona is way off.
Listen, feminism doesn't mean liking every woman you meet at all, but if that's the case, Ramona should just say so. All of the women on Real Housewives Of New York have their own interests at heart — they are all there promoting themselves in some way, otherwise, why be on the show? But Ramona is the only one who carries on saying that she supports her cast mates while simultaneously driving them into the ground. This is the same woman who claimed, back in Season 9, that Bethenny slept her way to success and, in Season 3, that Bethenny would screw up every relationship she would ever have. Is that something a feminist or someone who touts "girl power" would say?
To quote Luann in Turks and Caicos, "not really." Supporting your friends means supporting all of their choices, or at least trying to understand them, whether it's that they want to skip a launch party for a skincare line, how they parent, or what they do for a living. And calling them out when they're actually wrong, which, seriously, was not the case here.
Ramona is the first to criticize or say something when another woman is about to take away her spotlight, much like she did to Jill Zarin on the verge of a Kodak deal in Season 1. That's not feminism or girl power. Those things mean sharing the shine. One person doesn't have to have all the light — there's plenty to go around.
Again, none of the women on this show are immune to behaving poorly to each other. Dorinda stabbed Luann in the back in Cartagena when she brought up her arrest and Carole and Bethenny are locked in a game of friendship-ending chicken that gets pretty nasty at times. But no one except Ramona asserts she's an ally while trying to snuff out the light of the other women. It's not a good look. What the world needs, especially right this very minute, is more women helping women. There's room for everyone at the top, and the sooner the Real Housewives Of New York cast recognizes that, the better.