Luann From 'RHONY' Returned To The Cabaret Stage After An "Eye-Opening" Time In Rehab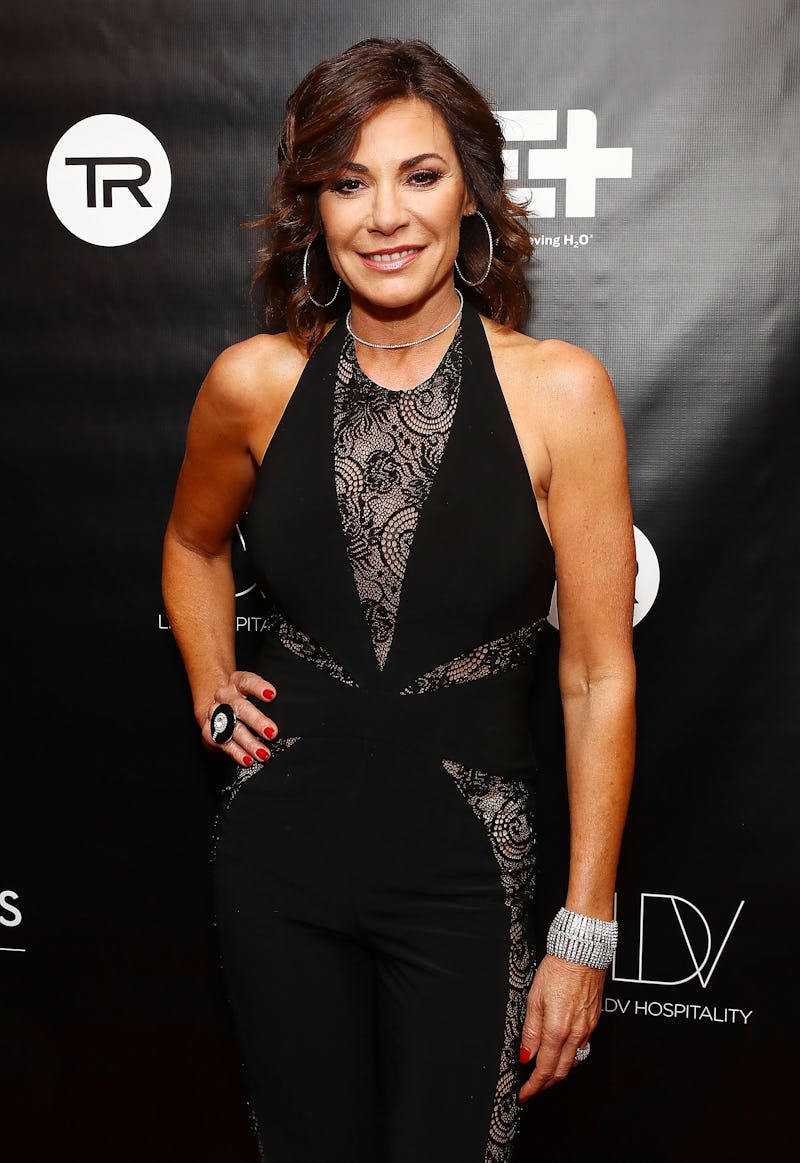 Astrid Stawiarz/Getty Images Entertainment/Getty Images
While chatting with E! News on Aug. 4 at her cabaret show, Luann de Lesseps opened up about returning to rehab. This update comes after Bethenny Frankel released a statement to People on Luann's behalf back in July, revealing her Real Housewives of New York City costar was going to rehab for the second time and would not attend the RHONY Season 10 reunion. For the first time in an interview, Luann reflected on what it was like getting help again and how much she learned from the experience. (At the time of Bethenny's announcement, Bustle reached out to Luann's agent, but did not receive an immediate response.)
Luann told E! News,
"I feel great. I feel like I have more experience with the whole thing so I learned more, you always learn more and the second time around I learned a lot more about myself and it was very eye-opening and enlightening and spiritual and all of those things. I've realized that drinking doesn't work for me anymore, it just doesn't."
What also made Luann feel so great is returning to the cabaret stage. On July 28, the Housewives star announced on Instagram that she would be playing two new shows. "Thank you so much for all of your support," she wrote. "I wanted you to know I'm doing great, & I hope you'll come and see me on Aug 4th in Long Island @theparamountny or Aug 24th in Atlantic City @borgataac Looking forward to being back on stage!!!"
As for actually being able to perform once again, Luann told E! News,
"It was great, it was great to be back on stage I, you know, couldn't wait actually I was so looking forward to it and so yeah it felt amazing. That's my biggest venue I played to date... and it was sold out, it was great!"
Even though Luann admitted going back to rehab was the best thing for her, she was sad about not filming the reunion. (Luann first went to rehab following her December 2017 arrest in Palm Beach, Florida.) Based on her response, it also seems like her choice will be part of RHONY Season 11. "It was a big decision, but it comes first and I feel like, you'll see... I can't give away the storyline obviously but, but I feel like I was in a good place and I don't really think I needed to be there," she said.
Luann continued,
"I would've loved to be, I love doing the reunion by the way, it's my favorite, I really do and all the girls are like, 'You're sick!' I like it because it's your time where you can be honest and tell the truth about how you feel and you don't alway get to do that on the show. So I like doing the reunion so I was sad to miss it, but my health came first."
As for the women, Luann said they have "all been great," but even more so Bethenny. "Especially Bethenny, she's been to bat for me, so that's nice," she said. At the time of Luann's announcement about returning to rehab, Bethenny told People, "This weekend, Luann was surrounded by her girlfriends and decided — with their support — that in light of recent circumstances, it is the healthiest choice for her not to attend Tuesday's reunion taping so that she can continue in her healing process."
Luann also said she's sad about Carole Radziwill leaving RHONY. On July 25, Carole confirmed to People Season 10 would be her last as a Housewife. "After six seasons on Bravo's RHONY, I have decided to return to what I do best — journalism and producing," part of her statement read. "I am sure this does not come as a surprise to any of the viewers, all of whom have been supportive, encouraging, and kind."
Similar to a recent tweet from Bethenny implying Carole didn't quit RHONY, Luann said she doesn't believe the writer chose to leave of her own accord. Luann claimed to E!, "Listen, it's always sad to see a cast member go, and you know, I don't know the real story behind it, I mean, I don't think she left, I think there was a problem... but I know that she loved to do the show so I know she didn't leave because she wanted to leave." (Bustle reached out to Bravo about Carole's exit, but did not receive an immediate response.)
RHONY Season 10 hasn't even ended and the next season already sounds heavy. The New York Housewives never disappoint in giving the drama and putting their lives out in the open for all to see.