No One Asked For It, But Ramona Singer Is More Than Ready To Be The Bachelorette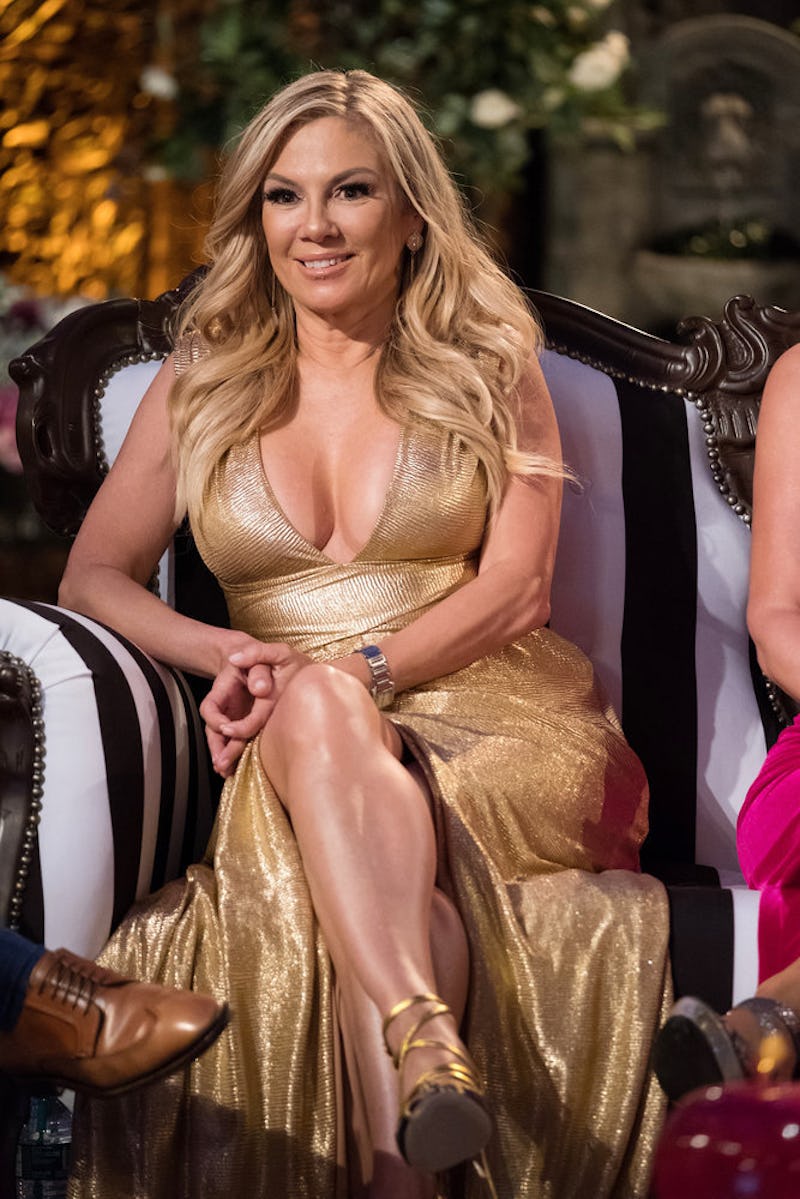 Charles Sykes/Bravo
Forget about Arie as the next Bachelor, because Ramona Singer wants to be the next Bachelorette. The Real Housewives of New York City star thinks she has what it takes to be The Bachelorette's leading lady and she's ready to find love. "After meeting @TheRachLindsay I really think I should be the next #bachelorette @BacheloretteABC why not?" she tweeted Thursday.
Guess what? It's something Rachel Lindsay is totally on board for. She responded to Ramona, "I'm all about it. I can be your mentor lol." Of course, the RHONY star replied, "Let's talk to them. Why can't I find love too???"
Honestly, yes, it would be wonderful if Ramona could find that forever someone to spend the rest of her life with. She was formerly married to Mario Singer for 20-plus years, and it was hard not to feel bad for her when she told Bethenny Frankel in the RHONY Season 9 finale, "I wish had a partner in my life and I don't. It's an adventure, but it's kind of weird." She then said, "I don't know if it's ever gonna happen."
She doesn't want to only be part of the New York dating scene, she wants something more. "Meeting men has never been my problem, and it still isn't, I just don't want to date to date," she admitted in her confessional during the Season 9 finale. "It has to be somebody really, really special for me to spend a lot of time with, so that's what I'm waiting for." It seems that she thinks The Bachelorette might be the solution to her problem.
Seeing as Ramona is upset that she "can't find love too," this must mean that the guy she revealed she was seeing to People in July is no more. "I was out with a bunch of girls including [Sonja Morgan] and he came over to the bar to buy a drink," she said. "He saw me and we just hit it off and we've been dating ever since!" At the time of the interview, they had been dating for three months.
Who knows exactly what's going on with her current relationship status, but the 60-year-old Bravolebrity wanting to become the next Bachelorette would definitely be entertaining, to say the least. Let's imagine what the reality series would look like if that were to happen.
Checking Out Her Digs
If anyone is picky about where they stay outside of their home, it's Ramona. You know she would totally give production a hard time about where she would reside during filming.
The First Night
Ramona would welcome the attention from the large group of men with open arms. Really, it would be a dream come true.
Officially Meeting The Men
As interested as she would be in her suitors, Ramona would turn the conversation back around to herself — and how she looked.
Talking With Chris Harrison
She might be there to find her OTP, but there's no question Ramona would hit on Chris Harrison at least once during the duration of her time as the Bachelorette.
Watching The Men Compete
And she would love every single second of it.
Handing Out Roses
This is either how Ramona would act when deciding who to give a rose to. She isn't one for short speeches, so she'd probably be a little longwinded.
Going On Dates
She would refuse to have a date without her Ramona Pinot Grigio.
Traveling With The Men
Hey, traveling on a helicopter after getting a facial treatment can be a difficult time. Taking any and all precautions is absolutely necessary.
Confronting The Men
She has a short fuse, so if any of the men did something wrong or rubbed her the wrong way, she'd tell them.
The Hometown Visits
Ramona would talk herself up when meeting the contestants' families. Hey, she loves making herself look good.
The Fantasy Sweet
Well, she'd would definitely want to know if sex was on the table or not. Plus, she'd want to know if she had to put in any effort, because Ramona is one who likes to sit back, relax, and let the guy do all the work.
The Final Rose
In the end, all that matters is that Ramona is happy. Even if she didn't find someone, she'd probably come out a stronger person with possibly a clearer picture of what she wants in a partner — and the title of a one-time Bachelorette.
Ramona as the Bachelorette will probably never happen, but it's definitely fun to imagine.