Ramona's Reaction To Luann's Divorce Has 'RHONY' Fans Divided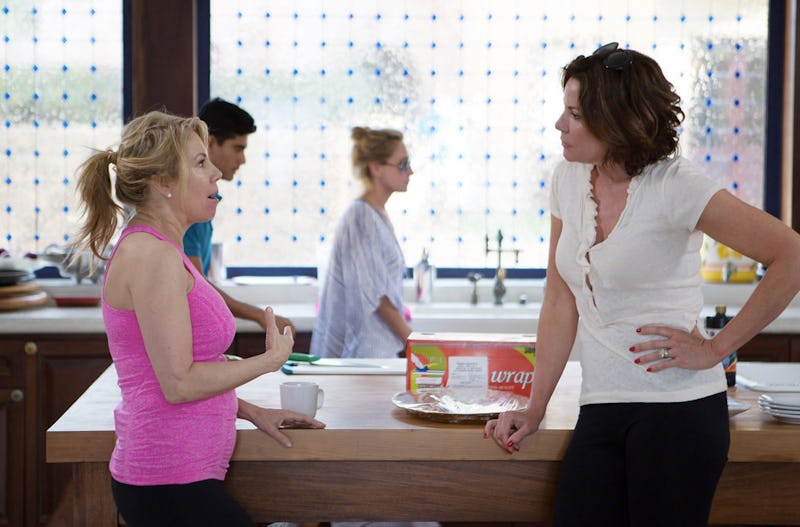 Paul Cheney/Bravo
On Thursday, Aug. 3, major Real Housewives of New York City news broke that sent fans into a reaction gif-filled spiral: Luann and Tom D'Agostino are divorcing. Of course, with news like this you know some fellow Housewives are going to chime in, and one of the first to do so was Ramona Singer, who reacted to Luann's divorce news with a very short tweet.
Luann tweeted, "It's with great sadness that Tom & I agreed to divorce. We care for each other very much, hope you respect our privacy during this sad time!" And in response, Ramona posted, "I am so sad for you ...."
If you're a fan of the show, you know that Ramona has not exactly been a big supporter of Tom and Luann's relationship. Ramona was first concerned about the relationship because she had gone on a couple of dates with Tom not very long before he and Luann got together. Then, after the drama with the woman at The Regency occurred, Ramona became endlessly suspicious and kept wanting to share more gossip about Tom with Luann even though Luann insisted that she and Tom worked through any issues they had and were doing just fine. Ramona played a key role in the Berkshires wedding intervention during the current season, and also delivered this gem:
It is precisely quotes like this that have RHONY fans divided over Ramona's reaction. Many think that Ramona's tweet isn't OK and that she really is thinking "I told you so," but some believe that Ramona should think "I told you so" because they think Luann should have listened to her.
Ramona and Luann still have some sort of relationship and Ramona herself has been through a divorce, so it's hardly impossible that Ramona actually wants to support Luann and feels empathy for her. What a novel idea, huh? As for how this will all turn out, we'll either have to wait until RHONY Season 10 or, even better, Andy Cohen can book these two for Watch What Happens Lives. Fans are certainly ready for that.