You Can Read 'Harry Potter & The Sorcerer's Stone' At No Cost For The Next Two Weeks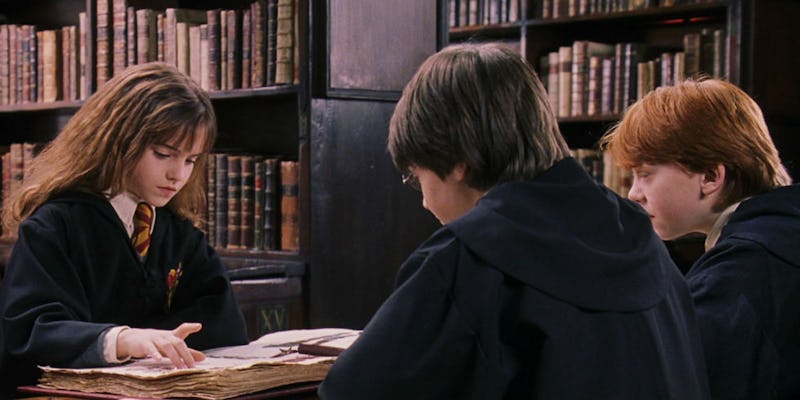 Warner Bros.
I've made absolutely no secret of how much I love both Harry Potter and the Libby library app. So you can only imagine my excitement when I found out that two of my most enduring bookish loves are coming together to celebrate Harry Potter's 20th anniversary with the greatest gift of all: a free book. That's right, Pottermore Publishing is teaming up with Libby to offer readers across North America a chance to download the Harry Potter and the Sorcerer's Stone ebook from Aug. 27 through Sept. 10 — with no cost, no waitlists, and no holds. Talk about magic.
For those unaware, the Libby app is available on Apple and Android devices, and puts literally thousands of books right at your fingertips with just the click of a button. All you have to do is download the free app, connect it to your library card (according to Libby, some libraries also have access to an Instant Digital Card which simply requires a cell phone number to sign up), choose one or more of your local library branches to borrow from, browse the stacks to your heart's content, and read as much as you want for free.
Of course, because Libby is really just your library in digital form, you might find that there is a waitlist for a few of the most popular titles — and yes, every single one of the Harry Potter books still falls firmly on that list, at least for me. At my local branch, for instance, Harry Potter and the Sorcerer's Stone usually has about a four week waitlist. But for the next few weeks, you can bypass the wait completely, and dive into Harry, Ron, and Hermione's first adventure wherever you are.
Harry Potter and the Sorcerer's Stone, the first book in J.K. Rowling's wildly popular series, was first published by Scholastic in the U.S. on Sept. 1, 1998. If you're a reader or just a human who has been paying attention for the last 20 years, you don't need me to tell you the gigantic impact that Harry has had on both fans and the industry alike over the last two decades. With over 500 million copies sold around the world, the series has been translated into over 80 languages, and has resulted in eight blockbuster films and successful spin-offs galore — including the Harry Potter and the Cursed Child stage plays and the Fantastic Beasts movie series.
Whether you want to recapture some of the magic from the very beginning, or finally convince your sibling, partner, best friend, or parents to read the books after all this time, now is the perfect opportunity to get lost in the grounds of Hogwarts once more. But act fast: Harry Potter and the Sorcerer's Stone is only available without a waitlist from Aug. 27 through Sept. 10 and the title will automatically expire at the end of the lending period. So grab it while you can — there's no time-turner on this deal.