Read Michael Flynn's Letter Of Resignation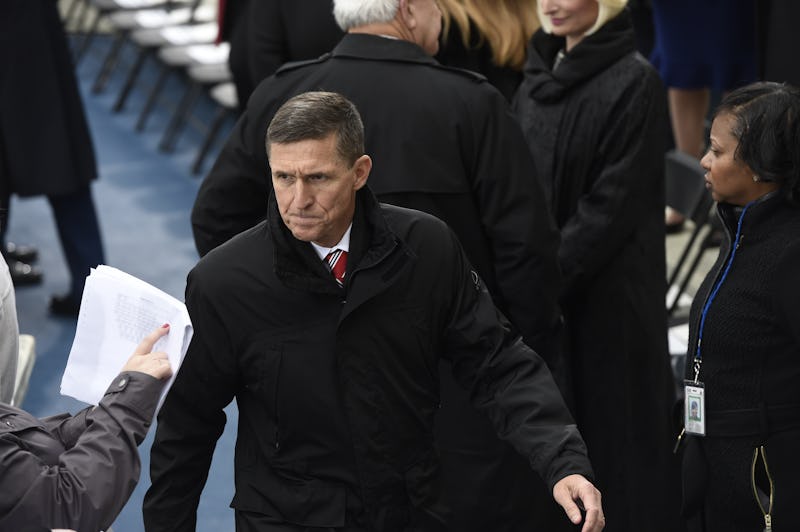 Pool/Getty Images News/Getty Images
President Donald Trump's national security adviser resigned Monday night after holding the position for less than a month as allegations mounted over his discussions with the Russian ambassador to the United States. To get his take on what happened, you can read Michael Flynn's resignation letter.
The national security adviser's resignation followed reports that the Justice Department had warned the Trump administration that Russia could potentially blackmail Flynn, CNN reported. Flynn had on Feb. 8 twice denied having discussed sanctions with the Russian ambassador, but by Thursday his spokesman said "that while [Flynn] had no recollection of discussing sanctions, he couldn't be certain that the topic never came up."
Flynn's letter actually glosses over the circumstances of his retirement, devoting just one short paragraph to them. "Unfortunately, because of the fast pace of events, I inadvertently briefed the Vice President-elect and others with incomplete information regarding my phone calls with the Russian ambassador," Flynn wrote, according to a copy of the resignation letter obtained by the New York Times. "I have sincerely apologized to the President and the Vice President, and they have accepted my apology."
But the situation isn't over, even with Flynn's resignation; Adam Schiff, the ranking Democratic member of the House Intelligence Committee, said in a statement that Flynn's contacts with Russians "have been alleged to have begun well before December 29," CNN reported. "These alleged contacts and any others the Trump campaign may have had with the Kremlin are the subject of the House Intelligence Committee's ongoing investigation."
Flynn, for his part, denied any conscious wrongdoing in his resignation letter. "Throughout my over thirty three years of honorable military service, and my tenure as the National Security Advisor, I have always performed my duties with the utmost of integrity and honesty to those I have served, to include the President of the United States," he wrote, according to the New York Times.
Flynn, a former Defense Intelligence Agency head, is the shortest-serving national security adviser, having held the position for less than a month. In the meantime, Trump has named Gen. Keith Kellogg, the current National Security Council chief of staff, as his interim national security adviser. There are a few options being discussed right now for Flynn's permanent replacement, a senior administration official reportedly told CNN. These options include Kellogg, retired Gen. David Petraeus, who is scheduled to meet Trump at the White House, and former Vice Admiral Bob Harward, CNN reported.