Read Robert Mueller's Appointment Letter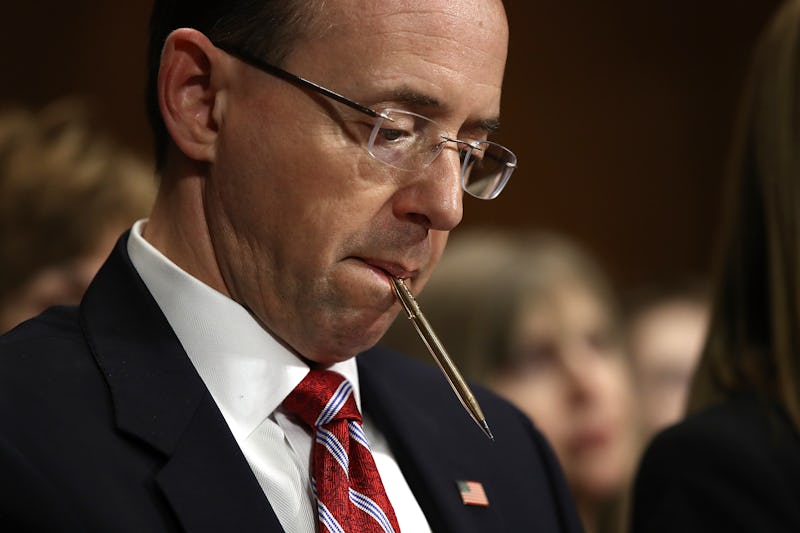 Win McNamee/Getty Images News/Getty Images
On Wednesday, Deputy Attorney General Rod Rosenstein officially signed a letter appointing Robert Mueller as special counsel in the probe investigating interference by Russia in the U.S. 2016 presidential election. While appointing a special prosecutor to investigate a case isn't the equivalent of appointing an independent, special commission, the move signals to the public that the Department of Justice is taking the investigation into any potential ties between Russia and Trump's campaign seriously.
Rosenstein's letter to Mueller is short and sweet, taking up only a single page. According to the letter, Mueller will have permission to investigate intelligence concerning "any links and/or coordination between the Russian government and individuals associated with the campaign of President Donald Trump," as well as "any matters that arose or may arise directly from the investigation."
Trump promptly responded to the investigation update, showing no sign of concern.
As I have stated many times, a thorough investigation will confirm what we already know — there was no collusion between my campaign and any foreign entity. I look forward to this matter concluding quickly. In the meantime, I will never stop fighting for the people and the issues that matter most to the future of our country.
The same day, White House Press Secretary Sean Spicer expressed his strong belief that hiring a special prosecutor was entirely unnecessary. "You have two Senate committees that are looking into this, the FBI is conducting their own review," he said. "And — and I think if you even look at what Acting Director [Andrew] McCabe said last week, he made it very clear that they have the resources that they need and that the work continues." But especially after Trump fired former FBI Director James Comey on May 9, calls for a more independent investigation mounted.
In today's intensely partisan climate, Mueller's good reputation among both Democrats and Republicans likely played a large role in his being chosen special prosecutor. Mueller served as FBI director for 12 years — longer than any other director aside from J. Edgar Hoover. In fact, he took the position just days before the Sept. 11, 2001 attacks and, most notably, vowed the FBI would play no part in CIA-led interrogations that use tortuous methods such as waterboarding.
When Mueller was first sworn-in, he also promised to do his best "to restore the public's confidence in the FBI." Now, over a decade later, maybe he can do that once again.