These 11 Genius Products Will Make Reading In The Bath So Much Easier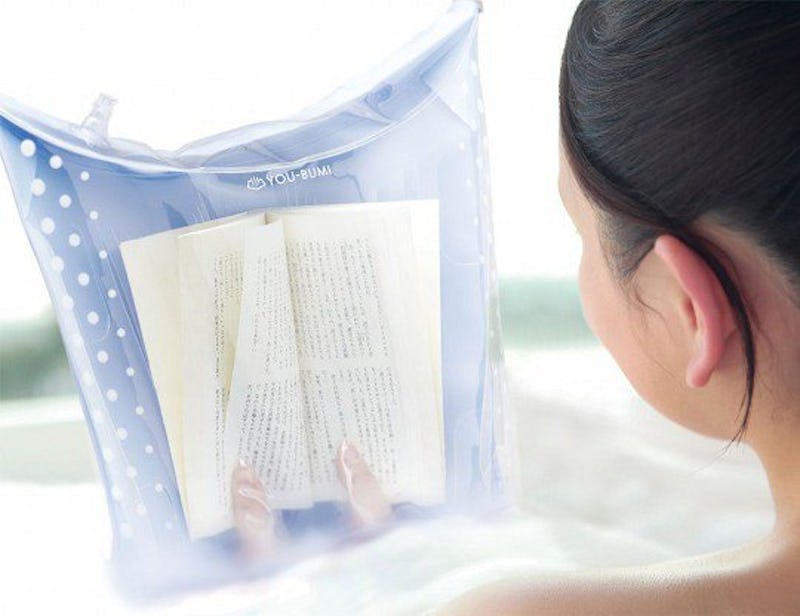 Japan Trend Shop
I've recently discovered the joys of reading in the bath. After a long day, I like to grab my favorite read, pick out a bath bomb (maybe a Sorting Hat bath bomb), light some candles, put on soothing music, and settle in for a nice, long soak. Reading and bathing on their own are some of the best ways to relax, and when you combine the two, you can feel your stress just melt away.
Of course, bringing books into the bathtub comes with a degree of peril. You don't want get your books wet, or worse, drop them in the water. We all have our own horror stories and cautionary tales. For instance, when I was a kid, my little sister dropped my beloved copy of Harry Potter and the Order of the Phoenix in the tub, and it (fittingly) sent me into All-Caps Harry levels of anger. My beautiful, hardcover book was ruined forever. I still get sad when I think about it.
But even if you're super careful, it's really tricky to not get your book wet. How do you turn the pages without getting water on them? What are the tricks for avoiding ambient moisture from making its way onto your read? And boy, it can be exhausting to try to hold the book up above the water for a long time. With all of these things to worry about, it can be hard to truly feel relaxed.
Don't sweat it, where there's a will, there's a way. There are some pretty nifty products out there designed to help keep your book nice and dry, while you can reach the ultimate levels of relaxation. These innovative ideas will help you balance your book, turn the pages, and get totally comfortable, all while keeping your book completely dry. Say good-bye to any anxiety you may have had about ruining your book.
Plus, there are tons of adorable literary-themed bath accessories that will amp up your bathing game, and make you feel totally at peace. From cultivated scents to cute adornments, you'll find everything you need to create the perfect ambience. Before you know it, you'll feel as if you're in your own personal literary spa.
So, get the water started and grab yourself a good book to settle in with. After all, you deserve to treat yourself to some quality me-time. With the help of these genius bath products, you'll never want to leave your tub—and you won't have to.