'Real Housewives' Star NeNe Leakes' Husband Gregg Has Been Diagnosed With Cancer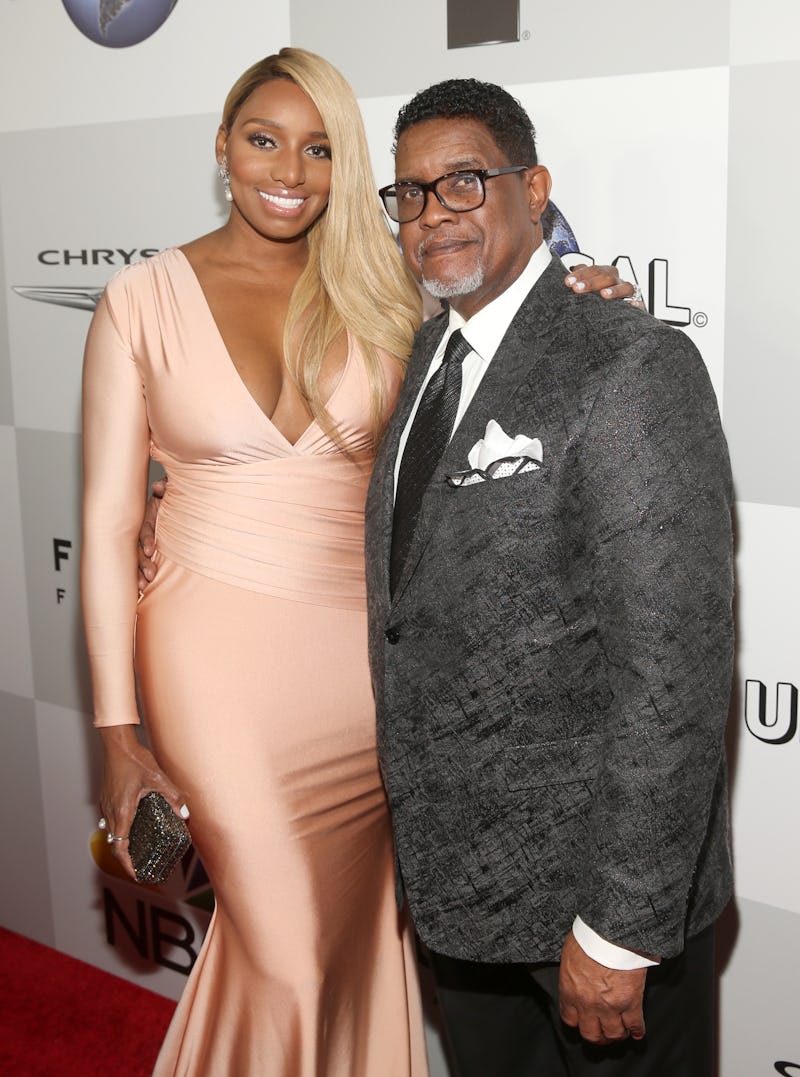 Jesse Grant/Getty Images Entertainment/Getty Images
After weeks of hospitalization, Real Housewives of Atlanta star Nene Leakes recently revealed that her husband Gregg Leakes has cancer. The reality star took to Instagram on Wednesday, June 13 to share the news by posting a photo of Gregg during an appointment at the MD Anderson Cancer Center in Houston, according to E! News. Along with the pic, which features the real estate investor sitting next to a computer monitor that has the word "cancer" crossed out, Nene added the caption: "Our New Normal and the fight begins" along with the hashtags, "#f*ckcancer #yougotthis," and "#iloveyou"
The sad news comes on the heels of Nene's announcement that Gregg had been in the hospital for over two weeks. In an Instagram video posted on May 21, Nene explained that she had to cancel some of her scheduled appearances due to Gregg's then-unrevealed health issues. Directly addressing her fans, she explained:
"First of all, I just want to say that I feel very blessed and extremely lucky to be able to do what I do. I'm so grateful that you guys purchased tickets to see me everywhere. I have to cancel my Albany, New York, show and my New York City Caroline's show. Today marks the 15th day straight that Gregg has been in the hospital. I find it very difficult to stand on stage and laugh and have a good time and give you guys your money's worth knowing that my husband's in the hospital not feeling well."
She continued the video by sharing how hard its been for her to work due to Gregg's hospitalization, saying:
"He has said to me over and over again, 'Go on, go out there, have a good time, do the show, I'm gonna be fine,' but I find it mentally very hard for me to do. Gregg will be out of the hospital this week, he will be stronger, he will be better and we will be out here doing this show again in no time."
Fans continued to remain in the dark about the reason for Gregg's stint in the medical center as Nene shared an update about his discharge on May 23.
The stand-up comedian also took to Instagram to share her gratitude for Gregg's return home, writing:
"After 16days my hubby, my rock, my best friend @greggleakes returns to the Leakes household! This has been really hard on us, our children, family and closet friends. He has a long road ahead but God is good and life is precious! WON'T HE DO IT? Come on somebodyyyyyy #lifeoftheleakes"
Gregg had been hospitalized in the past for a "dangerously low" heart rate – a moment which was documented on a November 2017 episode of RHOA, according to Us Weekly.
During that episode, Nene openly shared feelings with fans. Per Us Weekly, she said:
"I heard his voice on the phone and I knew that he was afraid. Oh my God, what if Gregg doesn't come home? What will they find? Is this something that Gregg's not telling me? I can't even imaging Gregg not walking on this earth. I can't do this. Gregg has to get better."
While things must certainly be difficult for the pair, Nene and Gregg have been receiving tons of support from fellow cast members and associates of the show. The former Celebrity Apprentice contestant recently took to Instagram to show some of the gifts that Housewives producer Andy Cohen sent to her husband.
Sharing a photo of the books from Cohen, Nene captioned: "Gregg will be reading for a while because @bravoandy sent him a library. Thank you Andy! We really appreciate your love and thoughtfulness #ontheroadtorecovery"
Bravo recently revealed that RHOA guest star Marlo Hampton sent Gregg an embellished Bible. While Nene shared on IG that her longtime friend, Cynthia Bailey also sent over some "relaxing" candles to aid Gregg in his recovery.
NeNe and Gregg married in 1997, but later divorced in 2011. The inseparable lovebirds later remarried in 2013. Their second wedding resulted in a RHOA spinoff called I Dream of NeNe: The Wedding.
Both Nene and Gregg have been notoriously known for their undying passion and no nonsense personas on TV. There's certainly no doubt that they will fight this battle with that same love and fortitude.