Eileen Davidson's 'Real Housewives Of Beverly Hills' Co-Stars Are SO Excited About Her Emmy Win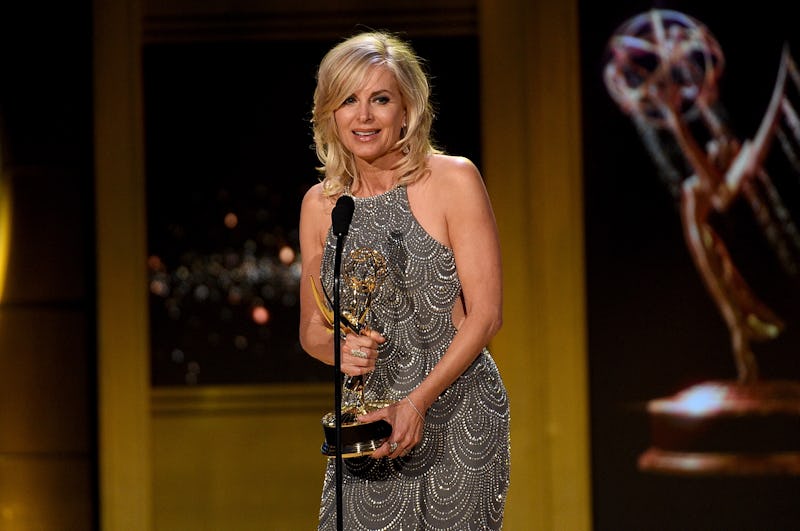 Kevork Djansezian/Getty Images Entertainment/Getty Images
Ashley Abbott made a splash at the 2018 Daytime Emmy Awards, and no, the splash did not involve any airborne glasses of wine. Over the weekend, Eileen Davidson won the Emmy for Outstanding Lead Actress in a Drama Series for her performance as Ashley Abbott on The Young and the Restless. Less than a year after Davidson revealed that she would be stepping away from RHOBH so she could give her soap opera career her undivided attention, she won an Emmy. Her, ahem, second Emmy.
Davidson has been a soap opera star since the 1980s, appearing on The Young and the Restless, Days of Our Lives, andThe Bold and the Beautiful. She joined the RHOBH cast on Season 5 and remained on the main roster for three seasons. In July 2017, Davidson confirmed that she would not be returning to RHOBH for Season 8. She said in a statement to Bustle,
"After a lot of careful thought, I've decided because of my crazy schedules at The Young and The Restless, as well as Days of Our Lives, it's best for me and my family if I step away from being a Housewife for now. But you never know, I might be popping in from time to time just to see what the ladies are up to! Thanks for your love and support guys!"
Davidson was ready to hand over her Housewives diamond and devote all of her energy to her soap opera career, but just because she was done being a Real Housewife did not mean she was totally done with RHOBH. In February, Bravo's The Daily Dish released a bonus clip of Davidson meeting up with Lisa Rinna and Erika Girardi. In the clip, Rinna and Girardi got together with their former co-star at a hotel pool and offered her some cast gossip, and Davidson made some excellent faces when she heard the cast gossip. It wasn't the most dramatic RHOBH scene in the history of RHOBH or anything, but it did not have to be. Just seeing Davidson back on Bravo was enough— er, back on a bonus clip that was on Bravo's website, that is.
The scene seemed too beautiful and perfect to not be included on the show, and that's because it was too beautiful and perfect to not be included on the show: About a month later, the "bonus clip" showed up in an episode of RHOBH. For a few glorious minutes, Davidson was really back on Bravo.
But will the two-time Emmy winner ever go back to Bravo for good? Eh, maybe do not hold your breath, fellow Eileen fans. Right after she won her second Daytime Emmy this weekend, Entertainment Tonight asked Davidson if she'd ever go back to RHOBH. She said, "I don't know, I've kind of moved on."
Davidson continued, "What's wild is I won my first Emmy when I started on Housewives, and won my last one when I left it." Before she joined the RHOBH cast in 2014, Davidson's turn as Kristen DiMera on Days of Our Lives earned her the award for Outstanding Lead Actress in a Drama Series.
Lisa Rinna, the soap actor-turned-Beverly Hills Housewife who joined the RHOBH cast when Davidson did, tweeted about her fellow Days of Our Lives star's latest victory. "Congratulations @eileen_davidson!!" Rinna wrote. "Much deserved win! I love you and am so proud of you!!!"
And the Monday after the Daytime Emmys aired, RHOBH veteran Kyle Richards also offered up a celebratory tweet.
You can take the soap star out of the Bravoverse, but you can't take the Bravoverse support away from the soap star.