Eileen Returns To 'RHOBH' In This Bonus Video That True Fans Won't Want To Miss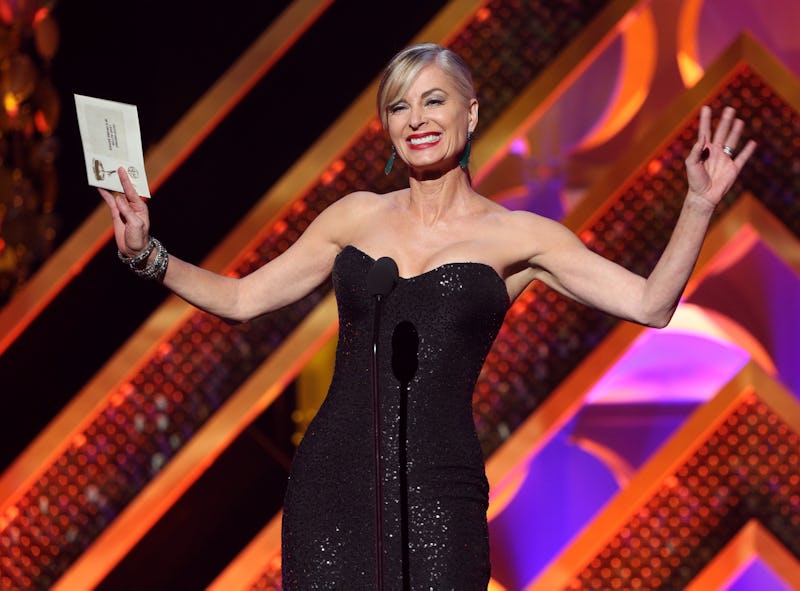 Jesse Grant/Getty Images Entertainment/Getty Images
A former Beverly Hills Housewife was supposed to make her triumphant return to the Bravo reality series this week, but even the best-laid plans fall like SUR goat cheese balls on an uneven serving tray. As BravoTV revealed, Eileen Davidson filmed a scene for The Real Housewives of Beverly Hills Season 8 at the Avalon Hotel. The scene was going to be part of the episode that aired Tuesday, Jan. 30, but the scene never showed up in said episode.
Thankfully, there is a diamond-encrusted lining here. (A silver lining? In Beverly Hills? Oh, that won't cut it.) Bravo put Eileen's RHOBH scene on the internet for all to enjoy. It really is so nice to see her back on the show, if only for a quick scene that didn't actually make the final cut.
In the clip, Lisa Rinna, Erika Girardi, and Eileen meet up by the pool at the Avalon Hotel. The two current Beverly Hills Housewives hug their former compatriot hello, visibly delighted to be back in Eileen's glowing presence. The scene could've just been the three of them grasping each other's forearms lovingly as they lounge by the pool, and that would've been enough. But this beautiful scene also includes a conversation, and for a moment there, it sort of feels like old times.
In a talking head, Rinna says what every Eileen stan is thinking: "It's so great to see Eileen. She has been working like a fiend doing The Young and the Restless and Days of Our Lives at the same time, but I miss her. I miss her. I do." Right there with you, Rinna.
Eileen asks for the latest RHOBH gossip, and to her great surprise, Rinna and Erika insist they're on good terms with Dorit Kemsley. As they explain that they've moved on from their respective dramas with Dorit, Eileen's reaction is nothing short of perfection. Oh, you think you couldn't possibly miss Eileen more than you already do? Peep this clip.
Why and how did this not make the actual episode? Couldn't the show carve two minutes out of that scene where Erika and Kyle Richards go shopping for jackets? No offense to that perfectly fine scene, but who among us wouldn't rather watch Eileen's brief homecoming? Also, Eileen deserves a proper cameo on the show, not a random bonus scene that's been thrown onto the internet.
After the bonus clip went up, Eileen tweeted, "It was so fun seeing us together again!"
She isn't wrong. Oh, she also posted this pic she snapped at the Avalon with Erika and Rinna because she sure knows how to do right by her fans.
On the third episode of Season 5, RHOBH welcomed Eileen to the fold. And what a terrific addition she was. Not only is the soap icon a charming, lovely, and wonderfully kooky person, but she's also not afraid to do battle with Lisa Vanderpump. Alas, as anyone who watched Gallery Girls knows, all good things must come to an end. On July 7, 2017, Eileen confirmed on Twitter that she had parted ways with RHOBH after three glorious seasons. She wanted to spend more time on her soap opera career, as well as spend more time with her family, and the Bravo reality show doesn't fit in with her schedule anymore.
As big of a treat as this mini reunion at the Avalon is, Eileen's quick return to the show isn't exactly the biggest surprise of all time. When the Emmy-winning actor announced her departure from the series last summer, she teased that she "might b popping in 2 see what the chix r up 2."
May this deleted scene not be her only Season 8 cameo. May she pop in and see what the chicks are up to again, and may that pop in actually make the show. May at least one Eileen scene put on a pair of rollerblades, knock back a shot of tequila, and glide onto one of the upcoming episodes.