'RHONJ' Alum Dina Manzo Revealed Her Engagement In A Super Casual Way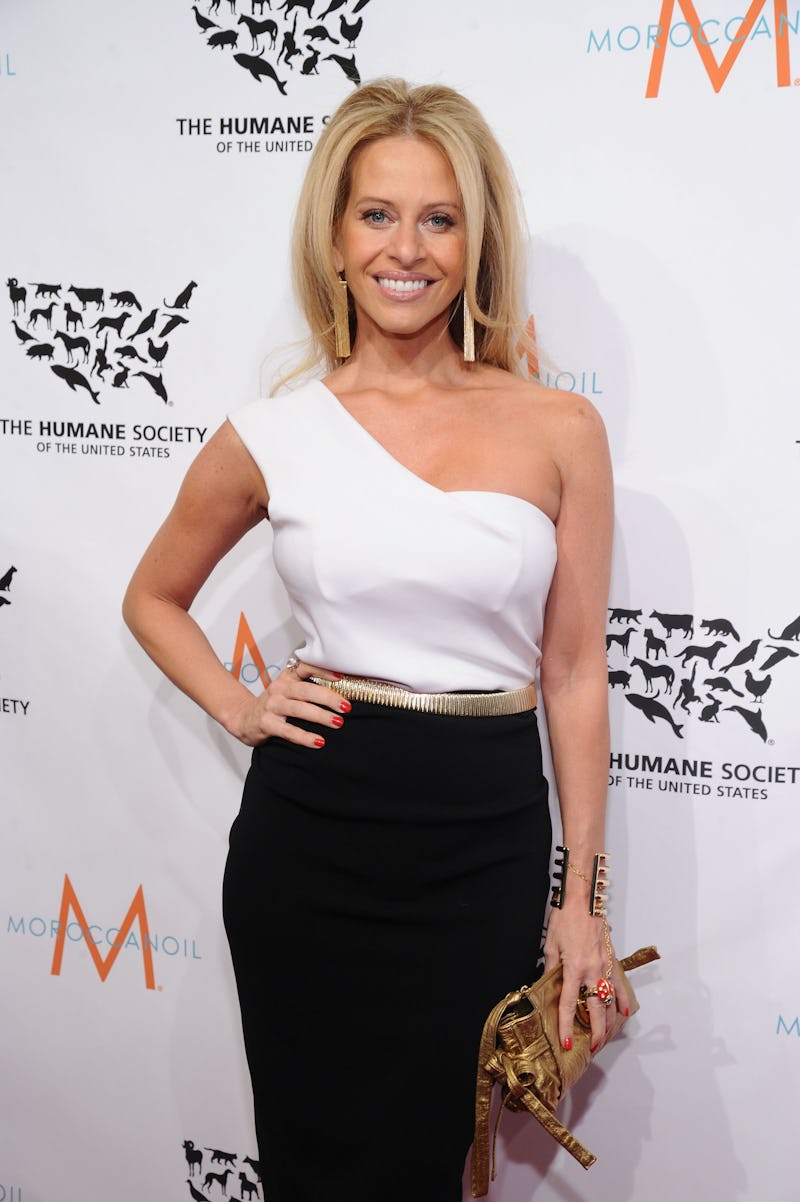 Ilya S. Savenok/Getty Images Entertainment/Getty Images
The ladies of Bravo's Real Housewives aren't usually known for their ability to keep secrets. When former Real Housewives of New Jersey star Dina Manzo confirmed she's engaged to auto industry entrepreneur David Canin, however, she proved to be an exception to the rule. "We've always been engaged," she revealed during an Aug. 22 appearance on SiriusXM's Jeff Lewis Live, according to People. "We got engaged once, early in our relationship, and then we both realized it was way too early. And then we got engaged again last year."
Because Manzo began dating Canin in 2015, that means she likely kept their first engagement under wraps for longer than the cumulative amount of time she even starred on RHONJ. (The businesswoman was on the Bravo hit from Season 1 through the first half of Season 2, before officially returning to the show for a third season in 2014.) The now former Jersey girl ultimately left the Garden State for Newport Beach, California, where she and her bi-coastal fiancé primarily reside.
Manzo — who finalized her divorce from second husband Tommy Manzo in early 2016 — is being equally secretive about any of her wedding plans. The former host of HGTV's Dina's Party would only tell Lewis that the nuptials would be "small" and joked that "you'll learn about it after."
During the SiriusXM interview Manzi said that she and Canin already feel like newlyweds anyway. "Our life is a honeymoon," she added, per People. "We don't do a lot of traveling, but we are definitely in the honeymoon phase."
When they do take vacations, however, Manzo's fiancé is the perfect wingman. "I can lean on him for just about anything. Like an expired passport the day before travel ooops!" Dina shared on Instagram last May. "Thank you @davecantin for being the man that you are and for loving everyone in your life so deeply. I'm a very lucky girl."
That caring spirit is what initially attracted Manzo to Cantin, who has two children: Olivia Rae and David James. According to the Dave Cantin Group's website, the CEO beat Leukemia in 2011, after undergoing 5 years of chemotherapy treatments. Manzo, the founder of children's cancer charity Project Ladybug told Page Six in 2016: "We're both really passionate about helping children with cancer. So that's really nice that we know there's a bigger reason for us meeting than just, you know, getting along and being attracted to each other." (Manzo also has a 22-year-old daughter Lexi from her first marriage.)
They also were brought closer after surviving a terrifying home invasion in 2017. During the break-in at their Holmdel, New Jersey, townhouse, one assailant beat Cantin with a baseball bat, while another punched Manzo "multiple times," according to a release from the Monmouth County Prosecutor's Office, obtained by People. The perpetrators were never caught.
"I can tell you from what I know as a friend is that it completely changed her perspective on things and that it, in a way, you look at life very differently," Lewis told listeners during the Aug. 22 radio interview.
While wedding details remain scarce, there's one person who likely won't be on the guest list. During Jeff Lewis Live, Manzo confessed that she and sister Caroline Manzo are still far from being "thick as thieves" again.
"Caroline does not speak to me at all … we haven't spoken in two years," Dina told her fellow Bravolebrity, explaining she felt reality TV fame changed her sister. "People become [caricatures] of themselves ... It was when I didn't recognize who she was any more that I said, 'I'm out.' "
No matter who ends up being in attendance to watch Dina walk down the aisle, though, hopefully she and her fiancé will be surrounded by as much love as they seem to have for one another.