Recap All The Kills Of 'Fear The Walking Dead' Season 2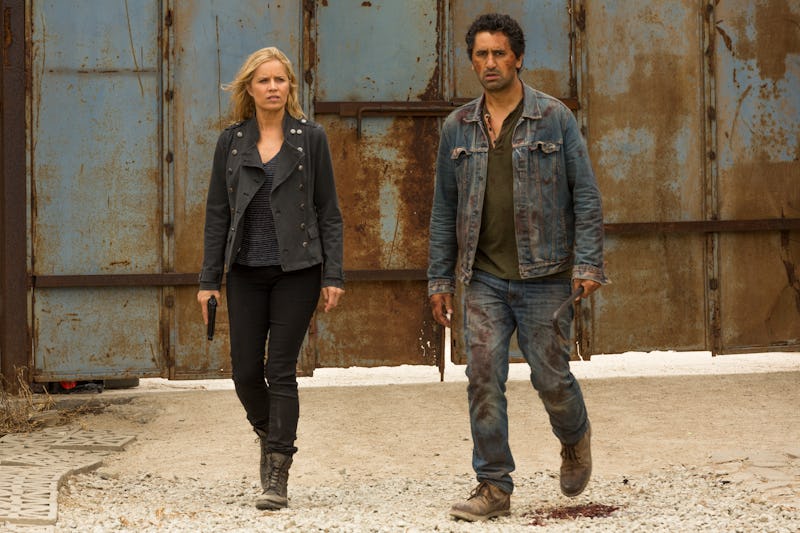 Peter Iovino/AMC
Now that Negan-mania is on a break, it's time to check in with the other side of the apocalypse on Fear The Walking Dead. The spinoff series has all of the suspense of the original show, without some of the long-term stress that comes with spending almost seven years with certain survivors. This recap of Fear The Walking Dead Season 2 will focus on the second half of the season. (And I've got you covered for the first half of the season too.)
The two families (and Strand) were introduced in Fear The Walking Dead Season 1, but things really started moving in Season 2. The group took to the sea in Strand's yacht — well, actually his boyfriend's yacht — and they met up with some post-apocalyptic pirates as well as the survivors of a plane crash. That Flight 462 member, Alex, will hopefully be seen again. I'd love to see the pirates again too. One of them was played by former teen heartthrob Jesse McCartney.
As leaders, Strand and Madison clashed a couple of times, but have now reached an understanding and respect. It's one of my favorite relationships in the Walking Dead canon. Ultimately, the yacht named Abigail vanished, and after Thomas' home was no longer a viable haven, everyone was on the move once again. Here's what happened next:
Who Lives, Who Dies, Who's Reunited
In Season 2, Feat The Walking Dead lost Celia, Luis, Thomas Abigail, newcomers Andres and Oscar Diaz, Alejandro, and Daniel. Ofelia is the only remaining member of the Salazar family. Chris was also killed by a group of reckless peers who took him in — and Travis finally let his inner post-apocalyptic murderer loose when he discovered what happened to his son.
After that, Travis finally met back up with Madison. She is still with Alicia, Ofelia, and Strand. The only remaining member of the original group, Nick, is still alive but off on his own adventure with a new group.
La Colonia
The Tijuana group that took Nick in, though not immediately, lives in a place called La Colonia. There Nick meets Luciana. La Colonia communes with the dead in a way that appeals to Nick quite a bit. When someone becomes sick, they offer themselves to the walkers. It's peaceful.
There's A Small Hotel
Fear The Walking Dead introduced one of my favorite weird backstories in Season 2. Madison and Strand's group find themselves at a seemingly abandoned hotel that was hit by the zombie outbreak right in the middle of a wedding reception. That sounds like a nightmare on top of a nightmare to me, personally. This group is now being led by Ilene Stowe, played by Brenda Strong, the former mother of the bride.
They also meet the hotel manager Elena, who attempted to contain the disease by locking all of the wedding guests in. So there's some tension there. She and her nephew Hector become allies with our heroes.
Crossing Borders
At the end of the season, La Colonia is forced to leave their home. They are met with an ambush at the United States border, and both Nick and Luciana are captured. Meanwhile, at the hotel, Travis has now killed multiple survivors and has to leave along with Madison and Alicia — who is a killer now too. Strand helps them out, but decides to stay with the hotel group. Ofelia is on her own as well, near the border.
It wouldn't be a Walking Dead show without a parting of the ways. Where will they go next? Who stole the Abigail? What is Strand's plan for the hotel? Madison's group is headed towards the border on a tip from some other survivors, so a big reunion is likely coming.
Season 3 will pick up where these stories left off, and include characters from the web-series Passage. With so much disparity and despair, whatever happens next is sure to be another thrilling adventure.