Scrub In With This 'Grey's Anatomy' S12 Recap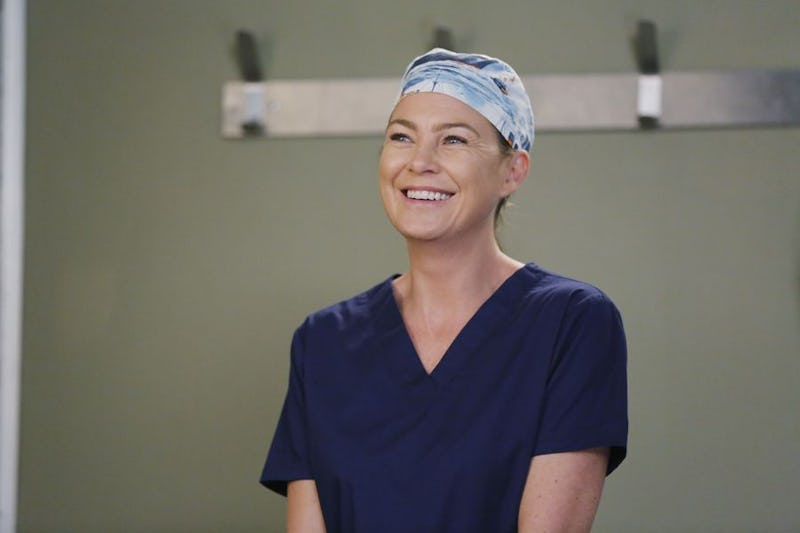 Can you believe that ABC's Grey's Anatomy is about to enter its lucky 13th season?? At times, it feels like the series premiere — featuring the interminable first shift of Meredith Grey and her fellow Seattle Grace interns — aired just yesterday. At other times, one can really feel the weight of the medical soap's long history, as its beloved characters (and the actors portraying them) have aged more than a decade in the time that we've been watching them. That's a lot of history… so it can sometimes be easy to forget specific plot points. That's where this Grey's Anatomy Season 12 recap comes in.
Last year's batch of episodes was arguably the strongest season of the show in years, creatively rebounding from the traumatic Season 11 death of Grey's mainstay Derek Shepherd (Patrick Dempsey) with aplomb. Part of that resurgence was due to a renewed focus on Meredith herself after a few years where the titular character had sort of faded into show's large ensemble. But Ellen Pompeo's performance as the grieving and recovering widow — especially in the harrowing episode "The Sound Of Silence" — was riveting and, in my humble opinion, Emmy-worthy.
In case you didn't get the chance to do that epic 12-season marathon Grey's Anatomy re-watch that I recommended a couple of months ago, here is a brief refresher course on the bullet points of what happened last year in Seattle's busiest fictional hospital:
Doctors Without Borders
What is it with the female doctors at Grey Sloan Memorial Hospital and their inability to maintain proper professional borders with their hunky male patients? In the grand Grey's tradition established by Izzie and her heart patient Denny — and continued by Teddy and her tumor patient Henry — in Season 12 it was Stephanie's turn to fall for Kyle, the dreamy musician suffering from MS. And then, just like Izzie and Teddy before her, Stephanie's heart was inevitably broken when Kyle up and died on her.
Four Weddings And A Funeral Minus Three Weddings And A Funeral
Derek's sister Amelia was equally devastated by his passing as Meredith, leading to frequent fighting between the two grieving women. Amelia found solace in her on-again off-again relationship with Owen, which she finally cemented by proposing to him in the season's penultimate episode. In the finale, pre-wedding jitters almost make Amelia leave Owen at the altar — in fact, she and bridesmaids Meredith and Maggie did actually run away from the church for a bit — but ultimately Meredith was able to talk her sister-in-law into returning and sealing the deal.
(In the meantime, Owen was busy all season having his own drama with new Grey Sloan surgeon Nathan Riggs, the former fiancé of Owen's dead sister Megan who may or may not be indirectly — or directly — responsible for her death, depending on who's telling the story.)
Oops! I Did It Again
Bailey was promoted to Chief of Surgery at the start of the season, a development that caused tension between her and Ben, since she's now his boss. But their marital spats would seem small potatoes to the trouble Ben got in after performing not one but two improvisational surgeries — the first using a clipboard to slice open a psych patient, the second operating on a pregnant woman in a hallway after a hospital lockdown prevented them from reaching the OR. Ben was suspended for this latter infraction after the patient and her baby both died.
Meanwhile, April and Jackson were experiencing marital woes of their own after the death of their infant son Samuel in Season 11. When April abandoned Jackson to work overseas as an army doctor, the couple finally got a divorce; of course, immediately after signing the papers, April learned she was pregnant with their second child. These two storylines collided in the Season 12 finale, when Ben was forced to conduct an improvisational surgery again — this time with the blessing of his wife — in order to save April's baby when a storm prevented them from getting to the hospital.
Baby Blues
For a while things were smooth between divorced couple Callie and Arizona, as the former embarked on a relationship with Penny (the doctor responsible for Derek's death, much to Meredith's chagrin) and the latter moved in with new intern Andrew and started dating with Richard as her unlikely wingman. However, things fell apart when Penny got offered a grant to work in New York City for a year and Callie decided to go with her — and take her daughter Sofia with them.
Unwilling to uproot Sofia's life to move across the country on a whim, Arizona took Callie to court over custody of their child. Many of their coworkers were forced to awkwardly take sides in the proceeding legal battle… but ultimately it was Arizona who emerged victorious, winning full custody of Sofia. Subsequently, a despondent Callie left Seattle — and the show — to follow Penny to the Big Apple.
Secrets & Lies
In the wake of Derek's sudden death, Meredith and Alex grew closer, causing friction between Alex and Jo. (Don't worry, Meredith and Alex are still just friends.) Alex tried to calm Jo's fears by proposing to her, but was devastated when she first said she needed more time and ultimately turned him down.
We finally learned why in the Season 12 finale when Jo drunkenly spilled her secret to Andrew: she was technically still married to an abusive husband who she had run away from years earlier — and Jo wasn't even her real name! But when Alex came home to see what looked like a half-naked Jo in bed with Andrew, the furious doctor proceeded to repeatedly punch the intern unconscious.
Sister Wives
Even though more than a year has passed on the show since Derek died, thanks to that Season 11 flashforward, the widow was still understandably gun shy about moving forward with any new romances. A brief fling with army doc Will Thorpe was the first baby step on the road back to love… which she may or may not have finally found with Nathan. (If it's not love then it's at least some very sexy lust.)
Meanwhile, her half-sister Maggie had a brief relationship with Andrew; but when that didn't last, she quickly developed feelings for Nathan as well. Of course, it wasn't until after Meredith and Nathan's steamy hook-up that Meredith learned of her sister's crush, sure to lead to some awkward tension in Season 13. (Can't they just share him?)
Will Alex get in trouble for beating up Andrew? Will April and Jackson get back together? Will Amelia and Owen live happily ever after? Will we ever see Callie again? Find out when Grey's Anatomy Season 13 premieres this Thursday at 8:00 p.m. ET on ABC.
Images: Vivian Zink, Richard Cartwright (2), Eric McCandless, Kelsey McNeal, Byron Cohen (2)/ABC